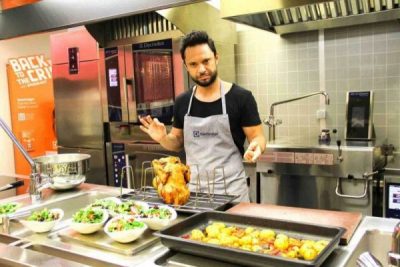 I presume it wouldn't be weird if I were to define Özgün as the 'most family man of all pop singers'. It's definitely much nicer to work with people who have limits, who have a firm stand and who have 'digested life'. Therefore it was a nice shooting we had with Özgün.
Now I realize that we have talked a big deal with Özgün; on his career, his six packs, his outstandin son, Ediz who means the whole world for him, his dreams and etc.. Let's take a look at what we have managed to squeeze in our pages.
Shall we start with your desire to place music in your life somehow professionally?
If it's music what we're talking about, it's not something like "I want to become a doctor." Being a musician comes within yourself, you cannot stop it. And of course you need to be talented. You want to be a musician but you may not have the talent for that. There are examples to this as well. My story is indeed an ordinary beginning.. My wish to join a chorus when I was 9, my teacher in the chorus telling my family that I have a very good ear, and right after that my years in conservatoire beginning.. We were living in Eskişehir till then, but because there wasn't a conservatoire in Eskişehir, I started at the boarding school in Ankara. My family asked me whether I was sure about my decision, I told them that I wanted very much and so they gave up and sent me to the conservatoire in Ankara.
Have you ever regretted or wished you had driven a different path for yourself?
No, no never. First of all, being a boarding student was something wonderful. And music has always been the thing I dream of. I never wanted to do something else.
Are you talented in anything else?
I have some talent towards sports. Whichever sport I do, I do it good. Also I think I'm talented in literature somehow since I write lyrics and compose songs.
Do you also compose for other singers?
Only I sing my songs. I'm not that productive.
Your wife is as well a musician. How is your home life?
Yes, she's also a musician. She goes to work every morning and comes back in the evening. She rehearses frequently. Once she's back home, she doesn't make any extra work. Obviously I ask for her ideas and approval in my own work.
How did we first get to know you? When and how was your breaking point?
I began making music with my friends in cafes in 1996. I used to play the guitar and sing in Ankara Bahçelievler. That is when I first started earning money and being learned by people. I had already been making music professionally for 10 years when I came to Istanbul. In other words, I didn't get on stage after the album, but vice versa. The songs I had composed for the album, "Elveda" had already been ready and I released the album. At the same time, I was a researcher at the university. But being a singer is something totally different and I used to think it was easy being in front of peoole. I was already a bar singer, but I found out that singing for big crowds and presenting your songs for the approval of the whole country was not easy at all. With a bit of courage, as I said, I released the album 'Elveda' in 2005. Even if it hadn't been successful, I'm not the one to give up easily the first minute. Obviously I would go on with music. And yet, I cannot do a desk job in an office. In short, I was lucky, now it's been 12 years and we are doing good jobs I guess.
What is taking your time the most nowadays?
Music, my family and sports. This trio is always at the center of my life. My primary is Ediz and my family; then music and then sport.
Do you exercise every day?
Four times in a week.
People talked about your six packs quite much. Why was it so? In fact, I never remember you over-weight..
I used to have 10 more kilos than now. I wasn't an obese but still that was too much for someone on stage. I watched myself and didn't like what I saw on stage. And in my opinion, even what I wore weren't looking good on me and I was feeling un happy with myself. So I started out to lose a little weight but then my targets grew bigger and I aimed for the sky..
How does your wife react to all this?
She says 'Well done, you've done a good job!' There's a little more to where I really want to be because I consistently add more targets for myself. Actually there's no end to it but I believe sports is much crucial for a musician's life since our sleeping and eating times are unstable and mwe're living unhealthy lives more or less. I believe such disicipline is necessary. And you continue more, as you are pleased with what you achieve at.
What do you dream about the most these days? Or what is it that you wish more than anything in your life?
I dream quite much about Ediz because he's our future. I'm trying to figure out what I can do more for his life and the comfort of his future.
Is Ediz your driving force or triggering factor for your success?
He effects me positively in everything. They happen to be your primary, your everything when you have children.
Everyone asks you about Ediz. In my opinion, this is something that needs to be normalized. But for our culture, we have difficulty in doing so and this makes it tougher for eveyone. Are you not bored with all this?
Actually unconsciously whatever that we cannot normalize, turns out to be making it more difficult for the ones who have to live this life differently than others. In fact they're pleased with their lives somehow, but we are making it difficult for them. What they really want is to live at ease only.
Let me admit something to you. Even it is very hard to guess without living it, but still; if they had told us that there's some kind of an anomaly in Ediz with the test they do when he was a fetus, my decision would be abortion I think. Because no matter if you try your best to tolerate such a situation, the society cannot. And I believe this is unfair for the baby. Could you learn to get along with Ediz's situation? Or how did you feel when he was born and you faced the truth? Did you ever feel a sense of refusing him?
They could never catch the anomaly in the tests they did during pregnancy. It's not refusing him, but of course a fear.. You say 'Why me?', but in a very short while you find yourself saying, 'Thank God it's me.' There are even families refusing or not looking after their healthy children. There are millions of children out there. It's the lovelessnesswhy the world is the way it is now unfortunately. If our son wasn't Ediz, but another normal child this would still be the upmost love we would feel for him.
You fear in the beginning of course and think as if you will never feel the love for a normal child. But really you love unlike anyother love. We have been in close touch with the families of children with anomaly and especially with down syndrome. For example, some has two children –one with 46 chromosomes and the other 47. They say, 'We don't want to be unfair but we seem to love 47 a little more than 46.'
Do you wish to have a second child?
Actually it is something good for Ediz to have a brother or sister, everyone says so. However we are tired, we are sleepless and cannot think of a second one right now. We need to have a little rest for a while. When we start missing the baby stages of Ediz, then we may start thinking of a second one. In fact it would really be good for Ediz to have a brother or sister. What I mean is, when unfortunately we pass away one day, Ediz would need to have someone right beside him who would look after him. On the other hand, giving birth to a child with such a big life-time responsibility is something we do not find right. In short, we can never know.. We have to leave it for time. Maybe one day I want to have a second child.
Since we are in the kitchen, how is it with you and cooking? You eat healthy, but you have an unsteady life.. How do you manage this?
I try to have a healthy nutrition as much as I can. I prefer to have home-made food rather than going out. And when we have to eat out, I try to look for something I can eat. I cook myself at home, I always used to cook actually.
Is your wife pleased with this situation?
To be honest, she keeps herself fit because of me. She sometimes evades but in general we are happy.
Three food you can never reject?
There's nothing I cannot say NO to in life. I don't say no that easily, but once if I say, then there's no turning back. This is how I'm generally in life. If you can say no to something, then you can do this for other things as well.
Where does your red line begin?
When someone starts interfering with my life, it begins. I accept criticism, but I hate someone saying 'do this / don't do that' to me. It's nicer for me if they say, 'Wouldn't be good if you did it such and such way?' for instance..
Whose words do you listen to the most?
My wife. The rule is, "obey and be safe". That's why I don't go into quarrels obviously I'll lose.
Last but not the least; what shall we expect from you from now on?
We're releasing a single album, "Sevmem" in Augut which is a project of Onur Koç. It's a bit for Onur's DJ performances in clubs. He's a friend of mine who has composed and written the lyrics for my songs, "İnsaf", "Sen ve Ben" and "Öpücem". Besides that, we're working on a theatre directed by Kemal Başar. We'll start around October. It's a play telling the story of a mother with down syndrome. Me and my orchestra will be accompanying the play. If it goes the way we wish, we're planning to organize local and international tours.