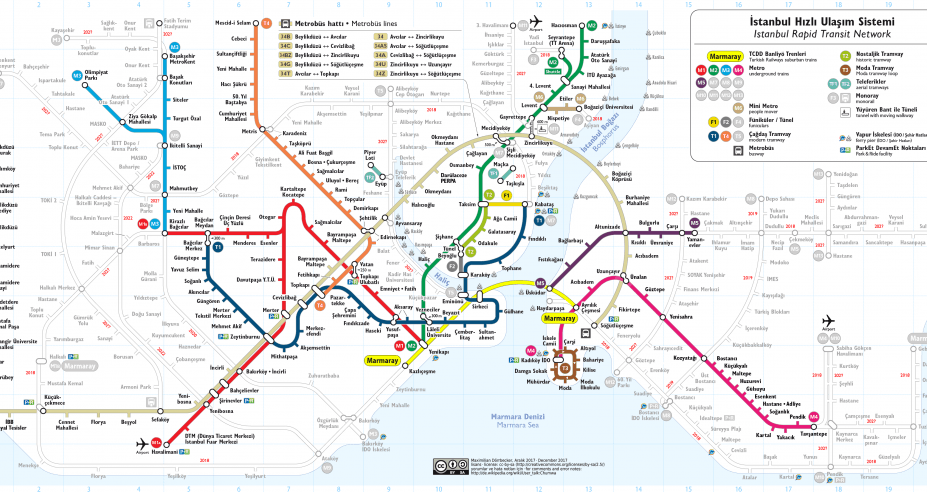 Istanbul Transportation Map
The Istanbul Metro has been growing quickly fort he last couple of years. It's been extending to the fringes of both Asian and European sides. Therefore the Istanbul Metro Map should be updated often.
Major Public Transport Lines for Istanbul Tourist Attractions
The Tram T1 operates between the Old City and Modern Istanbul.
Metro M1 connects the Ataturk Airport to Sultanahmet and Taksim.
Metro M2 helps you reach Business Districts and Shopping Malls of the city.
Marmaray under-sea pass for passengers from Europe to Asia Sides.
Funicular helps you climb up to Taksim Square from Kabatas (Final tram stop)
Ferry nostalgic boats that makes trips between Europe & Asia Sides
Metrobus public bus with a private lane. Best to cross Bosphorus Bridge.
Introducing The Main Vehicles To Get Around Istanbul
Tram, Metro and Marmaray connections provide a smooth ride between Sultanahmet (Old City) and Taksim (Modern Istanbul) as well as the Istanbul Asian Side. It helps to avoid unpredictable Istanbul traffic.
It's strongly recommended to use public transport all the time if possible, as Istanbul's traffic is one of the worst in the World during the rush hours.
Rush Hours of Istanbul Traffic
Morning 7:00 to 10:00 a.m. – Evening 6:00 to 09:00 p.m.
Better to walk than drive!