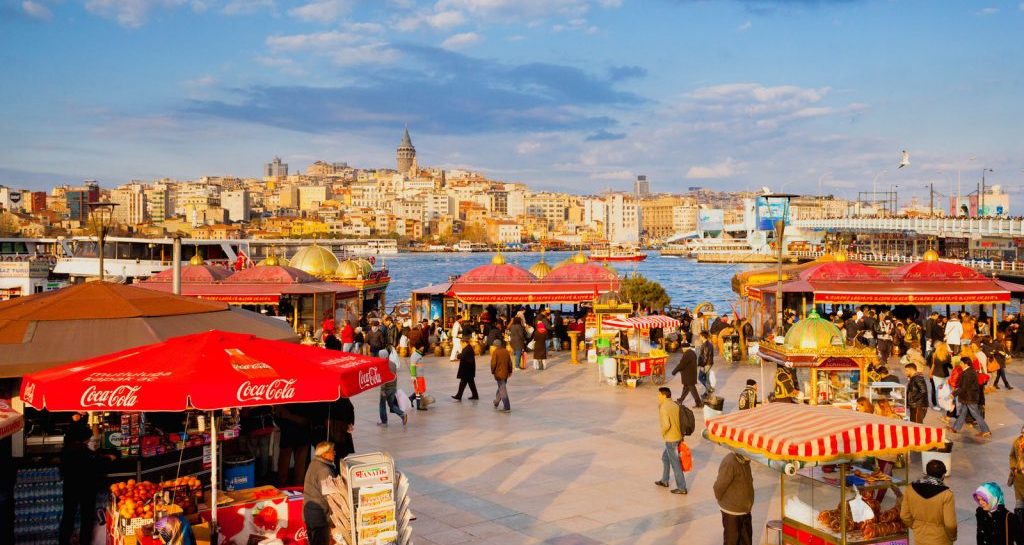 Eating street food is very much part of the Istanbul way of life. You can't walk for over a kilometer without coming accross one or more street vendors and a dozen of snack shops or büfes. And with street food we don't just mean food literally bought and eaten on the street, but also an array of light snacks such as börek (pastry), kebap, döner and köfte (meatballs). Here's is an overview of what's hot and what's not, as well as a list of usual suspects.
Hot Istanbul Street Food
Kebap – together with döner, this is probably the first street food that comes to any tourist's mind when asked to name one. Kebap actually means small pieces of broiled or roasted meat — generally cow, sheep or chicken. Excellent dishes you may want to try out are İskender Kebap, Adana Kebap, Patlıcan Kebap and Şiş Kebap.
Döner – this tightly packed meat roasted on a large vertical skew is the basis for fast-food snacks (or even full meals) such as Pilav Üstü Döner, İskedender and Dürüm. Although you can find these half-outside/half-inside eateries almost anywhere, for the biggest concentration head to the beginning of Istiklal Caddesi in Taksim.
Börek – a flaky pastry consisting of several thin layers, often with a specific shape and/or filling. You'll see locals entering these tiny shops for a quick breakfast or lunch. Among my favorites are ıspanaklı börek (with spinach filling), peynirli börek (with cheese filling), kıymalı börek (with minced meat filling) and patatesli börek (with potato filling). If you prefer it rather plain, you can't go wrong with su böreği.
Pide – a slightly leavened, flat pizza like bread. They again come in different styles, with Kaşarlı Pide (melted cheese) and Sucuklu Pide (melted cheese and spicy sausage) among the most popular.
Lahmacun – a Turkish-style pizza. A very thin oval piece of pide, with ground meat, onions, pepper paste, sometimes tomato, pepper, parsley, and spices. It is often served with a salad and a few pieces of lemon in a side dish. You'll see locals topping the pizza with the salad, sprinkling it with lemon and making a roll out of it.
Mısır – freshly boiled or grilled corn on the cob, often sprinkled with salt or spices. This popular snack is almost exclusively sold during the summer months by the real street sellers with their push-cars.
Kestane – due to the lack of corn in winter, the street vendors mentioned above shift to roasted chestnuts in winter time.
Balık ekmek – literally translated 'fish bread'. And that's basically what it is — fish, grilled or fried in front of your eyes and stuffed inside a large piece of bread. Fans of this fast-food can have a blast in Eminönü, on the shore next to the Galata Bridge.
Cold Istanbul Street Food
Simit – a crisp, ring-shaped, savory roll covered with sesame. Sold by street sellers with glass-fronted push-cars. There are two main versions: sokak simit (sold on the streets and very crispy) and pastane simit (sold in shops and softer).
Açma – a ring-shaped savory bun — a Turkish-style dougnut if you will. It's soft but also a bit oily.
Poğaça – a flaky, savory pastry. You can go for the plain one (sade) or choose one with a filling: peynirli (cheese), kıymalı (minced meat), or my personal favorite — zeytinli (sliced black olives)
Çiğ köfte – originally a dish made of raw ground meat, pounded wheat and red pepper. It's a delicacy, but now only found at home. Commercially sold çiğ köfte is no longer allowed to contain raw meat, but it's still something you should try out.
The Usual Suspects
When wandering through Istanbul's streets, you'll also notice the following snacks being sold. While they're all delicious when fresh and prepared well, be cautious when buying them on the (sunny) streets. Ask for local advice as to where to order them best!
Midye dolma – stuffed mussels. If you're a fan, you may want to prefer eating those in a real restaurant.
Kokoreç – grilled sheep intestines with an almost industrial amount of spices, roasted on a skewer. A very popular snack after a night out and (too) many drinks. So which skewer has the döner and which one the intestines? Luckily for us, the kokoreçskewer is always positioned horizontally.
Have a nice meal!