CHILL-OUT FESTIVAL
Being the number one festival of Turkey, the Chill-Out Festival will be presenting what had not been presented before in the first gathering of 2018. Aiming to achieve a different perspective in all the stories lived at Chill-Out throughout years; "the missing part" of this year is inviting the attendees to the second largest of Istanbul islands, to Heybeliada. With "the missing part", you will be adding a new one to the happiest days of your whole year, starting at the noon time of June 23rd and lasting until the end of June 24th; and so the missing parts of the festival will be completed. Becoming a "classic" by spreading wider without losing its identity and giving the attendees a free and unique atmosphere in the middle of nature; cultural and artistic activities coloring the day, shopping areas, exclusive food and beverage alternatives; the Chill-Out Festival Istanbul is getting ready to present the widest range of musical performances of all times in 2018.
CAPPADOX
Cappadox is a festival taking place in the magnificent tissue of Cappadocia and where various disciplines such as music, contemporary arts and gastronomy are meeting at. The theme of the 4th this year will be "Silence". And the consept of this unique festival is also very interesting. There are 4 different packages presented to the ones who wish to attend Cappadox : Voyager, Explorer, Passenger and Adventurer. Being one of the mostly waited-for festivals of Turkey each year, Cappadox will be welcoming its attendees for the fourth time this year between June 14th-17th, 2018. In the mesmarizing atmosphere of Cappadocia and with music, contemporary arts, gastronomy and open air experiences; Cappadox will again be full of enthusiasm. The Voyager Package is for the ones who fully wish to enjoy the festival. In this package, all the activities will be discovered with the assistance of a curator and you will be prioritized in the other activities as well. As for the Explorer Package; it includes many opportunities such as yoga sessions, valley hikes, concerts and degustations. For the ones who want to enjoy the musical part more, the Passenger Package is the most ideal. In this package, other than concerts, various festival activities will be for free. Finally, for the people who wsh to breahe the unique nature of Cappadocia, the Adventurer Package is the best choice. In this package, you can experience all the open air activities for free.
LOVE INTERNATIONAL
"The Adriatic Love Affair Continues." So reads a message at the bottom of the flyer for this year's Love International, and truer words were never spoken. Since the formative years of The Garden Festival a decade ago, Tisno has become one of the most beloved destinations in dance music, thanks both to its sun-dappled location on the Adriatic coast, and to the exceptional festivals that crops up there every summer. These days, Love International—the self-described "spiritual successor to The Garden Festival"—is leading the charge, with a week of house and disco's créme de la créme—think Avalon Emerson, Bicep, Intergalactic Gary, Joy Orbison—booked on boats, beaches and one legendary open-air nightclub, Barbarella's Discotheque. If you can think of a better way to spend a week-long holiday, we'd love to hear it.
TERRAFORMA
With each passing year, Terraforma is more and more a jewel of the European festival season. The secluded, sustainable operation in the woods outside Milan is beginning to elicit the type of reverence usually reserved for something like Labyrinth, but it packs more musical variety into its three days than most of its contemporaries. Festival mainstays include the likes of Donato Dozzy and Rabih Beaini, but 2018 also provides the hyper-modern edges of Nkisi, Lanark Artefax and Byetone. Then there's a raft of free-wheeling, wide-ranging DJs on offer, such as Powder and PLO Man, cutting edge rhythms from Batu and DON'T DJ, and Jeff Mills' towering techno heights.
GOTTWOOD
You know a festival must be special when rain is a recurring theme and thousands of people still flock there religiously every year. Gottwood, like Glastonbury, wears that badge proudly, confident in the knowledge that, when the sun does eventually come out, the vibe will be glorious. A lot of that has to do with the venue, Carreglwyd Estate, a charming Georgian country house with lush grounds and a beautiful lake. Combine the breathtaking natural setting with music by the likes of Andrew Weatherall, Ben UFO, Sonja Moonear, Commix, Willow, Hunee and dozens more, and you've got a recipe for a good time that's as old as the hills.
AVA FESTIVAL
Last year, Belfast's AVA expanded from one day to two, a sure sign that things were going well. This year's tell is the move to a new, bigger venue, S13 Warehouse, a mammoth space that at one point in the '90s was the largest of its kind in the UK. As Stephen Titmus pointed out, what makes AVA special isn't its length or its size or even its lineup—it's the thousands of young, often shirtless ravers who help whip up one of the best festival atmospheres in the world. In 2018, they'll be dancing to sets from a mix of Irish heroes and international stars, from Bicep, Saoirse and Mano Le Tough to Hunee, Helena Hauff and KiNK.
FIELD DAY
Field Day finished its 2017 edition with a spring in its step, thanks to a raft of inspired performances and a main-stage blowout from Aphex Twin. The London festival takes that energy into 2018 as it descends on a new venue, Brockwell Park, following more than a decade at Victoria Park. The lineup for this year serves a reminder as to why Field Day remains a vital institution. Having teamed up with the likes of Dimensions, CRACK and The Hydra (as well as Resident Advisor), the festival has crafted a two-day bill of music as eclectic as it is modern, ranging from Fever Ray and Erykah Badu to Madlib, Thundercat and Jeff Mills.
JUNCTION 2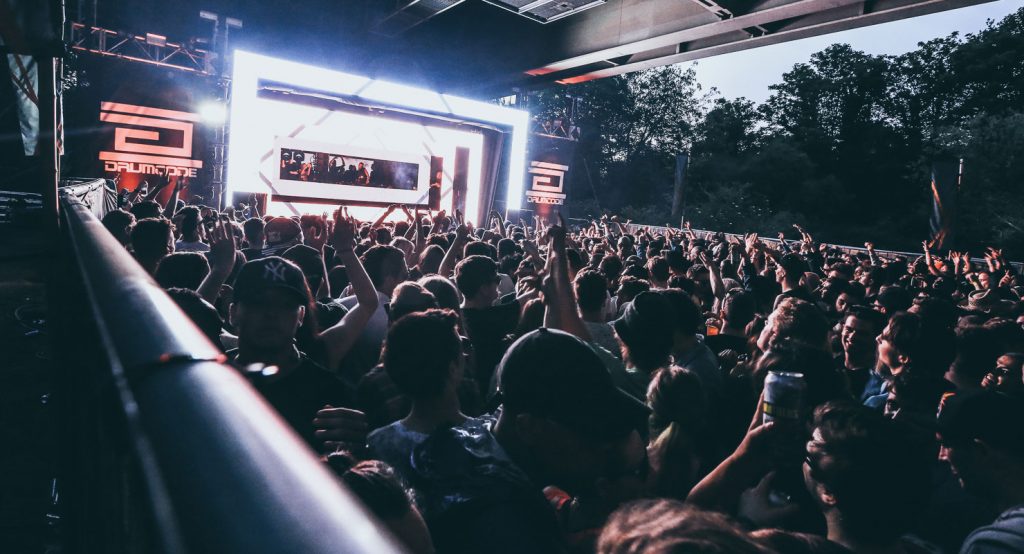 Sky-high rents, endless bureaucracy, severe noise restrictions—all these things conspire to make London a difficult place to throw a great festival. But difficult doesn't mean impossible. Junction 2, the annual one-dayer from local promoter LWE, is a shining example of how, with enough experience and ambition, it's possible to give London's house and techno scene the festival it deserves. This year, to compliment the spectacular site, bespoke production and powerhouse soundsystems, the team has cobbled together another eye-watering lineup, with slots for LSD, Len Faki, Dixon, Tale Of Us, Nina Kraviz, Joy Orbison and Carl Cox, who'll play back-to-back with Adam Beyer for the first time ever.
STRANGE SOUNDS FROM BEYOND
Three great crews combine when Rush Hour, Red Light Radio and The Rest Is Noise come together to host Strange Sounds From Beyond, which this year expands to two days for the first time. Held at Noorderlicht, a creative space at the NDSM Wharf, the first weekend-long edition of the festival welcomes around 50 acts pushing left-field beats, ranging from the laser-sharp electro pushed by the likes of Dopplereffekt and I-F to the obscure house and disco of local heroes Antal, DJ Marcelle and Young Marco. It seems like Amsterdam has a mega-rave every weekend, which only makes intimate festivals like Strange Sounds From Beyond more special.
HER DAMIT
Raving in a Cold War-era bunker seems like the kind of thing that could only happen around Berlin. Her Damit, a festival returning for its second edition, aims to bring new life to an underground complex built for the GDR's Ministry Of The Interior. Just like at the repurposed factories and power plants housing clubs in the German capital, guests at Her Damit will dance to pounding techno (Norman Nodge, Kobosil) and jacking house (Roman Flügel, Eris Drew) in huge concrete rooms soundtracked by some the world's most exciting DJs.