If there is one city in the world that is in dire need of a plethora of spas, it would be Las Vegas.
he most populous city in the state of Nevada, Las Vegas needs no introduction.
It is a destination known for Baccarat tables, heaving buffet spreads, a litany of celebrity chef-helmed fine dining restaurants, overpriced shows and oversized hotels. The city is bedazzled and bejewelled on the one end, seedy and forlorn on the other. On a busy weekend, it will take a tourist 30 minutes in a taxi from one hotel to another, longer to walk in the unforgiving summer sun. Coming back to the hotel from a day out – whether after shopping, dining or gambling – necessitates just one other stop – the spa, because spas in this hectic, hyperactive city are just about the only place in Las Vegas where people can truly relax. And because of the numbers of high rollers coming through on a daily basis, hotels are offering a level of luxury hard to match.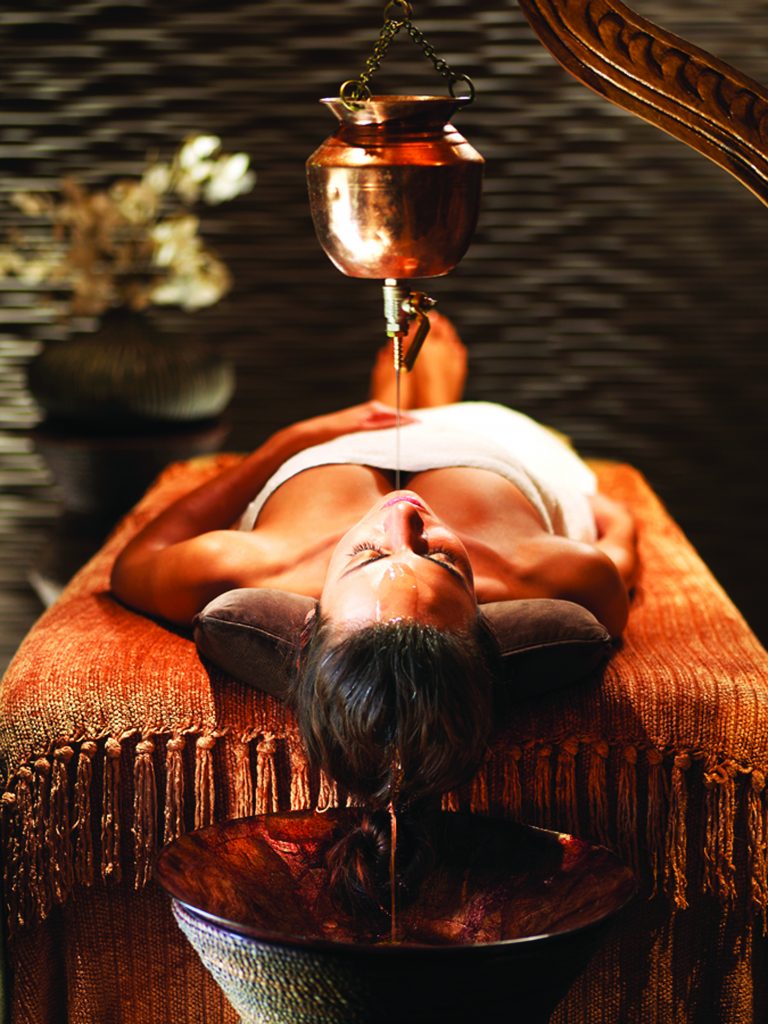 THE SPA AT MANDARIN ORIENTAL, LAS VEGAS
The serenity begins as soon as you step through the main doors of the hotel, and you notice there is no jangling of slot machines, no gentle whirring of a roulette wheel. The Mandarin Oriental is one of a small but growing number of luxury hotels that do not offer gaming, and as a result is popular for business travellers and families.
The Spa is among the best in the city – a soothing and tranquil haven where a client's shoes are swapped out for slippers – brought in on a lacquer tray – immediately upon entering, a cup of delicate chrysanthemum tea proffered at the outset. The ambience was inspired by 1930's Shanghai, and is so inviting that it makes sense to book one of the longer treatments and then spend the rest of the afternoon enjoying the steam room, ice water treatments and heated loungers. A definite one to try if you're going as a couple: the top-rated Qi Balancing Journey – Suite Experiences – a three-and-a-half-hour extravaganza that runs to US$1,400 a couple on the weekends (a little cheaper during the week), that encompasses a foot cleanse, body exfoliation, hot stone massage and conditioning body wrap using customised essential oils, muds and marine plants. www.mandarinoriental.com
GRAND SPA AT MGM GRAND HOTEL & CASINO
The MGM Grand is the second largest hotel in the US by number of rooms (6,852), so it stands to reason that the Grand Spa on a lower floor of the hotel, past any number of eateries and coffee shops and gaming opportunities, is pretty extensive as well. There is no shortage of offerings, catering to every possible predilection: an oil-free Table Shiatsu treatment is predicated on ancient Japanese techniques, a Thai Yoga massage incorporates Shiatsu and meridian point stretches, and Nirvana combines ayurvedic oils and hot stone placement. The services on offer are designed for those who want to linger for hours in the space, as well as those who want to come in for something quick and specific and get back to what they were doing. Sign up for a Traveler's Blowdry, and a stylist will style your hair for three days, do a protective hair glaze treatment, have your eyelash extensions done, and try out a session of airbrush foundation application. Therapists are efficient, personable and well-versed in the nuances of their craft.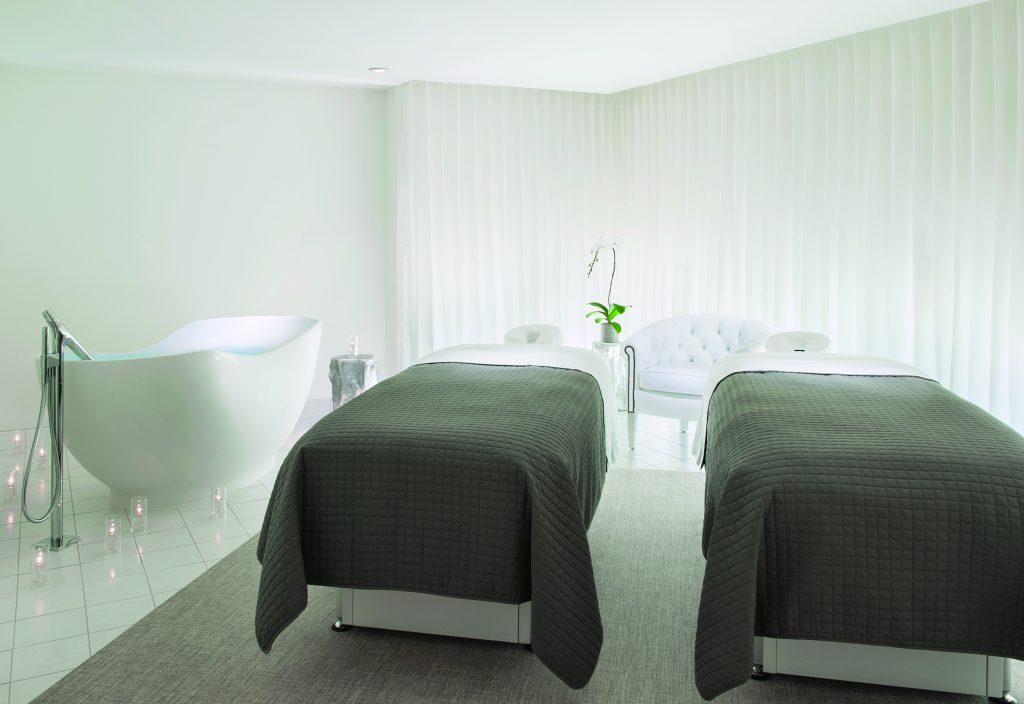 CIEL SPA AT SLS LAS VEGAS HOTEL & CASINO
Come for the relaxation, stay for the design. The interiors of Ciel Spa, one of the newer entrants onto the bustling Vegas spa scene, were created by Philippe Starck, so the details are intriguing. If you're looking for an intimate interior, this is the place: there are only ten treatment rooms, and while you are waiting for your massage therapist to come get you, do so in an all-white 'tent' while enjoying tea, fruit, pastries – or even a glass of chilled champagne. White, indeed, is a theme here – the entire place is done out in it, imparting a sense of freshness. And another little detail: guests are invited to choose their own scents to go along with the massage or facial, personalising it to a macro level. A signature treatment is the Soul Lifting Sanctuary, an 80-minute profoundly relaxing and detoxifying process, where the body is wrapped with warm seaweed serums and mineral-rich clays, pulling out the toxins that have accumulated.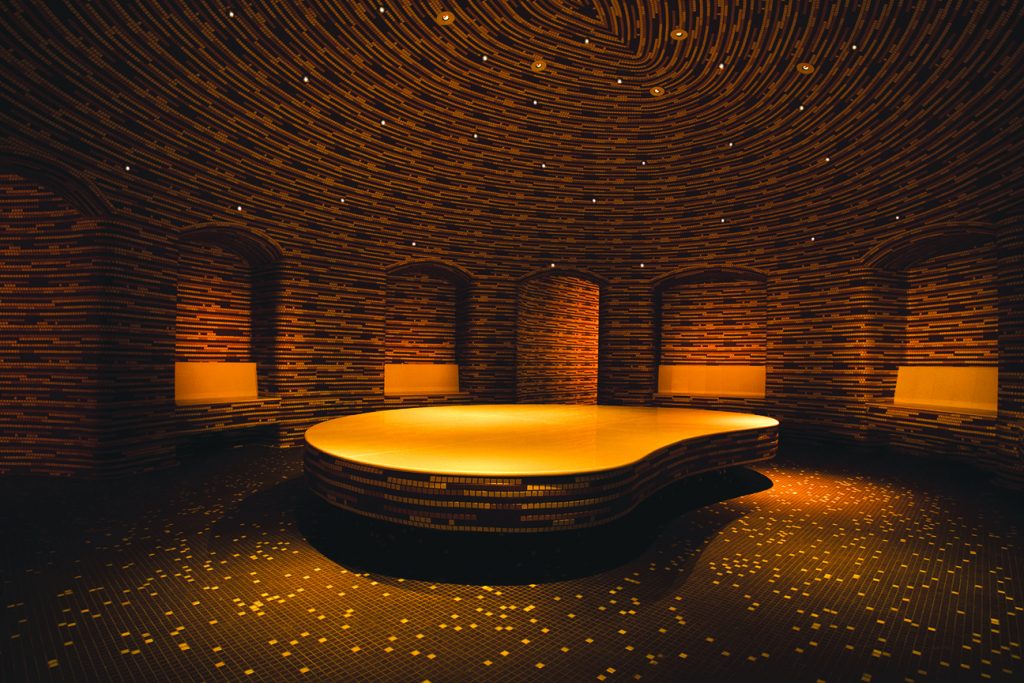 DRIFT SPA & HAMMAM AT PALMS PLACE
Just when you thought Las Vegas had everything – along comes the city's very first hammam. This is one of the hippest hotels on the strip (recent entertainment attractions have included Ringo Starr and Bill Maher), and the Hammam is becoming one of its major draws as well. The spa itself is located in one of the resort's three towers, and at the furthest end, so ask for directions before setting off because it's a pretty long walk otherwise. Nonetheless, any effort to get there is more than made up for by the hammam – it's co-ed – so enjoy with a spouse or paramour; and it's gorgeous: dark-toned, intimate, sophisticated, a modern take on the traditional Turkish bath. If it's not unbearably hot outside, enjoy lounging in the private gardens, partake of some of the chilled juices and fresh fruit on offer and basically make the most of what is an intimate and relaxing place.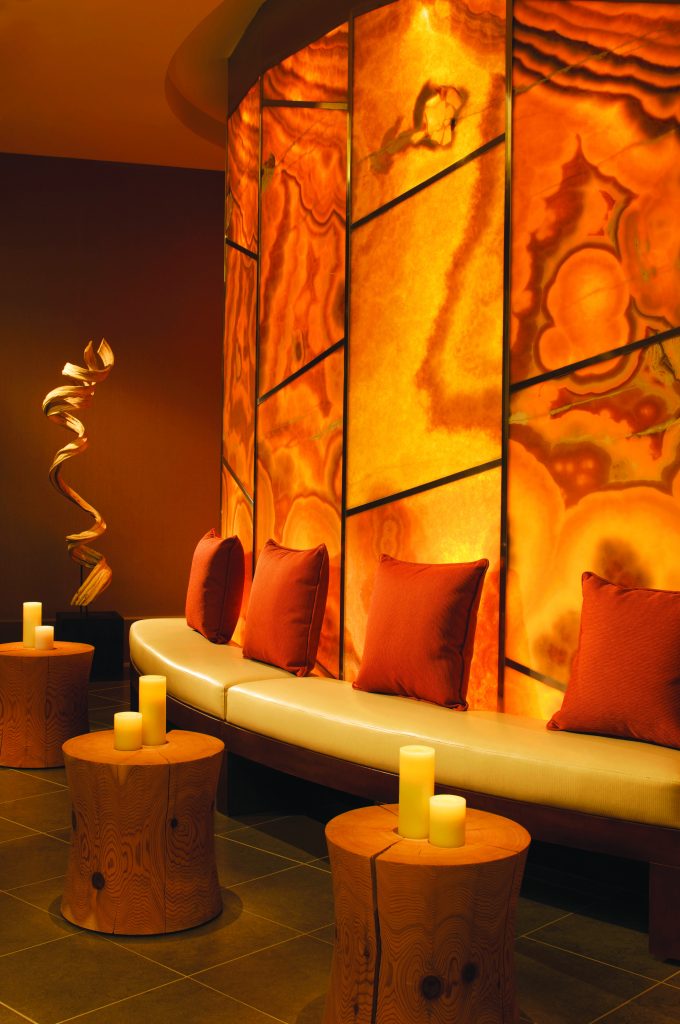 CANYON RANCH SPACLUB AT THE VENETIAN AND THE PALAZZO
With 80 treatment rooms and a 21,000-sq-ft fitness centre, the Canyon Ranch SpaClub is the largest spa in Las Vegas, shared by the luxe Venetian and Palazzo hotels. Canyon Ranch is one of the most formidable names in the spa business anyway – the original spa in Tucson, Arizona remains a standard-bearer in the spa business. Don't let the name 'SpaClub' here fool you into thinking there is some derivative of the original. The sheer size of the place allows for amenities otherwise hard to find in a hotel spa/fitness centre: there is a Pilates studio, a 40-ft rock climbing wall, meditation sessions and experts coming in to talk about nutrition and wellness. After being suitably edified, go for a signature treatment like the Canyon Ranch Mango Sugar Glo – natural sugars in an exfoliating body scrub – or the Ultra Nourishing Cocoon Wrap, using milk and honey products from the pristine Pure Fiji line. The spa also has North America's only Aquavana – a suite of thermal spa cabins, cold rooms and aqua thermal bathing experiences. www.canyonranch.com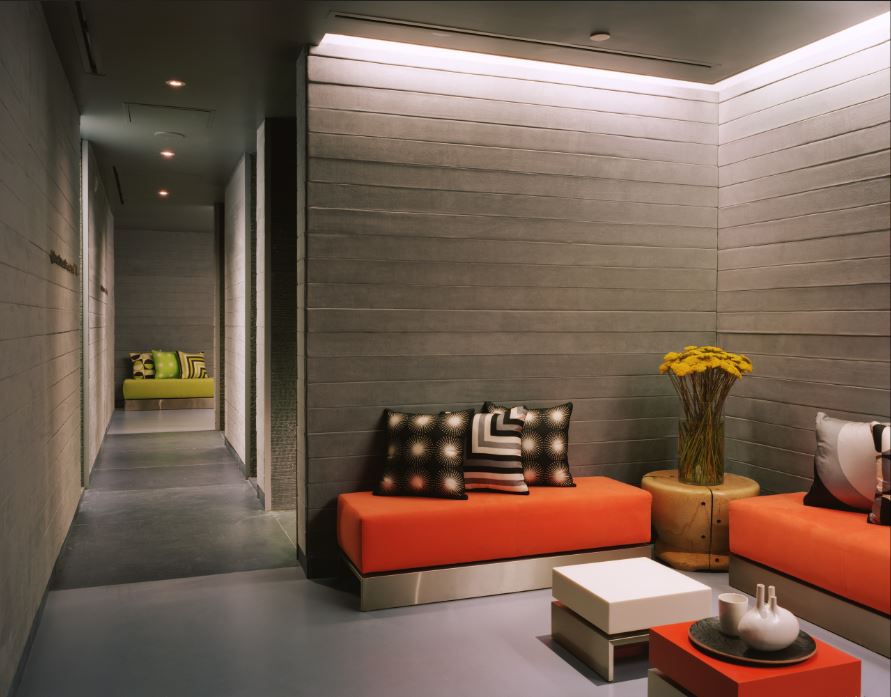 BATHHOUSE SPA AT DELANO LAS VEGAS
In the increasingly competitive luxury spa market, it takes a fair bit of ingenuity to truly set one spa apart from the others. The Bathhouse Spa at the new Delano seems to have hit it spot on. Here, a spa visit is not just a brief excursion into relaxation as much as a trip around the world. So depending on your mood, you can sign up for the Global Journey Asia – a jade detox body treatment, with a lotus flower soothing facial or a Global Journey Europe, which encompasses a gold dust massage, golden veil facial and royal pedicure. Opt for the Taste from the Islands, and enjoy a Balinese papaya and Sauterne bath and a Tahitian hydrating facial, while the India-derived treatment offers a chakra balancing body treatment and an amethyst stone uplifting facial. The treatments run for up to four and a half hours. www.delanolasvegas.com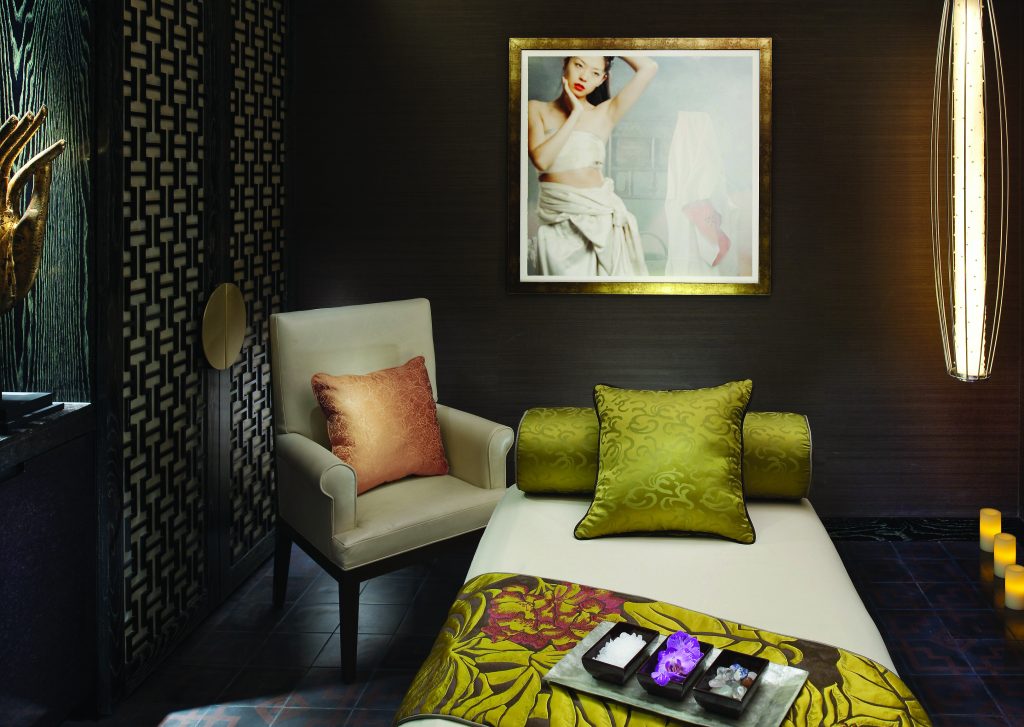 QUA BATHS & SPA AT CAESARS PALACE
This place is the top pick of Vegas insiders who are accustomed to the biggest, best and most lavish and is a consistent award winner in upscale travel categories. The place itself is sprawling – some 50,000 sq ft of space given over to a trio of large Roman baths and the world's only room where it snows indoors. The place is full service, plus – stay for hours and emerge relaxed after a massage, radiant after a facial and with full hair and make-up in place. Before that, however, there are plenty of little delights: a foot bath with floral-infused water and feet exfoliation using crystallised honey, complimentary access to the Roman baths, the Laconium room and of course the Arctic Ice Room, where the snow happens. There is an extensive classic spa menu, including Shiatsu and the Deep Tissue Surrender, as well as the Shirodhara Scalp Upgrade and an exotic Chai Tea Mud Wrap. Or opt for the raved about Qua Signature Mystic Journey – a blend of coconut and argan oils is applied along the spine, followed by a ginger lime sugar scrub. Your entire body is then rubbed with oil and wrapped in warm towels to soak it all in, while the therapist goes to work on the face and scalp. It's a total treat. www.caesars.com
THE SPA & SALON AT ARIA
Among the reasons this hotel is so well known is that it's the home of the acclaimed Zarkana Cirque du Soleil show. But there is a whole other side to this destination. Firstly, the spa at Aria has a unique series of 'spa suites' – not unlike the ultra-luxe poolside cabanas that are often the chicest places to be seen in the city. Book into one and enjoy a personal lounge area with flat screen TV and hydrotherapy team, and enjoy finely curated services from the spa's highly trained aestheticians. These include an unusual Ashiatsu massage – a combination of ashi, meaning 'foot', and atsu, meaning 'pressure', which translates as therapists walking on your back, neck and shoulders while supported by bars on the ceiling. And the Thai Poultice massage incorporates poulties infused with ginger, lemongrass and extract of prai – a botanical indigenous to the tropical forests of central Thailand. www.aria.com