Instagram is indeed a vast ocean, thanks to the color palette I've created, many people know my photographs even when my name isn't under them. I guess this color palette I've created is the primary feature that distinguishes me.
For our readers to get to know you better, would you tell us a little about yourself?
Drawing was my ultimate passion since childhood. I drew on my notebooks for the entire duration of my years in secondary school and high school. Then I found myself in SDU Fine Arts Faculty Department of Painting.  After graduation I started working in textile sector at a busy pace. I traveled Europe with friends whenever I could spare time. My hobby at that time was to collect cars. I would take photographs of those cars in a small studio I set up at home. Later on I started to take this camera with me to my Europe trips. I would see such beautiful places, it gave me great pleasure to photograph those places. At later years the sole purpose of my trips became photography. While I was photographing sunrise in one country, evenings I would find myself photographing the sunset in another. I used my painting knowledge when editing the photographs I took and created my own color palette. Now my ultimate passion is to take photographs…
How would you define the style of your photography?
I was born in 1978 in Ankara, our next stop was İzmir due to military assignment, which is where I started primary school and have lived ever since as I love this city. After Karşıyaka secondary school and Karşıyaka high school, I received education in Fine Arts Faculty Department of Painting at Isparta Süleyman Demirel University. The color and composition knowledge I had acquires there allowed me to quickly advance in photography. I'm convinced that it is easy to learn about the camera, what matters is composition and color knowledge. After photography became a passion of me, my trips abroad got quite busy, I wasn't a tourist anymore, the only purpose of my travels was photography, there were times I would visit 5 countries in 4 days. I would shoot the sunrise in one country and sunset in another on the same day. I visited over 30 countries for pohotgraphy. There are some countries I visit 4-5 times a year and organize photography tours… And right now I am Europe representative for Sony cameras. Working with such a great brand really gives me pride.
It is quite easy to spend your whole time behind the camera when on a trip – how can you balance your job as a photographer to actually experience and spend time in the places you visit?
Indeed, I have not been traveling the countries I visit as a tourist for a long time. To take the photograph I desire, I start researching the region before traveling there, which lets me capture the shot I desire and gives me enough time to experience the must-do or must-see things that interest me. I reserve the sunrise and sunset entirely for photography, which I balance by spending the rest of the time to enjoy the place I am in.  Especially in Italy there is always ample time to reserve for food and coffee.
What is the biggest challenge you've faced to take the photograph you desire?
6 hours of climbing under rain to shoot a lake in Italy, 11 hours of driving from Bali Island to middle Java just to sleep 2 hours, shoot sunrise around Bromo volcano, and return again, and 5 hours of walking on train rails after shooting Matterhorn mountain in Switzerland following sunset. I could count many hardships but if I can capture the shot I desire, it is no longer a challenge and definitely worth it.
Today almost everybody has access to devices with camera functions. What is the difference between a professional photographer and other hobby photographers?
Composition, post-process, time you allocate, reactions from people, news in the media, ability to sell photographs, I can name a lot of reasons. If firms from various countries are buying photographs from you, that's an important distinction.
Who influenced you the most? Is there another photographer you consider some sort of idol?
Marc Adamus is an amazing nature photographer who had captured incredible shots in all kinds of tough situations.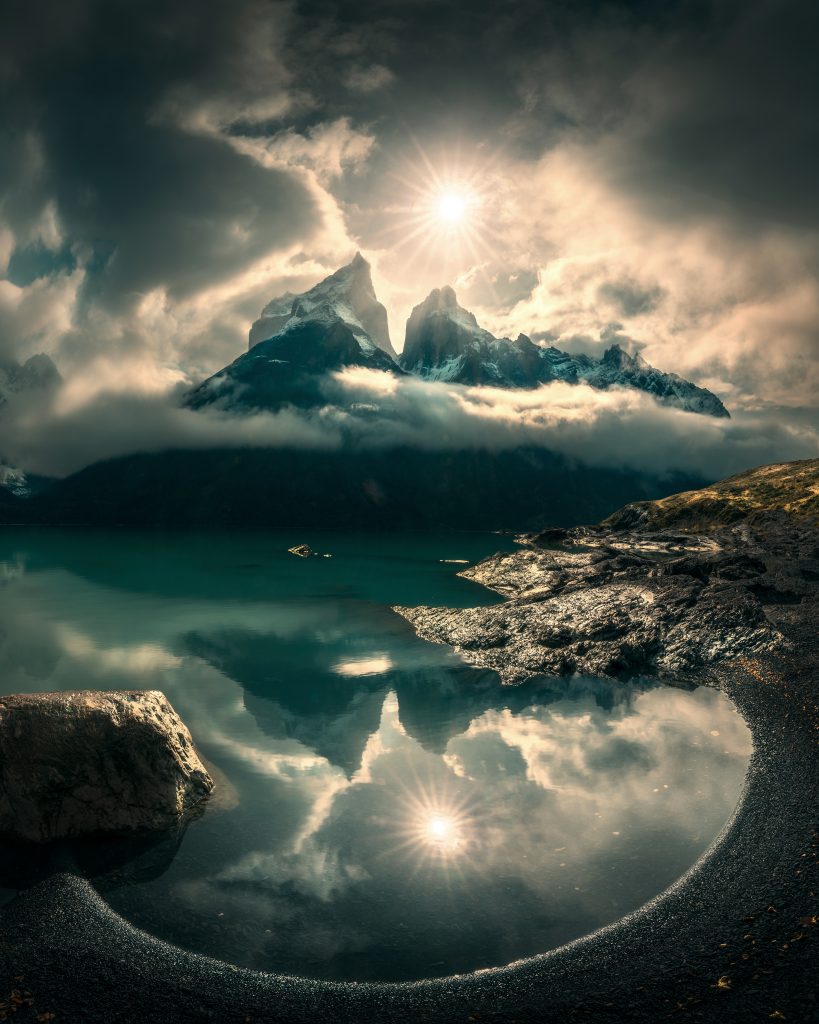 Could you tell us about the material you use in travel photography? What kind of equipment is in your camera bag while traveling?
As a landscape photographer, there are 3 essential lenses for me, 16-35 mm, 24-70 mm and 70-200 mm, for which I also keep a 1.4x extender and a 2x extender. For long exposure with polarized filter I carry X1000nd and 3 kinds of ND grade soft filter that are 0.3, 0.6 and 0.9, for tripod I prefer carbon fiber ones which are light and durable for long walks. For walks and shooting in the dark I certainly have my long distance flashlight around. Of course, the base of the camera is Sony 7RIII.
Do you agree with the saying that goes "A picture tells a thousand words"?
First I need to see the picture 🙂
How do you distinguish yourself from other Instagram photographers?
Instagram is indeed a vast ocean, thanks to the color palette I've created, many people know my photographs even when my name isn't under them. I guess this color palette I've created is the primary feature that distinguishes me.
There is this device that stops the moments in their tracks while observing life. For anyone who does or likes photography, there is a charm to it. How does it make you feel?
It is not just the camera itself naturally, it is witnessing fantastic natural phenomenons, being right there at that moment and of course, freezing that moment with your camera. It takes you away from all your worries. I witnessed a lady who came to my photography tours, leave her camera and start crying before the scenery she had seen. The camera is somewhat a means of sharing what you see and one that incites you to do more…
When capturing shots in countryside where human grows with nature, what do you look for in the color, texture and story senses?
I especially like to photograph mountain and lake sceneries as well as buildings native to the region I travel to. I like dramatic sunset and sunrise photographs better… So weather conditions are very important to me. If the weather is not how I want it that day, I will go to the same spot for days, trying again and again to get what I want…