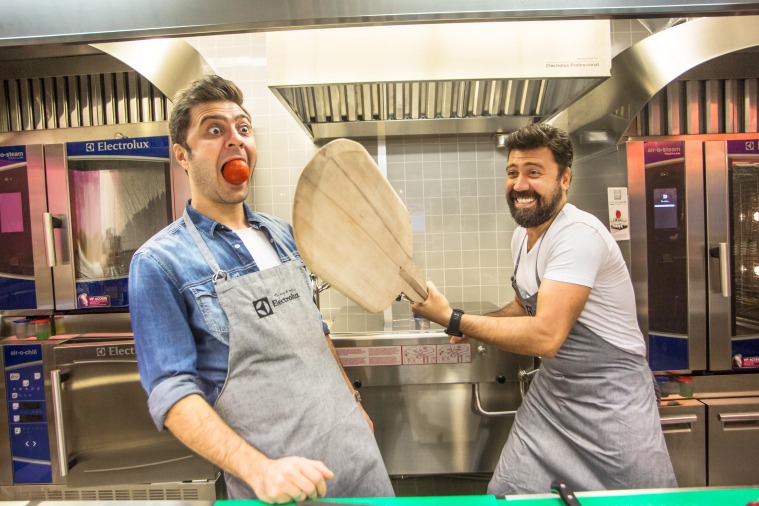 After spending a couple hours with them, I can see why we easily accepted Bülent Parlak and Sahin Irmak into our lives and how could they pass to our couches at home from TV screen. Because they're sincere. Because they don't say "I'm done" They have principles about life and I have to admit that they're so funny. Their new movie just came in theathers: "Git Başımdan" We talked about the movie a little and life a lot in the kitchen and cooked like a theraphy session also. We present their funniest moments in the kitchen.
How's life going on nowadays?
B.P.:There is always hope in life. I never lose my hope. Lately our country is having hard times and that effects everyone of us. We, as a society, love laughing, having fun. But I'm hopeful and I believe we'll get better. Personally I'm happy in my life. I do my job and try to get some pleasure from life.
S. I.:Generally I think like Bülent. We always have hope in us but I get up like what will we deal with today in the mornings. Our job is actually making people happy. To make this we must be so. But lately I'm even shy about making a joke. We always have blocks whether if we make a joke or not. We really in a position that we afraid making jokes and block ourselves. Sometimes we also have hard times to carry on. We don't have free and enough space to do our jobs.
Don't you feel free as comedians?
S.I.:Not so much. As I said we're in a position that we sometimes feel shy about making jokes. This situation effects our working life normally. It effects as a human being but I'm one of that nat losing his hope type. I really believe that.
Yaşadığın yerle barışık mısın?
S.I.:If we go out to streets, we might hear thousands of complains. There a lot of things that bothers me as a member of this society. Generally our joy is gone. We're upsetting really little things, now we have massive problems.
Is Turkey a place that nourishes you in comedy?
B.P.:Conditions of comedy depend on sosiological structure of that country. Comedy nourishes itself with what people don't have. It's an opposite idea and ability to tease with what's going wrong. There are a lot of examples about that in Turkey. You can make jokes about house lords and renters in Turkey but in England they could not understand always because there are few people in there who can not pay rent money. That's not funny for them.
Are we used to laugh at our own dramas?
B.P.:That's what comedy based on. We get used to degenerate it. We don't get ant lessons from it. Turkey has a wide range about comedy. We see a lot of things to lauhg in street. But we lost the ability of telling it. We became a touchy society. Everyone has some nonsencial values.
S.I.:We did not internalized it, they made us have to do so. We, as a society internalized it, normalized it and ignored.
What made you happy lately?
S.I.:I recieved a couple news but I won't tell them right now. Now, movie is out and I'm really excited about it. Even in these conditions we get excited about creating something for people.
B.P.:Yes, currently our only happines is movie. We're always on TV. Producer, writer, director everyone is our friends and we became like brothers and sisters. We live on the phone, that's our happines.
When this project came out, how did it happen, who else take part, what's the excact date and what do you offer?
S.I.:Movie is out since 29th of October. Şahin Altuğ is director and aslo writer. Our old, mutual friend and we made a lot of things together. Our destinies goes parallel a little. Someday Bülent called me and said "Come to my office and let's talk," We went and he offered parts to both of us simultaniously. He said he had a story in his mind and wanted to shoot it. We didn't think about it much. You may feel sad a little but it won't breake your heart while you're watching it. Bülent plays my internal voice. A made a movie that makes you laugh while it makes you sad. Screenplay is really original.
We are used to see BKM actors together but we usually see Bülent Parlak and Şahin Irmak together. "Git Başımdan" is also like that. Is there a Zeki Alasya-Metin Akpınar situation?
B.P.:Oh, how we wish that. We dream about that but to be honest we gotta work really really hard. This comparison makes us proud. When we hear things like that we know we're not at that level but if people think there is a similarity, that makes us happy because we believe ourselves about going up to that level. And we also try not to show outside if we're too happy about that.
Do you get along well in your daily life? To make it so professional on stage, is it a necessary?
B.P.:Yes, we're also neighbours. Absolutely getting along well in daily life is very effective.
S.I.:I think so. For example; if Ahmet (Kural) and Murat (Cemcir) weren't good friends, they couldn't reflect it to us that good. Even if we don't laugh same things, we have to have similar points of wiev. I know what he might do, I know him. I know how is he on stage and what would he react and how he do that. He knows me aswell. We know eachother very well. It's hard with someone you've just met with.
 When was the first time someone told you that you're funny?
B.P.:If you ask actors, you always get the same answer. We're the ones people always say about "You gotta be an actor,". Eser, Oğuzhan, İbrahin, Şahin… We're all from different places but we all experienced that. But was that enough? No. There is a talent part. You gotta be passionate and know how to use your insturments.
S.I.:I was the smallest child of my family. I was like a mascott or something. It was the same with the kids from our neighborhood. After that you just start t think like what would I do. When you grew up and insist about it, if you love it also it goes on. We love making people laugh.
Do you feel charismatic when you make a great joke?
S.I.:You feel good ofcourse. But when we make bad ones we tell eachother atrociously.
Do you get a lot of girls with jokes?
B.P.:Yes. Ladies love men who make them laugh. This is a cliche but true. If he's also smart, that's the top point.
S.I.:Yes I did. It's same about men. I don't prefer a world class beauty with an empty head.
How do you get along with İstanbul?
B.P.:For me, it's quite well. I'm so happy about it. My mom is from Ankara and my dad's hometown is Elazığ. I've been living in Ankara since I'm 5 after that we moved to İstanbul. We went to Ankara only in summer for two or three months. I'm in love with İstanbul and I go out if I get a chance. Lately my uncle came from Ankara. He wanted me to take him to Topkapı Palace and we said "Let's go," Topkapı Palace, Hagia Sophia, Yerebatan, Sultanahmet. We went a lot of places. Yes, we have to work and so on but we don't go around where we live, we don't exactly know there either. If you ask me how much do you know about İstanbul, I would say "Not much". It's a poisonus city. When I go somewhere else I can stay there maximum ten days. After that I want to come back. For me, İstanbul is like Bergen the singer. Actually she's beautiful but she closes one side of her face because of the acid attack. İstanbul always makes me blue. It's the most beautiful city in the world truely. Some people made the greatest places from messy lands bu we, we got the best place and we make it worse. We're too harsh about it. We got all those historical Old City but no one gives enough credit.
S.I.:I love this place too. I came from İzmir. It's so different from İstanbul. Life style is so different because Agean people is more relaxed. You go to a restaraunt and they bring your order in an hour but no one complains about it. It was really hard at first because it was so fast. Me and family are very calmed people. When I first came here I was like an idiot. What's happening, what do we have to catch? What's this speed? What are those people doing? I couldn't believe. First I've been living in Tarlabaşı. At nights I was going to Taksim and looking with surprised eyes. All those people, where are they going at this time? İzmir is not like that, everything ends at nine o'clock. There are several places and people go there. After I got used to here İzmir started to bore me.
Şahin, I'm asking this question because you came here later; how did İstanbul say you hello?
I came here with my bag and signed up at an agency. I didn't know anything so I rented a house in Tarlabaşı just to be close to Taksim. You know, İstanbul is Taksim for a guy from İzmir. I rented a house with furnitures. One night while we were watchig TV, I said my friend "Is it a mouse?". He said he saw it too. It was raining and suddenly almost twenty mouses appeared in the house. In that moment I said "I can not stay here" and I bought a bus ticket in Gümüşsuyu. I left İstanbul in 04.00 or 05.00 am and went to İzmir back. Escaped. After I came back I said I'll move out and they said house lord wants to have a word with you. They said move out but we won't give you your stuff back. 3 suited guys. They clearly took my stuff from me. You can not say "Why?". I was a boy, just 22-23 years old. When I saw those guys in suits I was shaking. As you see they got me in Tarlabaşı. İstanbul welcomed me very warm.
How about you guys and kitchen?
B.P.:I'm not so well. Not succesful but still working on it. When I was moving to my new house I bought an owen because I liked how it looks. I'm excited. Now I'll start to cooking fish and chicken in that owen. For me, not knowing how to cook is not something cool. Finally, you survive with eating. Cooking is something about desire.
S.I.:I don't trust my skills very much but I manage to feed myself. I love having guets and serve them.
What are your carreer plans? For example do you thing taking different types of roles than comedy?
B.P.:I think an actor should not say I play this or that. Actor is someone who has some mechanism about his job and solved some fundamentals about it. In our country there are very few actors and actresses in that level. An actor must have a style. Comedy and drama are different styles but have the same dicipline. Actually if you can play comedy you can do everything. You can not measure their difficulties. But my thoughts; comedy is ahead because it's hard.
S.I.:Yılmaz Erdoğan told us first; you should not seperate like I play comedy or drama. "If one says I got a genre, that person puts handcuffs to himself." If you're an actor, you shouldn't seperate.
Are you guys talented in different fields from acting?
S.I.:I can not say I'm so good at this. If I say so I would be rude for the ones who really do those things. We are interested in a lot of things. I come from a musician family. I have two siblings and both of them are musicians. They play a lot of insturments. They don't do it as professionals now but they did. My whole childhood was among bağlama, saz, davul, keybord we had everything. For a long time I hated them. Music wasn't interesting to me and they were only making noises. Music meant noise to me. But we're used to it because both of our siblings are musicians.
B.P.:Everyone think I play bağlama but I can not, I only play so little to make some good sounds. I really love music. I listen a lot, my range is very wide. I listen many genres. I'll have some bağlama lessons. I was into shooting and I'll start it again. Şahin's nephew trains me. He rides horse very well and I'll start again. My sibling is also professional musician and went to conservatory. My father was thinking like "These children will be losers" My brother was playing harmonica and making us mad. I wasn't intersted in nothing. I was thinking if I should try acting and my father was telling to me to have a job. Şahin and I both write. Now I have a screenplay. I'm about to finish the second and I'll write a play. I want to start my own theatre.
Do you dream much?
S.I.:A life without dreaming is impossible. We're chasing our dream anyway. One of the boring things I see, people don't dream. No one should give up from dreaming, everyone should dream. What we gained in this world they're all the things that we dreamed about. We always do everything with dreams, if we don't do so that's the end. We lose our hope.
B.P.:I love dreaming it's my favorite thing to do. I love being alone also. Sometimes I don't go out for two days. I have an imaginary world and I live everything in there. That place opens new ways to me and give courage. I go to field and see how difficult it is. After that I come back to my dreams and wonder how can I do it better.
Where does Yılmaz Erdoğan stands in your lifes? What did you learned from him most?
B.P.:He is our master. I learned not to compare. I don't compare anything or anyone because everyone has a different DNA. Somethimes we get confused, we go to Yılmaz Erdoğan and he makes everything clear for us. He is really our master.
S.I.:He changed our visions. Our education in BKM was not about acting only. He actually made us learn the life. It was so important for us to be in that project. We learned about life an doing our job with dignity. If you ask what's dignity it's doing your job good. If you ask what's disrespectful; it's the one who does his job bad. You might be a plumber or actor. This doesn't depend on your profession.
 I believe there is a dominant emotion for everyone that directs his/her life. Some look for love in evertyhing, some look for logic or conscience. The most powerful point of yours is also your weakest point may be, what's that for you?
B.P.:For me, conscience and equality. We're an eastern society not a western. We listen eachother's hearts. We all had pity. Since we lost that we went trough a lot. People lost their conscience, no one feels sorry for another, help another. My conscience directs my life and made me stop a lot. May be if I could deal with it and learn how not to listen to is I could be those people we talk about how they made everything. But it's not important, I sleep very well. That's enoug. I love the times that I lost.
S.I.:It's conscience to me either. You get the right answers only from your mechanism of justice. If you dealt with a situation by listening your conscience, nothing important such as what does others think. Please, move with your conscience and don't lost your joy of life.
Do you have obsessive sides?
B.P.:Oh, I have. I'm really really tidy. Everything must be tidy. I was fixing the paintings, not step on the lines etc. But I looked and saw it's going through a sick phase. I lived messy conciously in an era. Now I fixed myself to being diciplined. It's important to me. I had fights with my best friend about this. What can I do, I'm this type of guy.
S.I.:I sometimes say "Let's do it" and clean whole place and wash all the dishes. For example when I work at kitchen it could be messy but it must be tidy and clean at the end of the day.