I don't know if you have any news, but Şencan Güleryüz doesn't get enough of the awards with "Advertisement". He receives many awards from abroad. Now, with the new theater play Eli The Hand of God, he is preparing to shake it up and question the twin-facedness of mankind.
On the 12th of November, we came together as an excuse for the play Eli The Hand of God olan which will open its curtains. The Galata Istanbul Hotel – MGallery`s terrace with a magnificent view of Istanbul we realized during our conversation; awards, we reached until the second life established in the Aegean.
You interviewed for two years in a magazine. You signed the interviews…
Yeah, it lasted about two years. Most of the names I interviewed were people who were friends outside. He was more comfortable in conversation. Sure, there's a difference between asking questions and making them talk. It's a special thing to make people talk. Nice interviews.
Why did that job come to you?
I'm bored when I succeed in doing theater, I want to play in the TV series. I get bored with the show for a long time, I want to be in a movie. I want to be everywhere about acting. I want it to be at the same time, if possible.
I think you read another chapter before the conservatory …
Yes, I read sales management before. Then I graduated from the State Conservatory of Istanbul University. I've done almost everything about television and acting.
Isn't that your desire to do everything? Isn't it exhausting?
I can do a lot of work at the same time. It's about how good I feel about my job. I'm not standing where I'm not feeling well.
Let me ask you what you're doing now, not what you're doing…
I'm mostly interested in cinema right now. I recently made a film called ons Advertisement ". The film received many awards at festivals. We started the first world opening in Venice. We got two awards there. Afterwards, the film received many awards. Festivals continue. I'm going to Valencia this weekend to the Valencia Film Festival. I think I'm going to attend the Seattle Film Festival in America. On the other hand, I took part in BKM production 'Portrait of Beauty' directed by Umur Turagay. We played Burçin Terzioğlu, Birkan Sokullu and Serkan Keskin in the psychological tension film.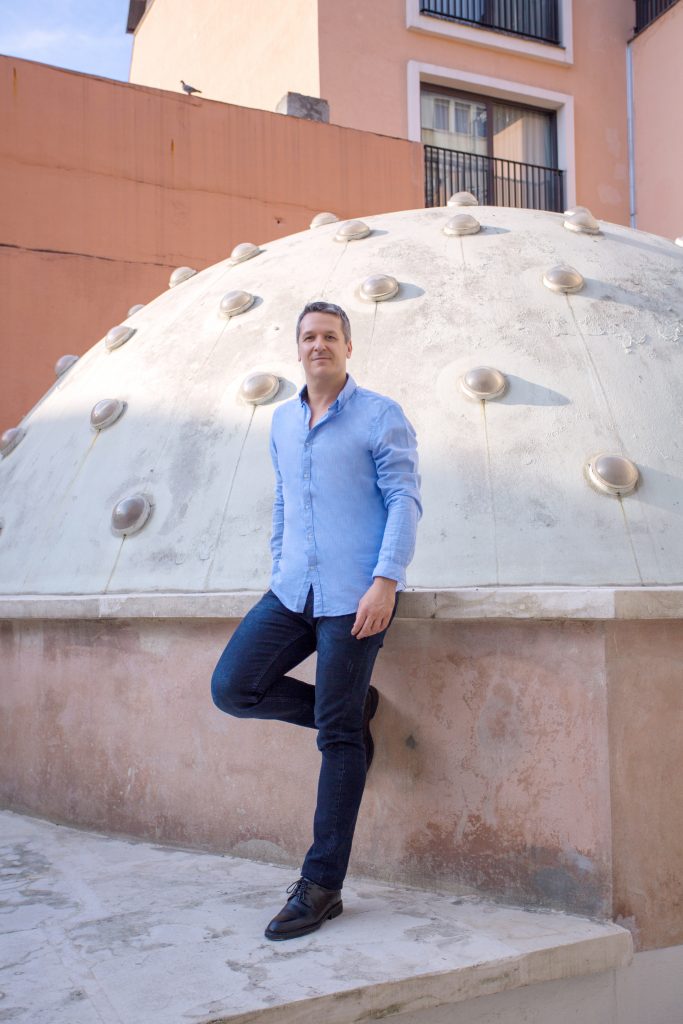 Why do you think the film got so many awards?
The movie is a hard work. Mahmut Fazıl's third film. Ercan Kesal and Mahmut Fazıl wrote the script together. Mahmut is a director who prepares and prepares the film very well and knows what he wants. It was one of the 25 best films among the autumn festivals. There was "Barrier-Free Film Festival' in Ankara. Our film was awarded two of the last four awards. The film's journey continues. We also received an award from Frankfurt. It is very important for me to have my name in the international press and to write something about my role. After that, frankly, I'd like to go on with this kind of film.
Imagine box office movies that equals to actors playing in festival movies. So it's a little hard to make money. At least we know that. Is that so?
Yeah, but since I started my career, I've been a man who can do it all together. When you look at an actor, he is located in a place about that style. If he's in a TV show, he's just playing in a TV show. If he's doing theater, he's only doing theater. The fields don't invite each other between them. In fact, this is not the case in other countries. There is a restrictive area where an actor plays only in commercial films, only plays in the theater, and they don't invite you outside. Directors who make films like "Advertisement iyor do not want to work with popular actors on television. They have their reasons. My point is a little contrary. I play in television series, I play in movies of this kind. I want to be everywhere there is acting. In this sense, I feel very lucky.
Do you have any concerns about making money?
You have to have financial freedom to do what you want, to choose from the offers that come to you. Money is a relative concept that changes according to everyone. Like happiness concept.
What's in your happiness concept?
The concept of freedom is a must for me in my concept of happiness. I think this is the case for all people… The more free a person feels, the more happy he makes his own decisions.
How free do you feel?
I'm forcing myself into this and I'm investigating it. At the point I am looking for; both professionally, socially and in the sense of the people around me, in short, I want to be free in all areas, everything.
Whatever you look for, you're tested with it, so is life.
E.g; If you feel you're free when you have a lot of money, it means you're not free. Actually, that's what I'm trying to tell you.
As you continue your announcement film journey, are there any different projects you are working on?
Yes, I have a game rehearsal. Very interesting text and it excites me. A play written by Robert Askins. We will perform our play Eli The Hand of God Toy in Toy Istanbul. Translation and direction was directed by Kerem Pilavcı. Turkey will make its world premiere on 12 November.
Is there a kiss in this game? You know every kiss you play …
We're doing the deer of it, for the first time in my life I'm not kissing in a play. Others are kissing. Probably we're going to play the game, +16 / + 18. Hard game. He has been questioning the question of conscience and hypocrisy since the birth of man. Fresh game, written in 2014. He's still playing Broadway. He has many awards. I'm very excited, and I hope the audience will be happy.She put me up and kissed the women, the Posta newspaper made such a news.
Is there anything you rebelled against?
I'm an actor and I only make money from acting. Every player in the sector may have complaints, but I do not prefer to stand at such a point. Yıldız Hoca (Kenter) had a sentence for me when I graduated. "Canikom, you're like the Arabian racehorse, you're standing, you're standing, you're passing everyone last minute." Now I understand what you mean. Instead of thinking about and concentrating on the problems, I prefer to work. Sometimes I think that standing, questioning, going away, actor processes are useful for people. Isn't everything just as it should be?
What are the colors that attract the energy of life up?
Music, being on stage, my family, my friends, doing sports and traveling.
How old are you?
I'il be 47 in November.
What is the life interest you've drawn from yourself for 47 years?
I had a rough summer this year. I went to the Tunisian Film Festival. The night I got back, my mother had a heart attack and we almost lost it. I've never had a bad thing happen to someone who is so close to me, and I have to be fortunate to have close friends who live in these kinds of events, I would make sentences and try to support them. Then I got mad at myself. After all, I knew I didn't know anything. This is my favorite subject: Knowing. In fact, we don't know anything until it happens. Life is based on learning.
I think you're Amasian?
No, I'm just born in Amasya. My dad's a retired cop from the narcotics. We toured because of the assignments. I don't have any childhood friends. Always 1 – 2 years friendships … My oldest friends, I have been in Istanbul since the time I came to the conservatory.
What does Istanbul mean to you?
Istanbul is where I started to save people for me. Before Istanbul, always, disconnected.
Where can we see you in Istanbul? Are you the ones who have plans to participate in the Aegean settlement?
First; If I don't have a job, I'm not standing in Istanbul. Because I'm bored. Istanbul is a very tiring city, so I travel a lot. In Istanbul, you can see me most when you are cycling or running on Baghdad Street, the coast of Anatolian Side, Caddebostan.
The answer to the second question; I already have a life in the Aegean. We have a farm in Izmir. We're farming. For us, it's a process that starts with my father's hobby. My father put 3 different lives into his life, including policing, trade and farm life. My father has 1000 trees planted with his hands. There are 150 fruit trees, 50 fig trees. I go there when I don't have a job. I know agriculture and tree. Frankly, I don't think I can stop acting and settle there completely. At least I haven't come to that head yet. I'il go and come.