Born and raised in İstanbul, Birol Bali is an İstanbul photographer who knows the city street by street and shares the miracles that he witness with photograps in his own words. Having left the professional world that he worked for a long time, Bali follows his passion and this adventure of photography made him one of the most followed figures of social media. We asked about İstanbul, photographs and what does he see when he look at İstanbul with  a pair of eyes of a photographer.
How did the photography enthusiasm started and evolved?
Since the high school I was in touch with arts, I got theatre lessons. I wass playing and writing sketches both. I enjoyed looking and sharing life with different angles. I was thinking about finding a creative angle,  how can I show this in an interesting state about photograph. I still think like that.
Photographs evolved into something that can be transported very quic from memory objects in our album. What did this change bring ?
With digitalisation everybody started to take photographs and that's beautiful. Social life became lively with the platforms like Instagram and networks are occured. Every week there are meetings and photography tours. Everybody explored the creative power inside, and that's a good thing.
There must be some photographs that effected you very much with the story behind. Can you tell us  a couple of those?
I tell a story since the beginning. My capital is İstanbul and seagulss have the leading cast. Seagulls seen very good in this city and they pose wonderful. Ferries, simits and tea are must haves; these are my story. I tell stories of the people that I met on roads too. Like sheppard Şaban from town of Elmalı in Antalya, Tuncay who rides a horse carriage in Çıldır Lake, uncle Mehmet in sunflower farm in Enez… I add their stories to mine.
Every photographer has a style. What makes your photographs different, Birol Bali photographs?
The feature that seperates my photographs from the others: They're magestic. For example I don't shoot without clouds in sky, I don't add clouds on photoshop. I can wait for days. These make my photographs more magestic. If I shoot a portrait, landscape is important. I'm no good with studio shootings. I'm more comfortable with outdoor shootings and I get breathtaking results.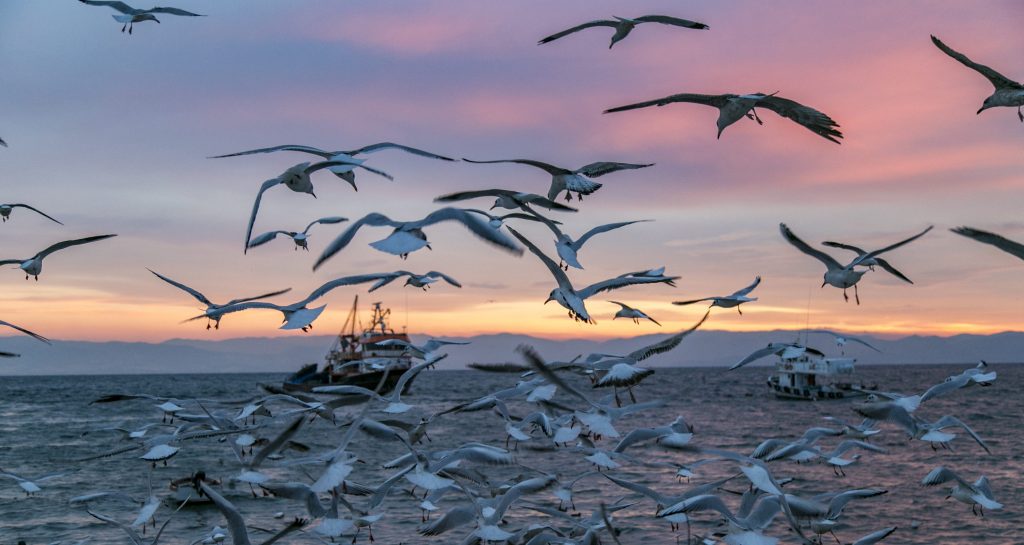 There must be some things that you learn even now. What did you learn lately?
Novadays, stars attract my attention, watching the universe is so effective. Whey I'm out of the city or far away from the city lights I shoot stars.
Some poets and musicians dedicate their pieces to İstanbul, tell the story of İstanbul. Can we say 'An İstanbul Photographer' about you?
I'm an İstanbul photographer. I started my story with nature of İstanbul. I believe miracles and every day miracles are happening. I show the moments that I've witnessed. I try to reflect beauties of this city where I love for 40 years. You can not see pollution or agitation in my photos. This city will remain just like my dreams.
Which parts of the city do you love to photograph most?
Tuzla, Eminönü, Beşiktaş, Sarıyer, Kadıköy. All these places are very valuable for me. There are places where I spent my childhood, experienced my loves. Those places made me who I am and they're center of my passion. Every season I go and live those moments again and again and photograph them. Connecting with sea is their common point. Sea is my must-be.
Everyone is inspired by something. What or who are you inspired from in life and photograph?
Nature inspires me, I'm a part of it. I can't understand those people who believes that we came from the earth and we'll end up in that and still kill the nature. When I'm away from the city, we see happy people who raises animals or works with earth. With high levels of awareness, they're clean people who didn't took a part in storms of caotic cities. I find the inspiration in the sincerety on their eyes. Last week, I met with Şaban in town of Elmalı in Antalya, he was with his goats. We had chat for hours and I took wonderful ohotographs. I left my number to him when I'm leaving. He called me yesterday and gave his adress. I'll print the photographs and sen him. He said "Tell your friends to come and find me, I can walk around with them too." Like him, people with big hearts effect me.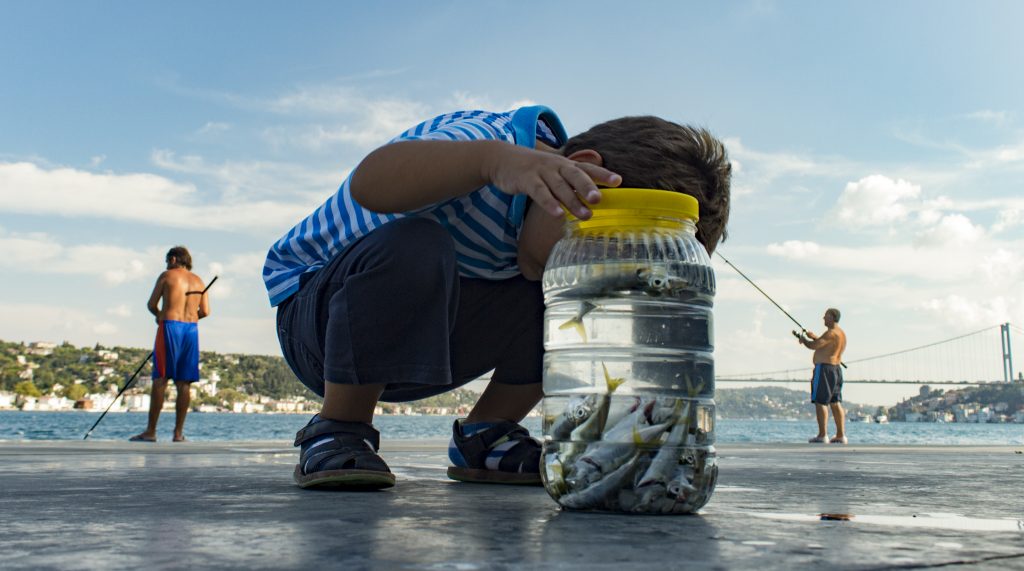 You have various, creative works about angles and colors. What do your eyes look for when you create your compositions?
Angles and colors: Sometimes I find inside some water on the road. I love reflections. We went to Kars as guests of Kars Governor. We coincide Friday pray and I saw melting snow on the floor. There was a fistful of water, I photographed the mosque with wide lens. It became a hit in Kars J They released it in everywhere. Sometimes I put camera on the floow, sometimes I lay down. It's not important to get dirty. I was washed with waves numerious times. And my color is blue. You can see the most special tones of blue in my photographs.
Is there any landscape that you want to see every morning when you're up?Where would you like to your window overlook?
I want to wake up with bird sounds, seeing blue sky when I open the window and step on greenery when I went to garden. I'm so lucky because I live in such a place. Chilling with breezes from the sea and smelling it is priceless.
What do you see when you look at the big picture of İstanbul?
"Yeni İstanbul'un" hali ve dönüşümü beni endişelendiriyor. Hızla ormanlar yok oluyor, yerine dikildiği söylenen fidanların büyümesi onlarca yılı alacak. Uçaktan hiç şehre baktınız mı bilmiyorum ama tam bir Beton Ormanı!
"New İstanbul's state and evolation is makes me worried. Forests are disappearing and the new ones will grow in years. I don't know have you ever you look at the city from a plane but it's like a jungle from blocks.
In the old days, we went to swim in coast line but now there are walking roads from beton blocks. Even the play grounds are mess. First they build the concrete then they put toys on it. We used to play on dirt. Housing projects are everywhere and I call them modern prisons. Neighborhood culture is dying.
Since we allow buildings that stabs İstanbul's shilouette, our photographs will be history for museums.
What are your plans for future?
I'll start an exhibition abroad. I'm preparing an exhibition about beauty of Turkey. I want to take my photograps state by state to share. I always photographed colorful sides, happy faces of my country and I want to show them to other nationalities.