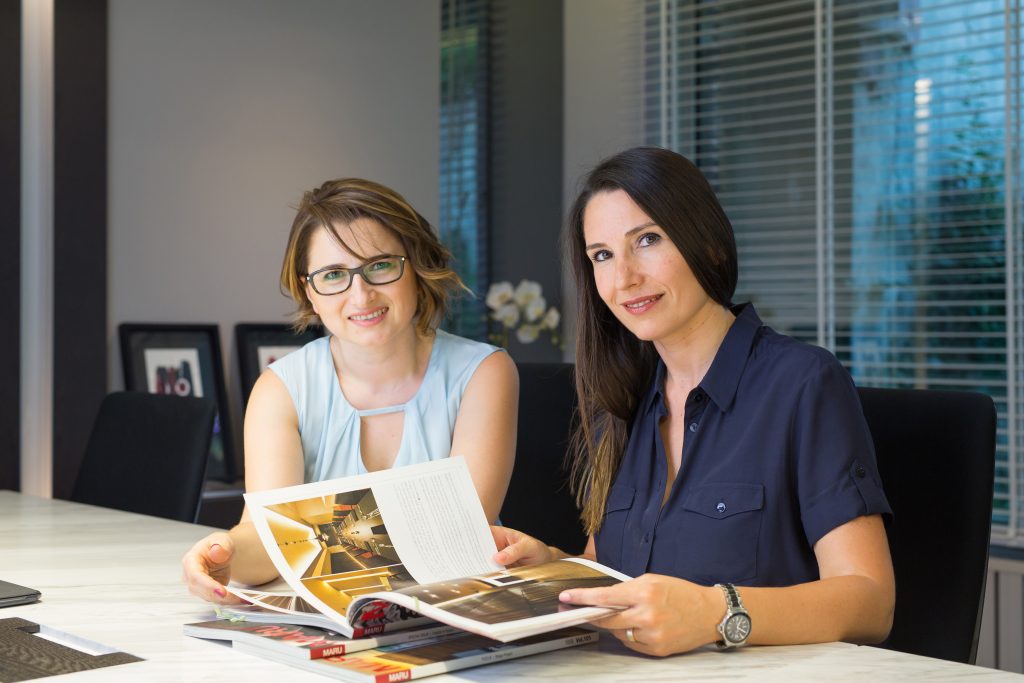 As Gönye Project &Design, you are the third architecture office being awarded with the title, "Center of Design". Could you tell us about the whole process and how it contributed to you?
Following the establishment of our company in 2010, we grew rapidly due to getting large-scaled projects. Consequently, we preferred to get a consultancy support in order to maintain this rapidly-growing period without any harm neither to our company nor to our customers and employers. Due to some requirements and necessities in time; we prepared the "Gönye Booklet", "Productivity Evaluation Processes", "Project Process Reporting" and "Project Based Evaluation System". As doing all these, we followed up and supported the development and improvement of all our team regarding the targets we'd set together. We attended domestic and foreign exhibitions either as a group or individually. In the meantime, we created the "Gönye Standards of Drawing" due to some technical requirements. All these preparations we've done are just because we believed in systematic working and our realization of the benefits of an existing system. And when we reviewed the basic requirements for the application to 'Center of Design', we realized that there was nothing different or beyond what we had been doing for the last 4 years and that our system of working was already meeting the requirements and therefore we collected the necessary reports amd applied for it.
Being chosen as the "Center of Design", what did it add to Gönye Design? What do you think will be the additional values it will put on your system of working and designs?
The title, "Center of Design" has primarily proven that our designs are satisfying all aesthetic, functionality and innovation criterias. All the positive feedbacks we received from academicians, poeple from the sector and from the ministry throughout the process has shown us that we're on the right way eventhough our company is in fact a young one. From today on -with the tax advantages we've been enetitled to- we're going to increase the number and quality of the designing team, increase the investments on design equipments and softwares and add new trainings for our employers.
We frequently see the name of Gönye Design on the designings of the sales offices of branded housing projects both in Turkey and abroad. According to your point of view; how much can the power of design of a sales office effect the decision of a potential buyer?
Sales offices are influencial on the decision period of a potential buyer by reflecting the vision of the investor company and the consept of the project. In the meantime, most of the sales offices are including sample flats and so they give more and realistic idea to the customer. By showing the real place and making the customer feel like living there –rather than just telling verbally and/or depending on commercials- these sales offices contribute more to the sales and marketing processes. Sales offices are giving very significant clues as to the quality of the project, what kind of a life it's offering and the style of it. A team working in a well-designed sales office have a stronger head start comparatively.
When we examine the tendency of purchasing processes of people in general; we see that needs are not enough by themselves. Especially if it is a matter of buying a flat, buyers' forming a psychological bond with the house and being able to call it as "home" turn out to be a very crucial criteria in their deciding. Therefore, if it is a matter of buying a flat from an uncompleted project, then the only place a buyer can form such a bond with the house happen to be a sales office where they can feel the functionality, the life style, the ambiance and the sincerity.
We mostly see the name of Gönye Design in the interior designing of many branded residence, office and hotel projects both in Turkey and abroad. However besides these, its possible to see the signature of Gönye Design in various communal areas.. What do you mostly focus on in designing such commonly used areas?
Since such commonlu used areas are designed for the usage of multiple users, they have different criterias from the materials used to the functional plannings. In these venues; acoustical precautions, the ratio between daylight and artificial lightning, design of lightnings and heating and cooling plannings are some of the issues directly effecting the design. While designing commonly used areas, we care mostly about making the places warm, humanly and enjoyable and take decorative precautions in order to reduce the scale of the place to a human scale in case of very huge or high constructions. Although the materials and colors used are again determined according to the function, we mostly make our preferences in natural tones where lively colors are used in a balance. Rather than contrast and sharp affects, we prefer softer transitions. As for the floor coverings; we prefer durable materials keeping in mind the high circulation and for the walls, we try to avoid uniformity by using various materials.
Gönye Tasarım'ın projelerinde farkını ortaya koyduğu noktalar nelerdir?
First of all, we try to make living spaces where functional and aesthetic values ​​are at the forefront. We care about texture, color and material compatibility together with the lighting factor. It is very important that this combination meets the correct proportions. When we design our designs, we move from a separate exit point for each space. We look for the design that is unique to that location, and we follow the same line even in the accessories we choose at the end. Especially in our sample apartment designs you can see this better, you can better understand living spaces. In addition, the conceptual design of our designs, both in terms of budget and detail, is very important for us. We care about projecting and detailing as concept. We produce special details for each project, and develop from the detail to the whole. This results in functional and aesthetically resolved spaces. One of the things that make us different from other designs is that we have a flexible design approach. In other words, we can work in both modern and classical styles according to demand.
Do you have any necessities in your designs?
We like to use natural materials and we use them. Wood and marble material as a must-have. Of course, the colors and textures of other materials we use are also very important. For this reason, we make a moodboard study in order to better understand material, color and texture. We're going through design later. When we use natural tones, soil, gray and white colors as a backdrop, we prefer living or pastel colors in details and textile products. Correct lighting is a must for us. The interior must be properly illuminated so as not to cause any …
What can you tell us about the recent works of Gönye Design?
If we're to talk about the projects we've just completed in 2018; -in means of branded housing- we completed all the interior designings of Nidapark Küçükyalı, including their sales offices as well. In Yedi Mavi Project, we designed 2 sample flats one of which has been awarded with the IDA Design Award located in Los Angeles. The HerDem Life Village in Silivri, the new phase of the Strada Project, Self Istanbul housing project with Açı Schools in it, Transform Fikirtepe and As Maslak housing projects are amongst the projects we've completed. In the meantime –as our showroom projects- we have completed the VIP areas of Gelecek Automotive, Egemer Mercedes Showroomand Decovita Ceramics Spain and Turkey fair stands. A design of Antre Cafe in Play Atelier, a duplex flat in Erenköy and a special 1000 m2 villa we designed in Tuscany Homes are some of the works we have recently completed. With this villa designing, we won the Architecture MasterPrize Award. Besides all these, we've made the designing of one of the biggest aviation companies' office in Teknokent and the interior designing of a 9-floor office building of a bank.
As for our ongoing projects; Bizim Mahalle housing project, AkpresAutomotive office building, Skyland sample flat and a 2-blocks housing project in Içerenköy can be mentioned. Finally, we've recently started 3 hotel projects in Dubai, Tashkent and Frankfurt.