In those years during which i was taking interior architecture education i started to paint and design masks at the recommodations of my mentors who discovered my talent for painting. Actually one of the reasons i chose interior architecture is painting.after my graduation i met my field teacher( MAnoucher Kouchak Pour) who helped me a lot by the time i started to have education to improve myself in the field. He is a very precious person who has taken part in Guinness records book. İ owe him too much.i can see myself much more clear from the perspective he brought me. Meanwhile , at odd moments, i follow the exhibitions and meet the new starters. Thus i spend lovely times with the masters i admire. İ had chances to introduce my Works in many group exhibitions till now. As you know i hold my own exhibition recently. This is a whole different excitement. İ had heard that my mentors before and yet i can understand now. As a matter of fact that there should be excitement in what you do then the genuine joy comes along. İ hope that continues. İ want to do more Works to reach more people. And my doings in that way. There are some serious projects in this so that it takes long efforts and yet i am not in rush, i put them in an order because my wish is to render emphatically by doing right thing on the right time. İ hope it proceed like this.
When you started to paint and how?
It is like all of us doing scratches when we see plain papers. Actually i started with drawing something everywhere in my early ages too. The only difference ; mine were attracting attention. The positive feedbacks i received enthused me more. There were not a lot of opportunities for me to Show my talent back then but i thought that i need to improve myself in academic aspect that's what i took my education in this field and came these days from those little papers.
How do you identify art?
In fact i , as an artist, abstain such a comment because i would not want to make a statement that i can not sustain. You want me to identify ocean while i am swimming in an eternal sea. İ might fall short to Picture art as it is the one of the most superior skills endowed to men. I mus have been a competent man of letters. The truth is that ; of course we all have creativity and the ability to express but for some of us these features can be astonishing. Art is the way of express the pleasure you felt while loving human , natüre and all the occurances by your own senses. Art is making people to look from your perspective. While a sculptor shaping the mud up , while a man of letter verbalizing , they all tried to define the same pleasure. The value of an art work can only be evaluated with the joy it gave to those who listen, watch , witness it in anyway and by glamorizing them. That's the goal already; expressing yourself in the best way you can and to convey it well. And it is reallty an unaccountable feeling to the artist. That's why a performing artist in love with applause. İ focus the time one passes looking at one of my paintings and the density of the view. For the reason i could make the one go for a conscious and subconcious journey. An artist should see the beautiful better, understand it , render it with her own imagination not just the way it is.and express it in her way. An artist should struggle to seize perfection.
 What is the golden rule of being a good painter for you?
One of the undeniable factos is a sophisticated visual intelligence. Beside that one must have an inner intelligence so that she can reflect the feelings she lived through to her toille or paper. Her dexterity must be advanced and she is to be able to distinguish the colours and the light. She need to have sophisticated imagery skill and innovative features. Being original, not to resemble the others, proceeding without fear, to be open critisism from the people from all kinds and ages, not to löse excitement are very important too. Many more things can be sorted but at the beginning these features need to be possessed. Some of us possess the features i sorted i can not see the limits what they are capable of. İt is a job on a volunteer basis regardless of how the skills have been acquired. Thus  you must spend  time and labor.
İs it solely depends on talent to put out good work in your opinion or is a very good education absolutely necessary?
İt certainly is important but i would be wrong if i say it is completely about academic education. İt is not true for only painting but for every field of art. Otherwise i would be seriously unfair to green-fingereds. There are a considerable amount of skilled people after education. İt is highly possible to be a good painter espacially with the education taken at early ages. But in point of fact; it is the primary necessity to have a visual memory and a good observation skill to be a painter , self educated or not. İmagination needs to be combined with dexterity and one should leave marks in his/her Works. With education, You may find yourselves running on the way you set off to walk
From what do you fuel in the creation process of your Works? Does  your way of working depend on certain patterns or develop spontaneously?
We can say that my interpretation is between expressionism and abstractionism. İ quite enjoy forming characters from my on World in my original Works. Regardles of the composition i would use in the end, i always avoid limitting myself in the implementation process. And sometimes i get spontaneous ,sudden results like life itself and it is much more exciting for me.i affluently give place to Works which call  different emotions per eyes  By reflecting energy of true life experiences that's why the same painting may reflect different emotions. İ give place to emotinal breakdowns and reconstructions, inner journeys in most of my Works.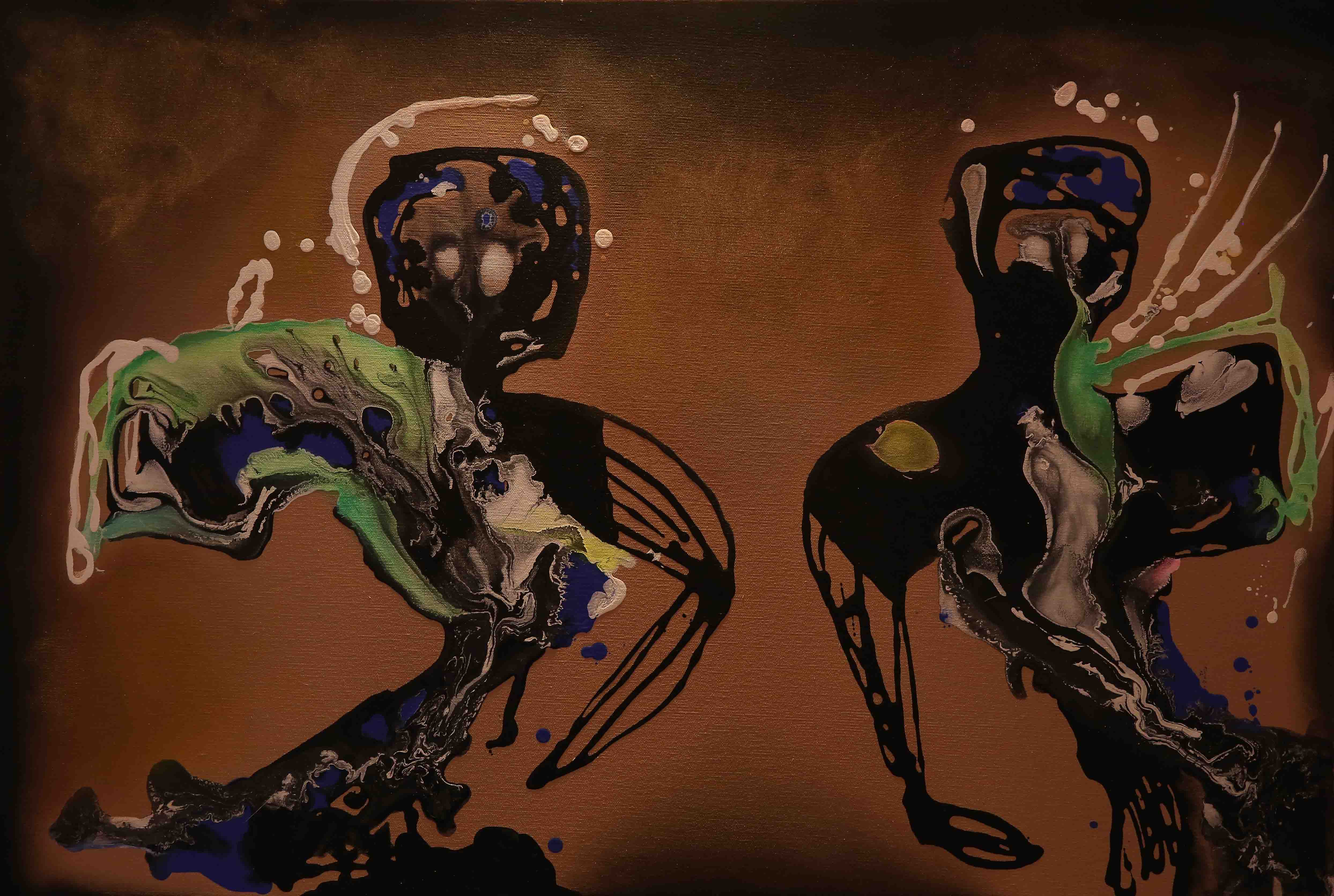 You has held and exhibition with the name of ''yüzleşme (confrontation)'', could you mention about the content of your exhibition?
İn this collection, i worked slightly different than the former ones. İt consists of the work i let alone to a degree for taking shape spontaneously. İ wanted emergent characters in my paintings to mirror varieties of the spiritual structures that we possess.i intended to make people ,who come to see, find something from themselves. İ can say that i have reached my goal because i received a lot of comments.of course there are criticism among them but that is the harmony of emotions i make people live through and that was the outcome i exactly expect from this exhibition. Since each one of us has different lives these experiences form different point of view for everyone. Confrontation is the thing we can not stand, mostly can not manage or forget. İ think one should be able to interpret his/herself starkly, objectively and see his/her own mistakes and accept them. İ believed i did the right thing by attracting attention to this subject in which i believe. İ hope i could convey it to you well.
What kind of differences are there you think between today's art understanding
Many things change even in ten years not fifty. Art sometimes is a part of life and sometimes the life itself. Naturally, understanding of art may Show changes in parallel with technique, materiels in use, time and experiences. The only things remain constant are the imagination and the desire to produce. Even if the meaning and the interpretation alter with the flow of the time art will proceed gaining value in time.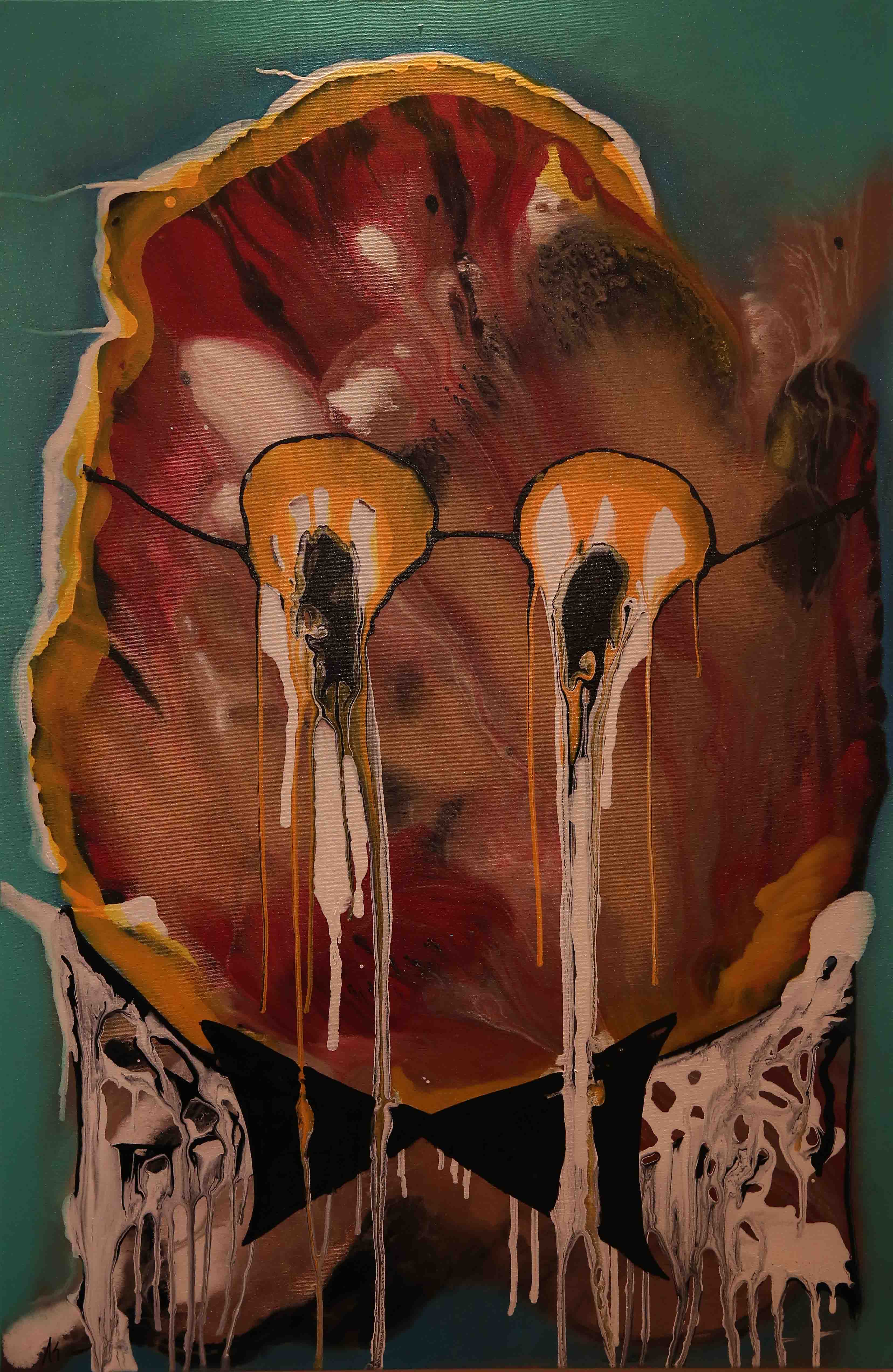 How do you find Turkey's perspective to the art of painting?
Coming in better places of all fields of art including painting in accordance with the cultural richness of the public and the government. Of course we may have deficiences in understanding of art as every nation does. But i think these can be overcome with the improving technology and education. as long as artists own the art, it is appreciated and conveyed aright. Are not there those who want to take advantage of art, there are indeed but i want to be hopeful, i want to leave a beautiful legacy to next generations. And we can simply maket his right by our doings, thinkings and livings. We can do this by not giving up look in a beautiful way. İ want children to grow up in art so that we will not have to ask such a question. İ want to emphisize that  we need tol ive with the art for a more positive, more hopeful and happier future.
Which artists do you enjoy to follow?
İ think it is a motivation enhancing factor for an artist that seeing another one, be impressed by his/her Works.i follo a number of artists ,from Turkey and abroad, with joy. These are the ones to whom i took my hat off; with special treatment to , Bedri Rahmi Eyüboğlu, Nuri İyem, Hale Asaf, Manoucher Kouchak Pour and Seyfi Arıkan, Devrim Erbil, Adil Salih, Yavuz Tanyeli, Mustafa Ayaz, Mehmet Karaman.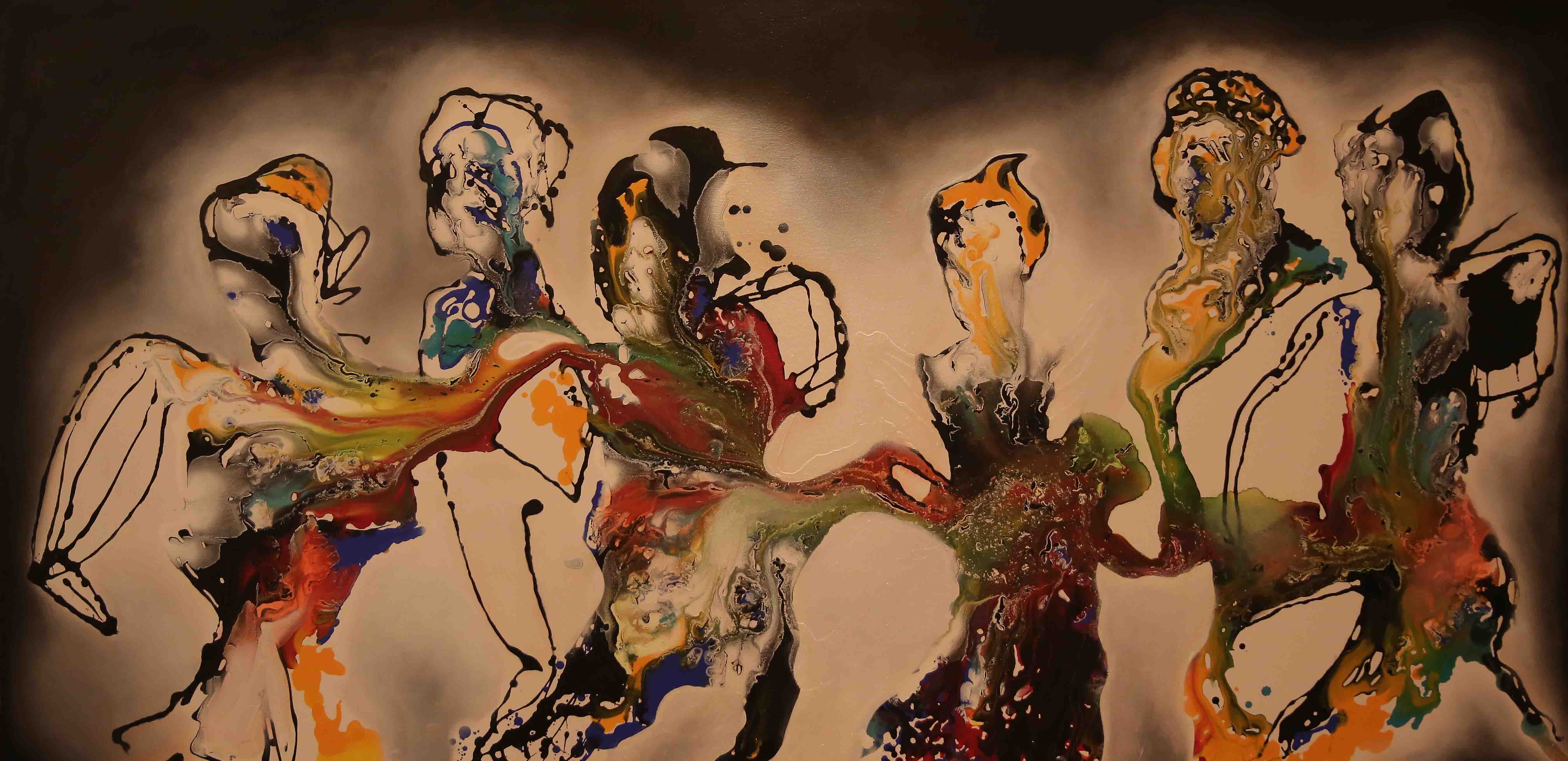 What do you do for improving yourself to put out creative Works or what is your reccommendation to ne starters?
May them be aware of nothing is impossible, dreams are the rightest fellow traveller and the light and the patience they Show will be compensated for. İ can guarantee that they will realize that they on a way lead them to find themselves. For this reason may them spend time and continue to produce. Follo the exhibitions at odd times. May they interested in every field of art for enhancing themselves. May they live with the privilege of living with art to enjoy life. Every artist has a unique technique indeed, in fact that is the hidden signature of Works. If they want to capture their own style they should reflect the passion in their life, perspective and experiences to their work. Because the better they reflect their identity, the better they convey the emotion in their work.