As we're starting our conversation, we'd like to get to know you. Could you please tell us about your education and how you began your profession?
Since my childhood, I used to try to imagine as to how the objects in an environment shall actually be located. In the meantime, it turned out to be a hobby for me and my mom to renew and relocate the objects and the furniture in our house. As a result of these, I chose to study interior architecture at university as a consciıus decision. For me, designing and adding an identity to a place is a very enjoyable activity.
And after my graduation, I worked at several firms to be able to decide as to where I really wanted to work; either at the field as an interior architect or in the designing department or the furniture department. Throughout this process, I realized that I in fact love all the aspects of this job and after an experience of 5 years at the field and project designing, I established Maar Architecture in 2016.
What were the factors leading you to interior architecture? Had you ever thought of other professions?
Designing is a daily way of thinking for me actually. Even if the topics are various, my way of comprehension is rather visual. Therefore I believe I've made the perfect choice of job for myself. There were times when I found the sector tough after I graduated, but still I never thought of moving to another field.
When was Maar Design established? Could you please tell us shortly the structure of the company, your team and what you've done up to now?
Maar Design was first established in 2016. And since our establishment, we've been continuously working on domestic housing, shopping center and office projects in terms of both designing and application.And in 2018, we started out with abroad projects and here also we function both as desinging and application. After the place to be project designed comes to us, we listen to the expectations of the customer and accordingly move onto the designing phase. Generally I'm in charge of the designing concept of the place and following this w ego on with my teammates in the project designing phase.
You undersign projects of various typologies such as office, housing, restaurants and trade buildings.. How would you define your understanding of design?
Most primarily, I believe very much in the fact that every place has its own characteristic like a person. Obviously we aim to make analytic designs but at the end, a place may come out with its own name which fits it the best, when the design is completed. In the phase of project designing, the result we reach as a team has to satisfy me first. As long as I believe in the job we come up with, I can transpass my neergy over to the customer side very easily.
How does it contribute to you as to working with such various scales, typologies and locations?
Adapting yourself to various scales and locations require more of an effort. The furniture field is indeed a very different profession which I work at with much pleasure. The walls and floors of the places tell us themselves what they want on them and each and every project happens to be a new and unique experience for us.
What are the determinative criterias of your designing approach? And how do you define your own style of architecture?
The most determinative criteria is in fact the place itself. It reflects what it wants as to how it is enlighted and what kind of solutions it needs from the first moment on. And with the guidance of these ealuations, we move on. Our priority is always understanding owner of the job. At the end, I blend the requirements of the project with my own architectural perspective and reflect a different design each time.
How do you evaluate the way corporate companies in Turkey approach office designs?
They usually prefer a classical style and they're not so open to live colors and unique designs. On the other hand, what I believe is; if they are obtaining a Professional support, then they should let us increase the alternatives. People usually stay distant to colors because of the difficulty of their usage. However they have to keep in mind that the purpose of the office is the determinative criteria at this point.
Do you first of all decide on the idea, the style or the material? What do you think about these essential elements of designing?
Obviously the şdea comes first but for me what's important is in fact the style. You can use the materials in so many different ways and when the style is determined, the materials are easy. So again, for me; the idea and the style are the most crucial.
Which has been the project that excited you or reflected you the most up to now?
It is actually the housing projects that excite me the most. On the contrary, a very recent restaurant project which we have competed in Copenhagen has excited us all as a team. The result of the project both fitted the expectations of our customer fully and also it happened to be a very chic design. Right now, we're at the application phase of this project and we are pleased with every detail of it.
How about your current projects?
Nowadays, it's the restaurant in Copenhagen we're busy and happy with. We started 3 months ago and have created a very different, colorful, luxurious and unique place.
And what we are so impatient about is the furniture store we're planning to open through the end of this year. As Maar Design, we are planning to create our own collection for this store and we're so excited about the designs.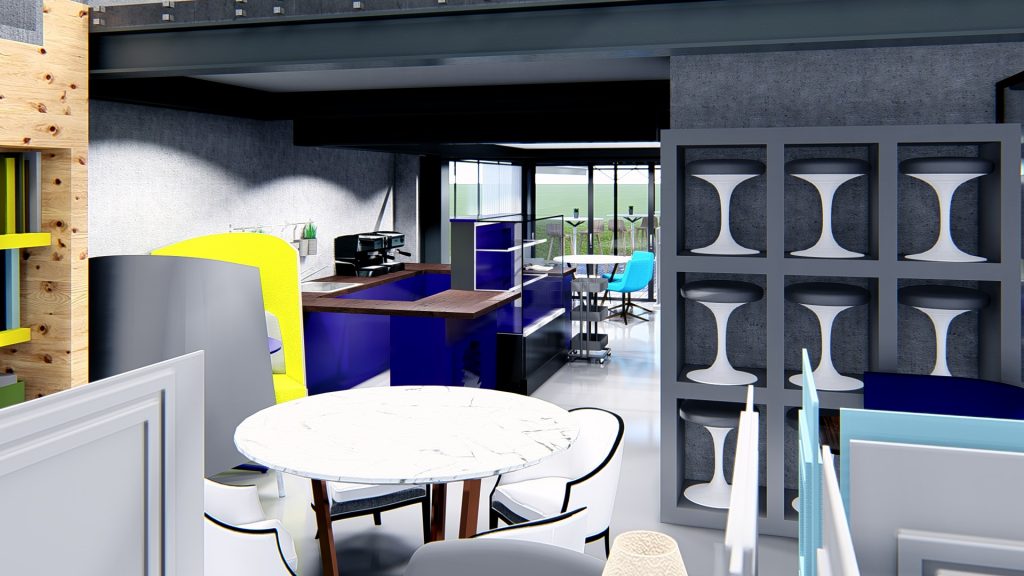 Finally, what recommendations can you give to the young architects?
First of all, I strongly recommend them to work in different firms during their education to gain experience in various areas such as the field, project designing, furniture designing etc. There are so many alternatives to work at in our profession and that's why they have to give much importance to internship as to figüre out which field they're most happy and successful at. They have to search on new materials, projects, brands and styles as much as they can. Consequently; they know what they want to do and to which direction they want to move on when they graduate.