We are proud of seeing that these products that we provide to our customers with a great effort are used admirably.
Can you introduce yourselves briefly?
After I graduated from Tarsus American College in 1996, I received my undergraduate education in Department of Tourism Management of Akdeniz University, then I went to the United States for my postgraduate education in Department of Tourism Technology. After working in the related sector in the United States for a couple of years, I wanted to do business and established my own company, then I started to export natural stone and marble by establishing an export company with my brother. I turned back to Turkey in 2004 and focused on this business. In addition to our export activities that lasted until 2007, we started to import marble and granite from the abroad and have established wholesale and retail natural stone storage that still operates in Adana. Then, I established a natural stone company with Gorkem Eruncu who is my current partner in 2010. He graduated from TED Ankara College in 1995, then from Department of Metallurgical and Materials Engineering of METU (Middle East Technical University). Then he worked as the manager in purchasing and logistics departments in a corporate company between 2004 – 2008 and decided to set up his own business in line with his experiences. After accomplishing big marble projects with materials and application for 3 years, we decided to establish our brand "Mat for Home" that we planned to produce natural stone service and decoration products.
When and how did you realize that you want to work in this profession that you practice now?
Since I started to work in natural stone sector in 2004, I have always known I work in the right sector; however since 2013 when we established the brand "Mat for Home" approving usage of our products that we design and produce under the name of natural stone service products and accessories has given us a far new route.
How Mat for Home was established?
I was impressed by the products I saw with my partner Gorkem Eruncu in a restaurant that serves its products with natural stone in the abroad, then realized such products are not used in Turkey. We made a research soon after we turned back to Turkey and started to import slate products from the abroad. As we saw that our products with "Mat for Home" brand were attracted a considerable interest in food and beverage sector, we became more enthusiastic in this business and started to spend more time. We started to participate in domestic and international fairs and develop our product range. We established workshops to produce local marble and products made of basalt. Now, we have more than 250 product ranges that we product from various natural stones, especially slate and basalt. We have been known in Horeca channel across the country.  In addition to many domestic vendors, we have distributors in the abroad, especially in Middle East Countries and the United States.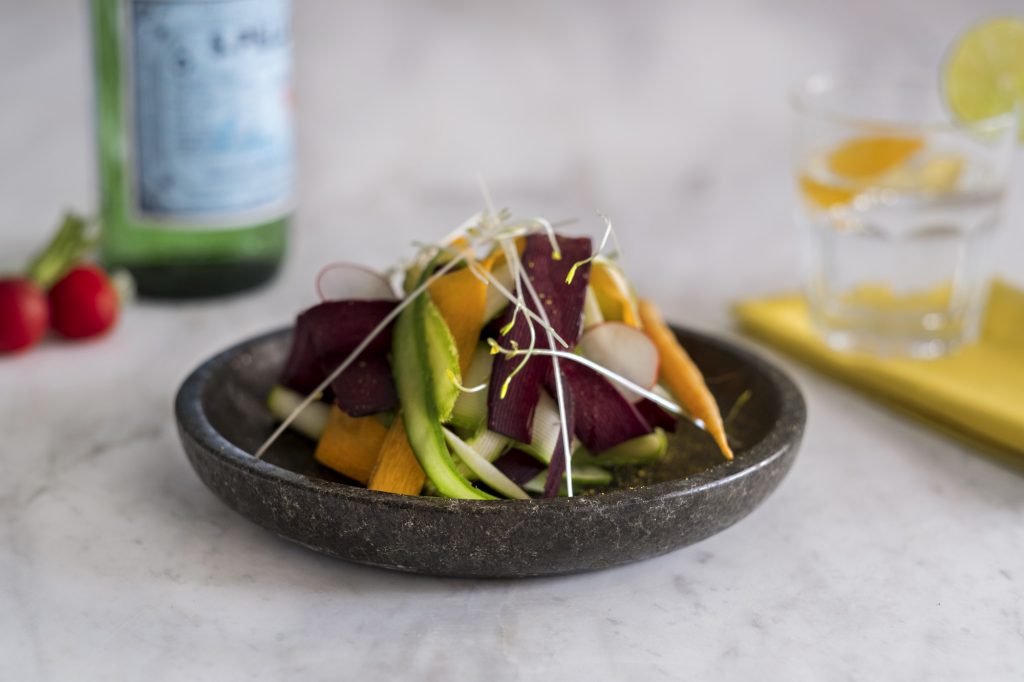 Can you give us some information about your products and services?
All of our products are made of natural stones and the most important matter to be considered is that each product has a different texture due to the natural structure of marble. Each product is unique because of their different texture, and custom-made and precious since it is not possible to produce the same product exactly.
Naturality of marble, slate and basalt adds a huge value and visual quality to presentations. All of our marble and basalt products are hand-made and no mold is used. Our masters makes a great effort during long business hours for each product
We also produce accessories made of natural stone, as well as nearly 250 service presentation products we work with stocks and which are used in food and beverage sector and. We produce for many restaurants, hotels and companies that trade accessories. We have laboratory test results of food contact conformity which have internationally validity for our products.
What should be considered while buying natural marble?
The only thing that should be considered while buying products made of natural stone is that they are not fractured or broken. Because repair works are hard and expensive.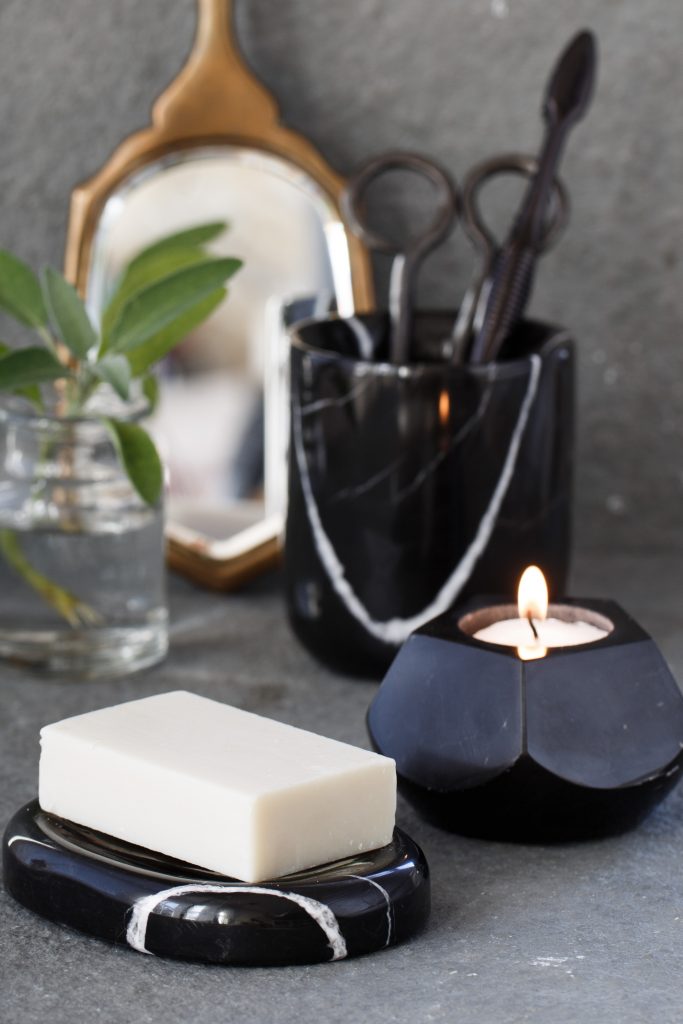 Which of your design have deeply impressed you? Why?
We get excited while designing and launching each of our product, but the most exciting product group is our Basalt service products. We have converted basalt stone which is hardly processed due to its hardness into a plate and bowl as a result of our long-lasting works, we exhibited a new product range for the first time in Sirha Fair last year and received very positive reactions. In our basalt products, we have successfully been able to come through all of the problems such as fragility, staining and temperature sensitivity of natural stone. Considering how much daily operations and circulation in especially restaurants and hotels are quick, it has really satisfied us that such a durable, steady and visually perfect natural stone product has been adopted in a short time even if this is a result that we have expected.
Is there a method you use in your mind to -simplify- overcome a situation when you do a business that makes you feel that you will have difficulty?
When I sometimes have difficulty in deciding in a matter, I do not think that matter for a while. After a while, I turn back to that matter and my mind becomes clearer. Even if this lasts for 1 or 2 days, I do not rush. My priority is always to do what should be done, but I decide later how to do it. Details are solved gradually after the ultimate goal is determined.
It is said that listening to music while working may take the sense-focus away without your will.  Do you agree with this idea?
While working, I only focus on my work intensely. I sometimes do several works at the same time. Music cannot distract me at that moment. However, I think the genre of music you listen has an impact on our performance. For example, upbeat music gives us energy, but slow music makes us tranquilize.
Which phase of a work does excites you more? (The moment you find the idea, production process, the moment it is completed.)
What the most exciting part is that our customers love and praise the products after design and production processes are completed. Ideas give excitement, but it takes much time to completely create a product which is exactly produced from natural stone by hand-workmanship almost never using machines. Even if we produce some products enthusiastically, they are not used by the customer much. Therefore, it is so exciting to see our customers love and use them.
What are you experiences that develop your productivity-creativeness?
Our productivity and creativeness are mostly stimulated by demands of our customers. When they describe their dream products by viewing ours and ask us if we can produce it, we start to try far different production models. As a result, there is no product that we have not been able to produce within the 5-year period so far. In this period, we learn new things and practice on new products.
How do you define a "creative person"?
A creative person is who is never content with what he has and does not pursue counterfeiting, but being different.
What is your target audience? What is your price range?
Our target audience is all HORECA enterprises, and people who value presentation and are interested in decorative products.
Prices of our products vary depending on production difficulty, but they suits every pocket according to type of usage such as daily and luxurious usage. Our slate products can be used in a small cafe, but more luxurious enterprises can use our marble products workmanship of which is so hard and production takes time. Many housewives or presentation lovers can obtain our products at online stores and our own website.
Can you give us a general information about your sector?
Due to our products, we mostly provide services for food and beverage sector. It is a very dynamic and innovative sector. There is an environment in which we have to improve ourselves consistently. I think we have made a huge contribution to this sector in which supply and consumption natural stone products was so restricted before thanks to our product range and innovations.
Which collections do you have?
We have 3 natural stone collection with our marble, slate and basalt groups. In addition, we have one more collection that we have recently created by using wood and natural stone together.
What is your proudest work you have done so far?
It is not possible to answer this question just for one project. We work almost all of the most luxurious hotel chains of Turkey and produce special products for them. We are proud of seeing that these products that we provide to our customers with a great effort are used admirably.