Güneş Hayat and Deniz Gürzumar.Mother and son.Both are actors.At one point, they became rivals as their series aired at the same hour.Their relationship as mother and son is one that allows them to understand one another, be synchronized, and to enjoy the time they spend together.They were the perfect duo for our kitchen.Ms. Hayat fed his son bountifully, while Deniz shared his mother's fun moments via social media. At the end, we made a very enjoyable shoot.

When you think of significant moments of your life, what would you describe as milestone?
G.H.- I went to Ankara Deneme High School.Rutkay Aziz came to our school for play auditions. Actually, I was interested in acting until that day.My literature teacher sent me to the auditions with this classical phrase "you know how to make all of us laugh, then you might as well enter the auditions". When Rutkay Aziz directly chose me for the play, the adventure began.
D.G.- I do not want to use a cliché sentence and say that I was born in the backstage, and once I had an on-stage experience I could never give it up. When I told my father about my intention to enter the conservatoire exams, he said, "over my dead body! "Which means, "I will never allow you to enter this market". My mother told me that she would support me whatever I do, and said, "it is your decision". But I think that she was also secretly anxious. As you know, the conditions are not as they used to be at their time.
G.H.- During the period of our graduation, there was no exam. Our school was affiliated to the Ministry of Culture, then it became affiliated with Hacettepe University. We naturally were actors of the State Theaters. Which means that we would choose regions after the graduation exam. Examinations started to be held 2 years after our graduation.
Where did you serve?
G.H.- 2 years in Diyarbakır, 2 years in Trabzon.Deniz grew up in Trabzon. In that period, though, we were the luckiest ones, as we were promised that it would last for 4 years. Our compulsory service really ended in 4 years.
In terms of the audience, is there a difference between Istanbul and the cities where you completed your compulsory service?
G.H.-Definitely. The audience in those places are amazing. We were in Diyarbakır in '88-'89. When a couple from the audience came to us and said, "We wish this theater would not exist, because otherwise tour teams used to come here continuously, and we used to watch Müşfik Kenter, Baykal Saral, Rüştü Asyalı", we were very surprised and astonished. On the contrary, the people there are much more into theater. In Trabzon, especially, we had more luck – Haluk Ongan had already brought theater to Trabzon 70 years before us. And naturally, the people of Trabzon is very keen on theater and theater players. Both in Diyarbakır and Trabzon, the people treated us with great respect.

What kind of a difference is there between living in those cities and going there on a tour?
G.H.- Living there, we contributed a lot to ourselves. I am from Diyarbakır anyway. It was amazing to discover my birthplace after 25 years. When we went there, Diyarbakır was a state of emergency region. Late Hayri Kozakçıoğlu was the governor. For instance, when Mr. Kozakçıoğlu was done with his work, he would watch our rehearsals, give criticisms. As it is always said – classical but true – our compulsory services both in Diyarbakır and in Trabzon were in an excellent period.
Deniz, is theater included in your life? Or, did you directly begin as a series and movie actor?
D.G.- Thanks to my family, theater was always a part of my life. I started acting at the age of 16, in a series where my mother played my mother, and my father played the leader of the opponent family. I already wanted to enter the conservatoire. Our coming to Istanbul may have influenced my becoming an actor, if we had stayed in Ankara, I might have desired to do something different. After my mother was appointed to Istanbul, I was like "I might as well become an actor". I do not think that I am bad at it – I do it, I am happy. I have been performing at theaters, working for a long time now at the State Theaters, going on tours. I have a bond with the State Theaters at heart. Annually, 500-600 people graduate from the conservatoires and faculties of Fine Arts, and there are only 2 places for them to be employed – Municipal City Theaters and State Theaters. I mean, if we lose those two, we will be left with nothing. I also appreciate performing with 2 chairs on the stage, I think the soul behind it is very beautiful; however, the opportunities of the State Theaters are really amazing. If we would like to reach a certain level in terms of art, these institutions ought to be sustained.
G.H.- He is right, theaters with allowances, namely the Municipal City Theaters and State Theaters, have wide opportunities. Especially as a director, you have the chance to create the décor and costumes you dream of, as you are granted the allowance immediately. This is the main problem with private theaters. The opportunities created by the State Theaters are very wide, and this chance should not come to an end. I have always considered the State Theaters as a lesson. For the students, all the actors are teachers – with regards to both the school they graduate from, and their world views. I mean, most of the young people who work with those actors become more successful after having played at the State Theaters for 1-2 years. After all, they leave the Theaters by taking lessons. The master-apprentice relationship is amazing. It is a system pointing out that you are the future masters – watch, see, and continue accordingly.
D.G.- Another thing is that you cannot find an example of that discipline at any place. I mean, there is no such discipline at private theaters. There should not be. It is another type of sincerity. At the State Theaters, you have a stage chief, you cannot be 5 minutes late to the rehearsals. Bureaucracy is in action, reports are written. After the end of each play, a report is written, signed by the assistant director, stage chief, and the director on-duty, stating that the play was staged properly. That is why the State Theaters is actually my school as well. At the conservatoire, I changed 2 schools. I started with Mimar Sinan University, now I am enrolled in Haliç University. I was the last student of Müşfik Kenter.You can only achieve discipline by means of a disciplined master-apprentice relationship. You are sure to experience the same amount of discipline at Genco Erkal's theater or by working with Haluk Bilginer. You cannot reach that level of discipline when you perform plays with 3-5 friends of yours.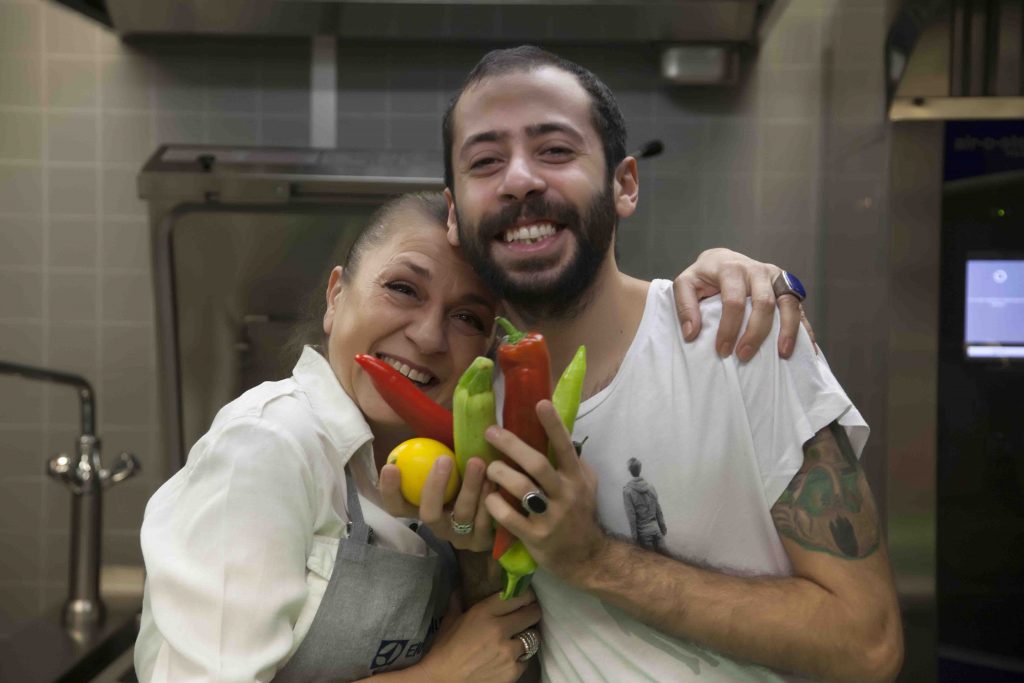 What was it like for you to be the child of an actor and an actress? Was it advantageous or disadvantageous?
D.G.- When I was little, around 16-19, I always thought of it as a disadvantage. Some of our teachers were full of ego, and because of my mother and father, I mean, because of the relationships they were in or out with them, they would come down on me.Some elder actors would weigh me down, only because they had a problem with my parents. I used to become very furious. But not anymore, because the disadvantages ended at that point. As you grow up, you realize other things. When compared to those who entered the world of art afterwards, I listened to more music, read more books, watched more movies, and saw more plays than anyone could see. Therefore, when I started, the score was not 1-0, but 10-0.
As a person with a head start in acting, what kind of criticism do you receive from your parents with regards to your acting skills?
D.G.- We mercilessly criticize one another. My father was the manager of Istanbul State Theaters back then, when I entered 1-2 auditions. Very important directors would come up to me and say, "Deniz, I want to work with you", but my father would say, "never, first he will become experienced, and I am the manager here, I cannot let anyone backbite, you first have to go and play at whatever the place is". He always made me play at the villages. He did well. I understand it now. You appreciate later the value of their teachings, their sayings, and the words they utter in anger. But we do mercilessly criticize one another. I mean, no one would be able to handle that kind of criticism, but we are able to. My mother started to act in front of the camera after I did. It was out of nowhere. She was like," Should I play at a series or what?", then she started to do so.
But I guess you were never free.You are the irreplaceable actress for the role of the wounded mother who is newly released from prison.
G.H.- Yes, that is the interesting part anyway. It started with phrases like, "We need people at your age" and "Let's have a meeting". I have not been free for, like, 7 years. This market needs mothers, especially those who kill their husbands and are released from prison. Therefore, no one in Turkey can kill her husband and take care of her children after having been released from prison. That is how the series "Kaderimin Yazıldığı Gün" began. In the same year, I started to act in the play "Kuş Öpücüğü", in which I killed my husband and went to prison. And later on, in "Paramparça", I played a woman who killed her husband and went to prison.
The series "İçerde" and "Paramparça" air on the same day. It means that until your role in Paramparça ended, you two had been in a rating war as mother and son.
D.G.- Not since her role in Paramparça ended.
G.H.- But yes, we had been.
Deniz, I feel that you get on your mother's nerves in this sweet competition. I see in you such a potential.
D.G.- Of course I compared the rating reports. You cannot help but desire both works to continue. I was like, "Mom, your ratings are high as well". We were joking around.
'İçerde' made itself accepted. What would you like to say about it?
I was not in the casting at the beginning of the series, got involved in it later. The series is good, but the atmosphere in the set is amazing. Everyone knows what they are doing. Everything is well-functioning, no one is unhappy. It is very nice not to see sullen faces. They are all aware of the fact that the actors are their faces and these people should be happy, they should feel good when they come here.
Do people know that you are mother and son?
G.H.- I notice in the series sets that we do not talk about it everywhere. The set I worked in, the set of "Adı Efsane", was also the set for the series "Kayıp Şehir". When I come inside and people say, "Do you know that she is Deniz's mother?", they all say, "we love you, we are glad you are here". This is sure to have great advantages. I am both proud of my son, and thanks to him, I met a lot of people. But we never revealed that we are mother and son.
D.G.- For example, when we are at a place outside and people come to me to take photos, they get surprised when I tell that she is my mother.
As mother and son, how do you spend your time together? Or do you spend time together at all?
G.H.- Lately we have been watching foreign series.
D.G.- Once a week we come together in the afternoon to eat, drink, and enjoy ourselves. I do not know why, but we also love to go shopping. It is not like we are buying bags of stuff – my mother likes to shop for ornaments and accessories, and I keep her company. I do not like to shop, but it is nice to have a coffee break when you are tired. We still do not let go of İstiklal Street.
G.H.- Let us not let go of it anyway. I persist in not letting go. The other day, after the bombing, Deniz asked if we are to continue living here. Yes, I guess. I do not want to leave. You know, the prices of houses decreased, everyone left Cihangir.Right now, in Gümüşlük, Bodrum, the prices are about to triple those in Istanbul. But the thing is I cannot leave, I do not want to leave, I want to see it revitalized.İstiklal Street was the place where I calmed myself down. Before AKM (Atatürk Cultural Center) was shut down, we used to make rehearsals there, and when they ended, I used to memorize Istiklal Street by wandering around, and go home happily after having observed people while drinking my coffee. I am unhappy now, but I cannot leave. Let's not give up on İstiklal Street. It was the house of culture and art.İstiklal Street had a different place in our lives with its cinemas, concerts, theaters. Even when I was living in Ankara, it would give us pleasure to go on tour to Istanbul State Theaters, and I would go nowhere else but İstiklal Street.
Deniz, you are involved in music as well. I guess you compose and write lyrics.
D.G.- Yes, I rap.
Why rap?
D.G.- Actually, because I am able to say more things. I normally have an orchestra as well. I sing covers. I also have songs other than rap, I go on stage and sing.But I like to create rap more. I do not listen to rap songs at all, but I do rap. In this way, I am able to say more. What I mostly sing are protest songs. I also have entertaining and emotional songs, but I consider them as trials. The main reason why I rap is to be able to make protest songs.
Do you consider to be professionally involved in music?
D.G.- I sure do. I love to make music and to transfer it to people. A few songs I made before attracted much attention. Most of the songs that attracted attention were more protest. Most of them were removed from the Internet, but I continue to make them.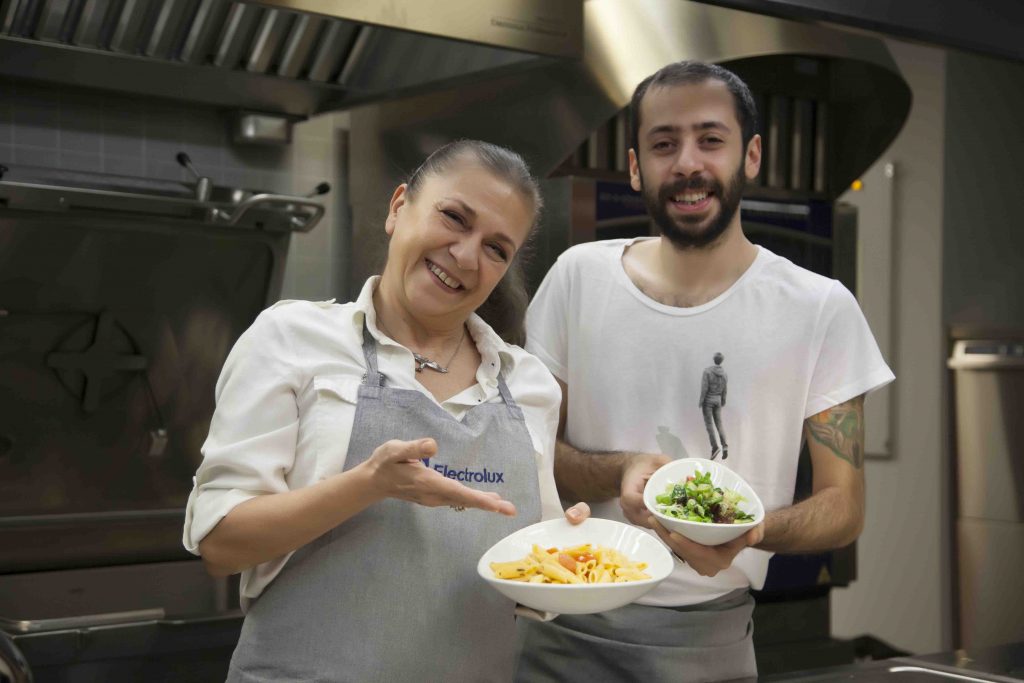 Do you like to cook? Do you have any food rituals?
G.H.- Our house has a national food.Deniz's favorite food since his childhood is chicken with rice. I am very confident, the rice I cook is always delicious.
D.G.- Chicken with rice along with onion and tomato salad… Legendary.
G.H.- That is our national food. I try to prepare this menu once a week. If we have a break for 15 days, Deniz is like, "my national food day is here."
D.G.- Other than that, my mother likes to cook weird parts of lambs. Neck, back, and leg are delicious.
G.H.- I am the master when it comes to meat dishes. We, as a family, are carnivores.
D.G.- As a man, I trust myself in cooking eggs and pasta. And I bake beautiful cakes.
G.H.- Yes, he really does.
D.G.- I like being in the kitchen. It is nice to get yourself distracted. I do not like ready-made cake molds, I prepare everything myself. Thanks to my grandmother, with whom I lived for 2 years, I learned these things. For example, I know how to bake cookies. Although I physically do not reveal it, I eat a lot.
Finally, we can announce from here if there is a new project.
D.G.- On 14 February, our play called "Gün Adlı Aydınlık Oda" begins at Istanbul State Theaters.Şakir Gürzumar is the director, and I am his assistant. We would love it if you could come.
G.H.- This month, we start a new series on Kanal D, called "Adı Efsane". Leading actors and actresses are Erdal Beşikçioğlu, Gökçe Bahadır, and Rojda Demirer.By the way, "Kuş Öpücüğü" is still on stage.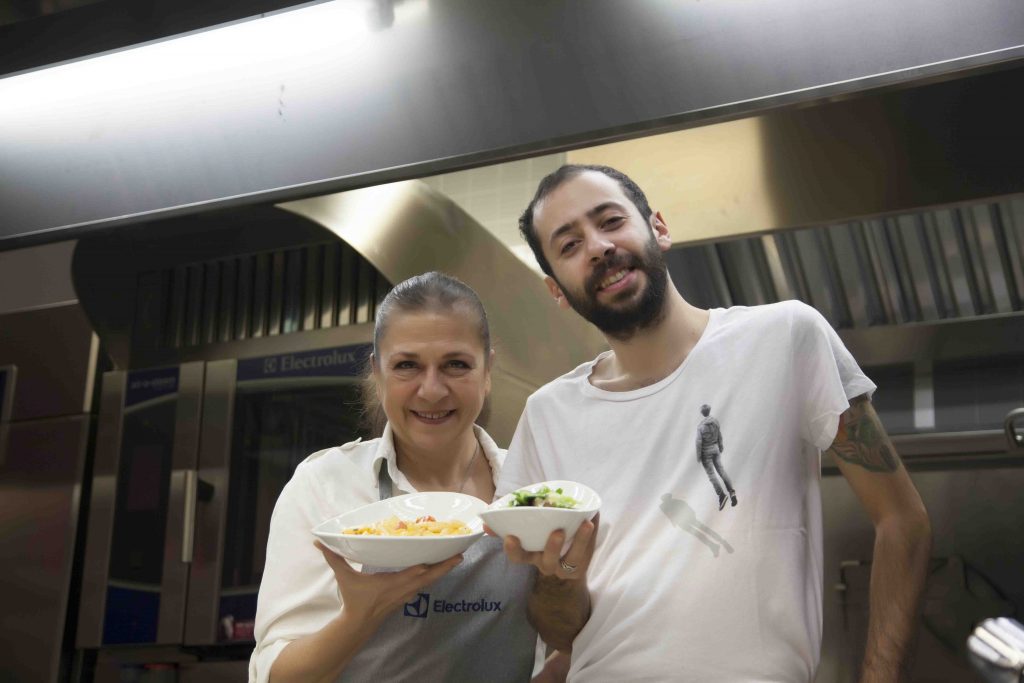 Interview: Zeynep Rana AYBAR
Photography: Barış KARABACAK / FİLMEKS
Venue: Electrolux Profesyonel Stüdyo, Taksim