İlay Erkök one of the new generation actresses. She is very beautiful, but she studied at school after she had decided that she could not rely only her beauty.  She was graduated from Istanbul State Conservatory. She studied in the UK during the University period on a scholarship. With the scholarship provided by the Royal Family. She is so self-confident that she wrote a letter to the Queen as she experienced a problem in her transfer to the UK. I had a nice conversation with İlay Erkök, my funny and different guest, about her story and also took some very nice photographs, as we ateour meals until became as full as a tick. Here is our pleasant conversation in which we bandied about Keremcem her lover…
Could you talk about you? How was your family?
My father is a dentist. While my family lives in Istanbul, my father was assigned toGönen district in Nalikesir. I was born in Gönen. I have a brother, an actor. I studied in school in Gonen for about 10 years. I grew up in a small place where human relations were precious. I have always worked in the summersstarting from thesecondary school. So is my brother. My family raised us by saying, "Whatever happens in the future, you should not forget where you come from." When you live in a small place, you witness that human relationships are different in a large city.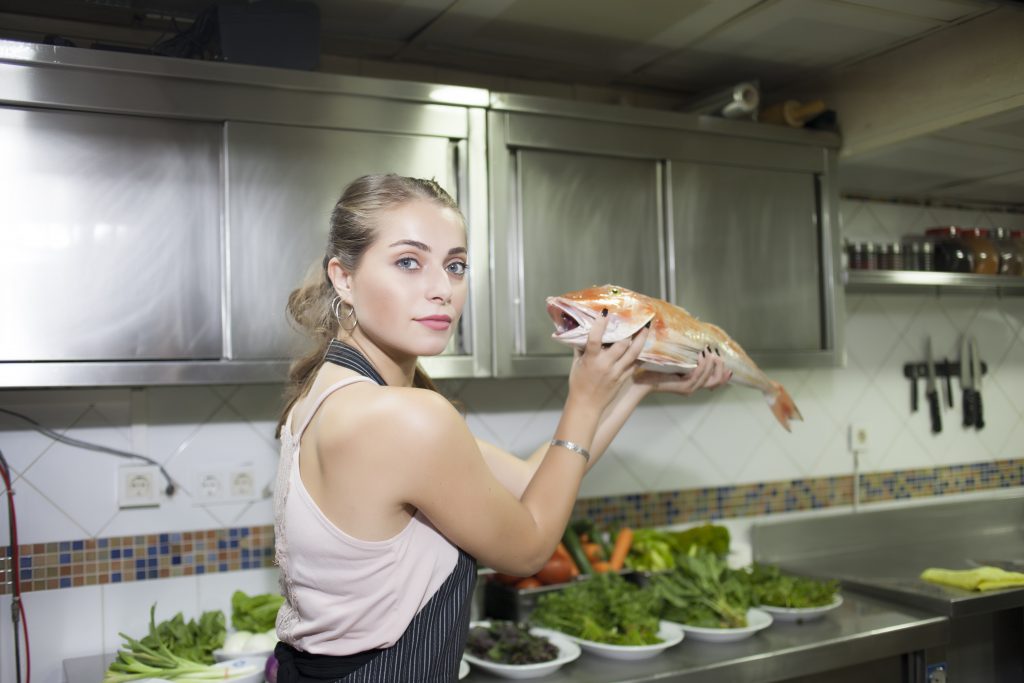 What kind of works did you do? Did you work during all summers?
Yes, every summer. I worked from 9 till 17. My brother worked at the small industrial shops and sometimes for fishermen, I did not work for fishermen as I worried about lice infestation. Having a weekly salary at the time makes such money very precious. I learned the value of it, and not to act arrogant and lofty, I was softened.
How was your life evolved then?
I was a licensed volleyball player. They transferred me to a college as I study in the Anatolian High School. Then my meniscus was torn. I needed a surgery, but I was not obsessed with being a professional sport player. My goal was to do a business with which I would express myself good. And that was acting. Suna Pekuysal, the departed, was my grand aunt, she was the aunt of my mother. YoncaAkasya a scenarist is my cousin. My brother is an actor. I was too much in that environment. My brother studied with me to prepare me for the exams of the conservatory. I entered the exams of Istanbul State Conservatory, and started to study there. In my second year there, I wanted to go to the UK:
Why did you want to study in the UK?
There are many people in the conservatory. Iwas seeing them; everyone is going to Italy, France; they were making too much to improve themselves. I love Shakespeare. I said that I want to go to the UK. My brother was in Poland at the time. He studied the Department of Theater at Bilkent University. My brother told me that 'Ilay we may studywith you to send you to the UK'. Some problems occurred, although I had scholarship from the Royal Academy in the UK.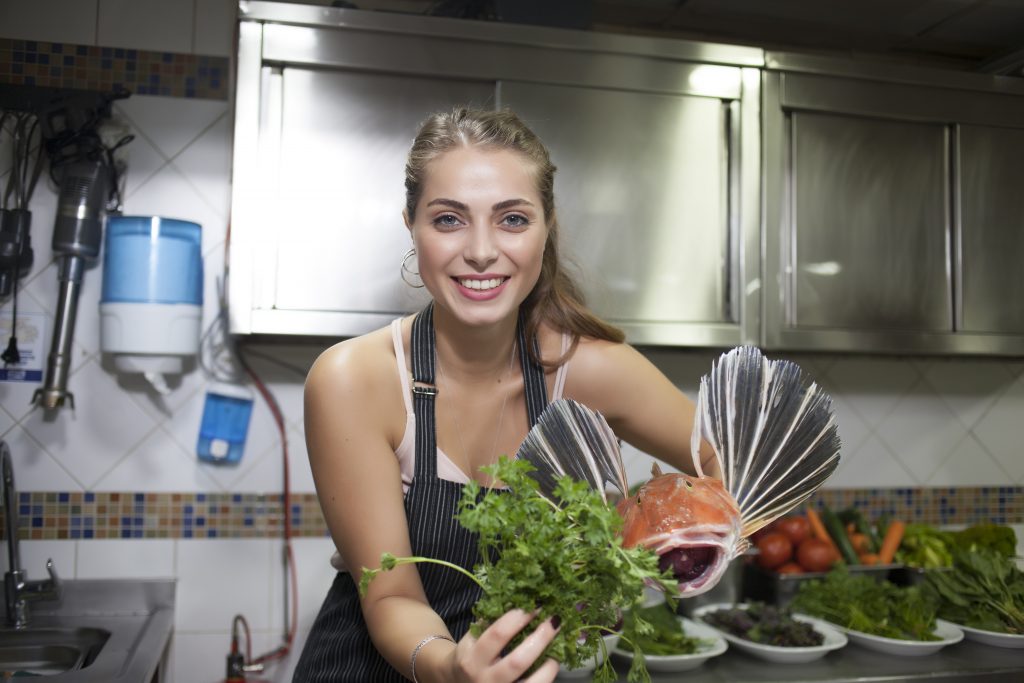 You are the first person getting scholarship from the Royal Family?
Yes. I know news including such published at the time. Some problems occurred, and I learned that I would not be able to go. It would cost me wasting of my one year. I was thinking what I would do, I saw the Queen Elizabeth in my dream. She said me "I am like your grandmother, write me a letter". I believe in signs, and said to myself I wrote a letter when I woke up. We wrote it and sent it.
Where did you send the letter? Was it sent to the Palace?
Of course, to the Palace. You are not able to reach the Queen, but some of the consultants of the Queen takes care of you. They have very good systems. Sometimes I cannot reach to the janitor here, but I managed to reach the Queen. First, I received a letter that my letter was received by them.
When did they respond you?
In 10 days. My visa, flight ticket and everything else were fixed. Indeed, the people in the school there were waiting for me. They wrote me that there was a misunderstanding and the problem would be solved immediately, and they are open to art students all the time, and it was a great opportunity for me to go there.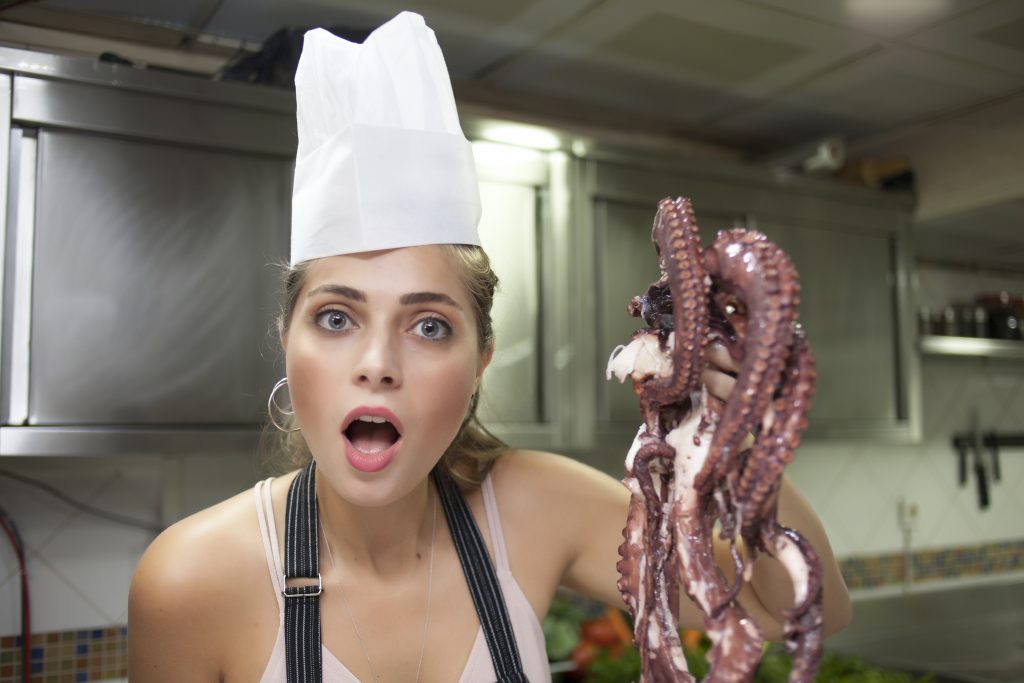 How long did you stay in the UK?
Close to 2 years. The system is very different there. They study only 2 or 3 years as we study for 4 years here. They use a different system for theater there. One day I heard that somebody saying "Emma will come". I thought that it was an ordinary person Emma, like Ayse. Then I learned that she was Emma Watson. She came for 1 day, and then flied to the USA for a movie shooting. She told me that "Welcome to the England I hope you like here". A Hollywood star, a world-famous celebrity but she had no ego. Some of my classmates were playing in Game of Thrones or Spartacus, it was a all different environment.
How old are you?
What does Ilay mean?
2 meanings. First, the name of a daughter of a ruler of Seljuks, "IlayHatun". She ruled the country when her father passed away, affecting everyone with her beauty. The other meaning is the prettiest girl in the country.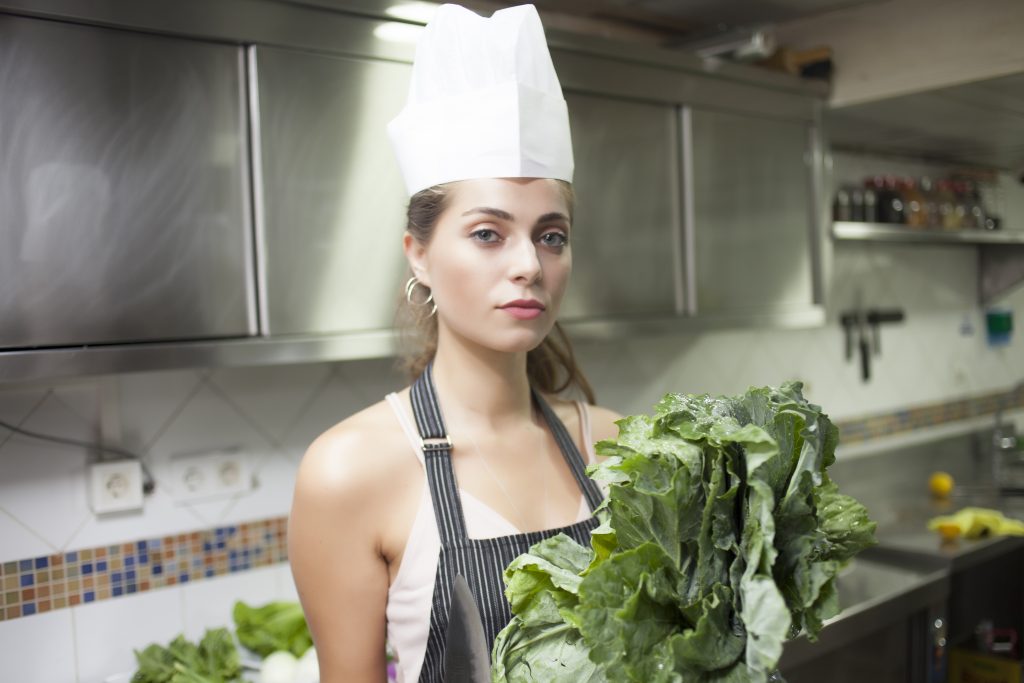 Did you finish your study at Istanbul University after you returned from England?
Yes.
Do you feel that there is any advantage of being an educated actress, in Turkey?
Of course. I believe that it is valuable for the people. I mean you clean the scenes and iron the garments for the 4th class, as they are older than you.
Do we know anyone you ironed the clothes for?
Güven Murat AkpınarandOnurÜnsal they were older than me. However, hierarchy and respect are not in the school only, you can iron the clothes of the older colleagues in the theater as well, it shows respect.     I am good people at the back of stage sometimes more than the players. Energy is very important to me. That is why I act to a waiter and an actor in the same manner. I had this opportunity to work with ZaferAlagoz. He understood right away that I have acting education. He understood this as I start to learn things from him, meeting with him at the same frequency. I always want to become a character actress. It is not important for me to become the leading actress. I don't know how a series would have good rating. Everything is consumed very fast.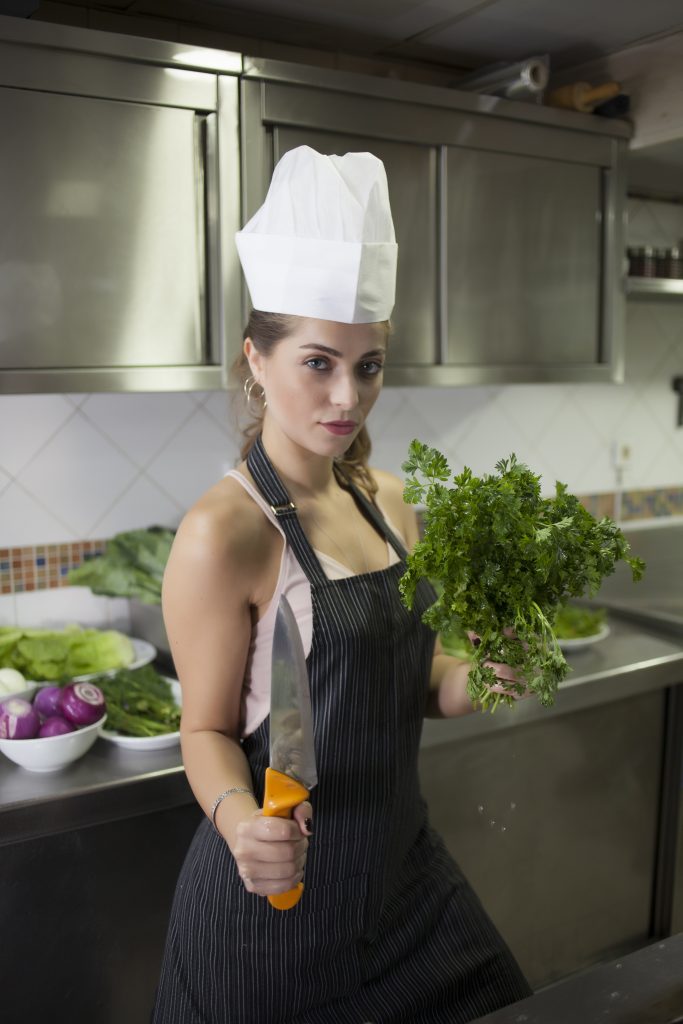 Do you have any preference for comedy or drama?
No actually. I like comedies but under the circumstances in Turkey, the dramas are at one step ahead. Indeed, everything is a whole. Your partner, your harmony with other players, scenario etc. One may not exist without the other.
Are you ambitious?
Very much. But I am a person knowing that how my ambition may affect my life. I believe that is because of I am a Libra. Ambition is a good thing for getting success, and I want to be the best all the time, but I do not want to compromise from being Ilay just to be the best.
Will you gain 40 kg for a role?
Of course. You need to do it as an actress. An actor/ actress would gain or lose weight. I respect Hollywood actors/ actresses.
Do you have any taboo in acting?
None.
What do you do in Istanbul with Keremcem?Where do you like to spend time together?
We both love home. If it is possible we prefer each other. The place is not important. Ortaköy, Karaköy, Fenerbahçe, Moda, Kalamış and many other places. We like to be by the sea. Indeed, we are lazy people, we believe to do everything but in the end,we conclude"let us do something in home I will prepare the meal and you prepare the onions", then we find ourselves eating at home watching some series/ movie. Keremcem loves to paint, he attempts to draw a picture. We went to Cundamost recently. We like to discover new places instead of going to popular places. As for Cunda, everyone recommended some places as poplar places but we tried other places. It was very good to discover new places in Cunda.
Are you harassed by the fans of Keremcem? Is it still happening?
Yes. They do it related to Keremcemand  anything related to his life; but I don't care about it, it will occur all the time.
Do they request you tow play together?
Very much. Especially for last 7 months.
Do you plan to do it?
I don't know right now. It is very good to do things together. But it shouldn't be done just to do it together. If we would like to make a good thing for us and our beloved ones, we do it on the Internet by shooting junk videos at natural environment.
Does your family have any hesitation about the age difference between you and him?
No. My family cares about my happiness with him more. Of course, if the difference would be 40 years they might have I don't know, but 15 years are not that much. And my brother's being a guarantor for a man in my life impressed me significantly.
Have you played with your brother in a project?
No. Only that I played a nurse,a small role, in the series Deniz Yildizi as my brother plays in it. Just as a good memory for us. My brother is a person I most like to play in a project. He ensured me to enter the skill examinations, to discover myself and my self-confident; he is my teacher and guru.
What is your weakness?
I think I am too much giver type. I see everyone as me, it sometimes hurts me. I am affected too much as I care people. I am very patient. I am tolerant against the things other people may go crazy. But at some point, I finish everything. The weakest thing in me is that I could not be able to overcome anything for which I become sad or get angry. It affects my mood very much. I try to stay away from conflicts. And to avoid being stubborn. As I have such Albanian vein.
What is your best feature?
I like to listen people. I listen to the critics any person have about me. I like to dream. I believe that I can do anything if I want. I am a good friend and sympathetic ear. I have friends between 35-45 years old in addition to my peers. My family's raising style on me caused me to be at the frequency of such older people. We had family meeting once in a month in our family. Everybody spoke about the faults. This affect our family relation very good, it makes you to be more self-confident.
Dou you hold such meetings currently?
Yes. It has some delays since my mother is in Erdek now.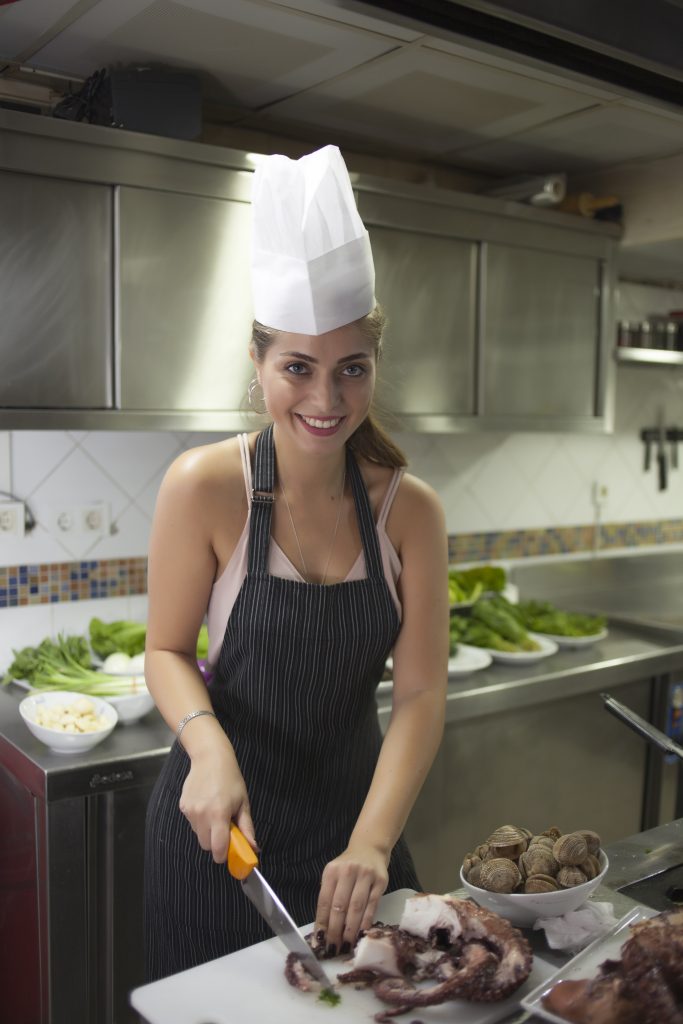 How are you with food? Are you one of such actresses eating only salad?
I could get marry foods. I feel like crying when I think about food. I am gone when I am hungry, I start to think different after I ate. I love offal very much. I love to eat some foods many people don't like. I eat raw fish and raw meat as well. Keremcem could not understand it. Sometimes a monster is coming out of me.
Do you cook good?
Everyone around me recommend opening a restaurant. I was raised by my mother on this.
Could you make Albanian pie?
Yes, I do, and I like it very much.
Keremcem was a guest of our kitchen once, I remember that he was good in the kitchen, but how about it is he doing things in your kitchen?
When I was in the kitchen he was staying out, but things become nicer when you do things together. I cook when I am sad, for example. Or I solve sudoku. We have fun when we cook something with Keremcem. Sometimes we ruin the kitchen as we want to show off to each other. Sometimes, Keremcem may ruin the wall when he does something with the blender, I hardly curb myself at those times.