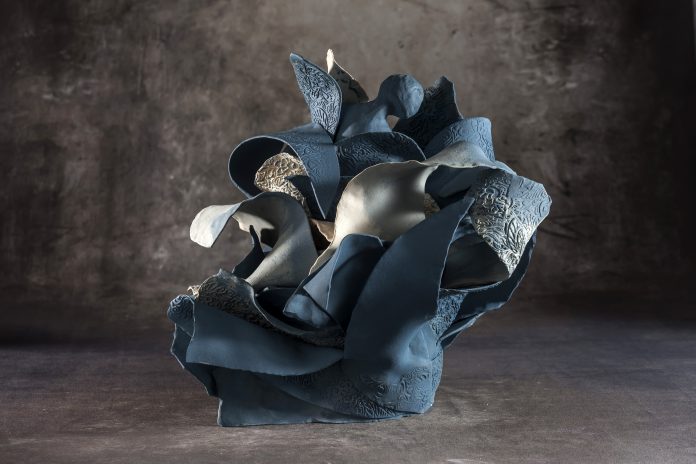 First of all, can you mention about yourselves?
I was born in Eskisehir, and I completed my primary, secondary and high school education there. I graduated from A.U Faculty of Fine Arts, Department of Ceramic and Glass as bachelor's degree, from M.U Faculty of Fine Arts, Department of Ceramic and Glass as postgraduate degree and from M.U Faculty of Fine Arts, Department of Ceramic and Glass as my Competency education. I am still carrying out my activities in my own workshop.
What can you tell us about ceramic art and ceramic artists?
Recently, there has been a great attention to Ceramic, especially to learn it. This is so pleasing. I want it to be more spread, to be known, and much more people to get their share from this big love. Numerous workshops have been opened. Of course, this has brought not only positive, but also negative situations. At this point, the question "Quantity? Or quality?" has come out. Ceramic is an art that belongs to us much and very hard and complicated. It requires great experience and knowledge. It is not easy, there are many mistakes while creating a work. This very comprehensive and endless art discipline is so valuable due to all these and very different reasons. It is not as simple as the perspective created. Our many valuable masters are still working even of they are getting old (by the way, I especially would like to tell that ceramic keeps the human young), my colleague who are ceramic artists and devote themselves to this art and they can be counted on the fingers of one hand. Even if it seems less when compared to painting, ceramic exhibitions have become more popular. Keep producing stoutly and steadily…
What is the distinction of ceramic among other fine art branches, and what makes this art special for you and some other people?
Working three dimensional is very impressive, clay and mug are my life, love. I work in epoxy, also acrylic and watercolor; but it cannot replace ceramic and three dimension. The shaping passion passed down to us and native abilities find meaning with clay. It enables you to develop imagination, visual coordination, and different thinking methods. Each new work means a new adventure, new methods. At this point, I would like to share a matter that I consider important. All children from kindergarten and people over certain ages must have ceramic in their lives. So that children can improve themselves and adults can have open-minded.
As far as we know, the ceramic art is divided into branches such as pottery and brick and roof tile production. Which of them are you more interested in?
Ceramic is like a deep ocean. It exists in every part of our lives in a wide range from primeval pottery to spaceships. It can show itself as industry, art, technology, chemistry, laboratory, and engineering. I stand on the artistic side of it, which is the most difficult one. Because, you must be knowledgeable and experienced in each field I have specified above. Since you do not know where this journey takes you to, you must know the techniques and methods that will realize all the dreams, especially if you provide education like me.
Can you tell us about the technicalities of ceramic products and your studies? What inspires you in your works?
Actually, all stories is about humans. The works that questions and interprets the depths of the human spirit. The Dancing Ones Collection includes the pieces which are based on Sufi philosophy, express the values of this philosophy in our inner worlds symbolically and interpret these expressions on abstract human bodies. Very fine porcelain curves turn into body stands with forms that I shape in the effect of daggy and looping fabrics by pushing the limits of plasticity of clay. In this regards, they are very developed works technically, and very complicated and impressive. Warriors are soldiers who have to go to war which is one of the inevitable consequence of the materialist world, but does not want to fight. Therefore, forms of the sculptures are perceived as if they were in utterly different universes. Some are in a dream, some feel sluggish, some wake up, and some are prayer… Every kind of emotion they can experience reflects on their body standing symbolically. Roots are the series of our past, tradition, present days which are wrapped up by the information passed down. They carry what life brings on its body, in its spirit as swaddled in layers. In this series, I am trying to interpret a delicate, fragile, transparent and fine clay like porcelain with bronze, which is metal. Just like life… The ones coming with wind came out as I witness the demonstration of leaves dancing with wind on the sky for quite a long time in a very melancholic day. As leaves are dispersed; these sculptures turned into human bodies which wear out and are dispersed against the bringing of the life. Flying to peaces, but not falling to pieces. I use nipping technique in those sculptures cooking at 300°C, which is so primitive. You can see my finger prints on every part of the sculptures created only with hands without using any tools. This leaves very emotional impressions for me, mostly the audience. And, I have to mention Tuba Agaci that embraces all of them, and play a different role in each period…
Each artist have a unique style, do you think you have your own?
Absolutely.
Where do you see the ceramic education in our country compared to other countries?
Unfortunately, ceramic education cannot be completed within just four years compared to other disciplines. This is my thought. As I mentioned above, you must complete your education in 4-5 different fields during the education period. Ultimately, this happens under the roof of fine arts and person receives education as an artist. Everything is okay till now. According to my idea, deficiency comes out at this point. Children become distanced from professional life, they just become an audience. Of course, this is important, but I believe professional artists should participate in education and share their experiences.
As a ceramic artist, you will participate in Art Miami which will be held for the 29th time this year. Can you mention about it?
One of the most respectful art fairs in which leading art galleries, collectors and raising voices of the world add the pieces to their collections, Art Miami will be held between December 4 – December 9 for the 29th time. I am participating in Art Miami with Gama Gallery. I am participating in Art Miami with my new sculptures from Warriors, Roots, The Dancing Ones and The One Coming With The Wind collections and my high-grade porcelain and stoneware works. Sculptures that I created with artistic shaping, and my works that I value by trying to share my thoughts in clay by pushing the limits of plasticity by using the opportunities of the materials in the most efficient way with bronze and lead will be seen at Context Art Miami with Gama Gallery with artists and art lovers from all over the world.