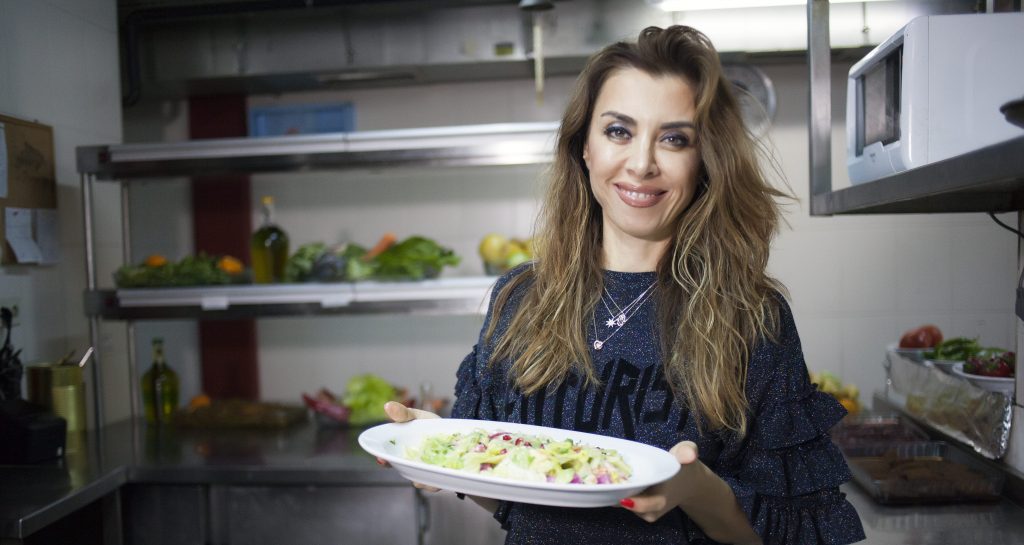 We are watching Neslihan Yeldan as a crazy aunt with a high ranking of shows. But she is the Fureyya for me. Those legendary lines, Füreyya from 'Bir Demet Tiyatro' which still can be a joke among those who hold the age. We can say that it is nostalgic for those who are children in the 80s like me and those living in the '30s in the 2000s. I mean, we like that using the old lines, like a cipher, in the nonsense places, and we like the meaningless and tittering. That's why we like our old acquaintances more. Neslihan Yeldan is from the old acquaintances. What she did, we preferred By Esat cuisine to talk about dreams. We made a meal from one side and talked to other side.
What did you do in your life, your life began to go in the other direction? There are moments when we make critical decisions and prefer less frequent routes …
I've always been in tough ways. I liked the struggle, the success that I won at the end of the struggle. At the age of 18, when I won the university in Ankara, my family did not send me the university , taking the acting exam was the milestone of my life. Otherwise there was no theater in my mind.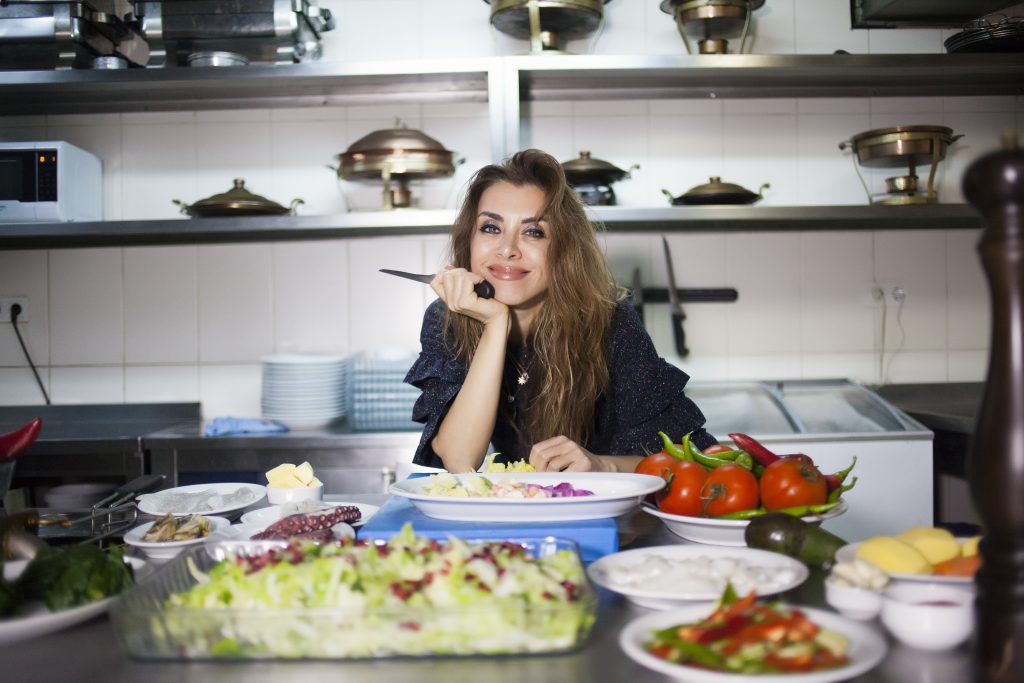 Which school in Ankara did you win?
I got Bilkent University English Language Philology. I take the university exam next year. When I said that I would evaluate with handicrafts in a year, I said what kind of thing did the theater look like, I was an actress when I was not in my mind. I saw an announcement when i was standing still, and i said that i should learn something for a year. I thought it would be a new environment, friendship, and I could not get out of it. Turned into a profession. But then i entered the conservatory. I was a student of Yıldız Kenter for 5 years.
Did you go to Ankara for university or not if you are from Ankara?
I am from Istanbul. I made 73 questions of 75 English questions correctly. I won Bilkent University but my family did not allow me to go to Ankara. I'm glad they did not, because i am happy.
What kind of family do you have, where did you grow up?
I born and grew up in Istanbul. My dad is from Istanbul, my mother is from Rize. I have one brother. I am a child of a middle-class family. I cried for a boat for months when I needed it. Something I never wanted was not taken right away. I have opportunities now, but I do not get what my son wants. Now everything is consumed fast. I do not want my son to be a part of a fast consumer network.
I guess your family did not support you being an actress…
They have no support. I just graduated from the high school. I would play in a match with Münir Özkul, Erol Günaydın, Ferhan Şensoy. General rehearsal ended in late hour, I returned home from Beyoglu in an hour late and my mother was very nervous at the door, "Do not you know the end of Cahide Sonku you, my daughter", you will not go to the theater again. I have taken Mom's approval for the last few years. According to her perspective, i will be either a housewife, a hostess, or will be someone who has a job starting at 9.00 in the morning and ending at 18.00 in the evening. But now I support my son if he wants to become an actor. If you do, do his best.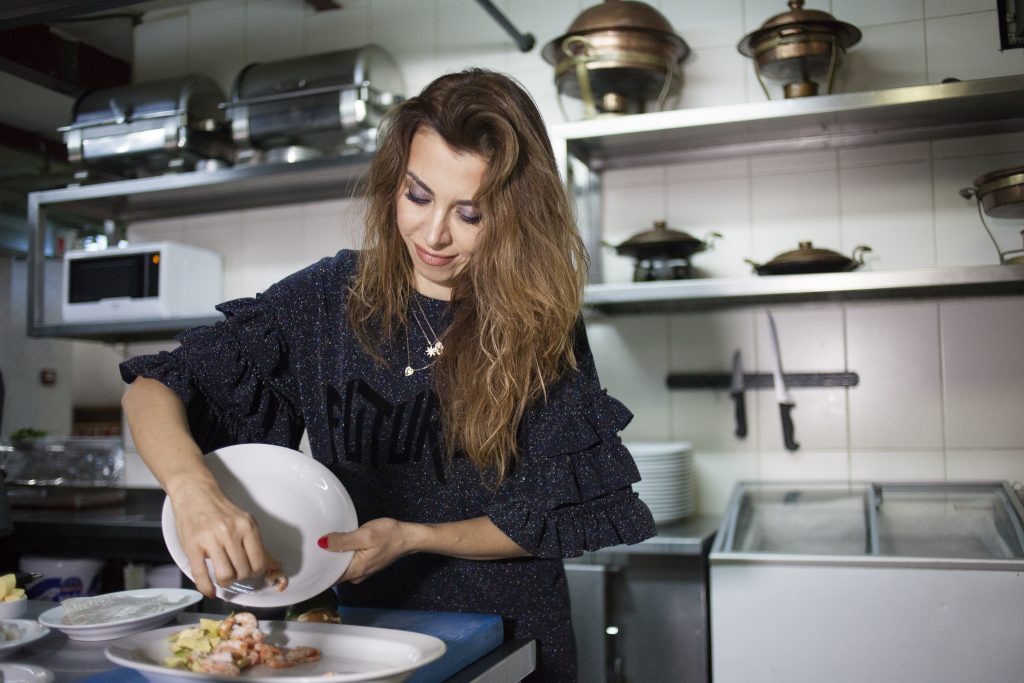 Did we know you were a 'Bir Demet Tiyatro'?
Yes, Füreyya as a character. I was very lucky because it was a star project.
Are you still continuing your involvement with the BKM?
I love them all like I am, they have a special place for me, I still meet with them , I always go to gala and plays but I do not have business relationship.
Are you in the place you dream about acting? Or where do you want to see yourself in who are you playing with, who are you with? Or how about the dreams of an actress?
If you want to raise the level, dreamed, sent to the world and can be real. I always say that. One day I play with Brad Pitt, no, I do not say things like playing or something, because I am a good actress, a working actress, a producing actress. A good actress can only do business anywhere in the world, there are just some obstacles. I'm at a level where I can play English. I do not know how to get a Muslim and a Turkish actress. I will try this and it will surely be in my life. Level is to do job at international level.
Is there a player you want to share the scene with?
I have friends whom I want to play with. For example; Zerrin Tekindor. She's standing in a beautiful place as an actress.
Are you ambitious?
I was more ambitious when I was younger. I was more jealous, passionate. You change as you get older and become a mother. Life shapes human. I just want to do everything properly. I learned that if I did not go as I wanted something, I would say I should go another way. My priority is actually to be a proper person. Then my motherhood and my acting come.
What do not you have to bear?
Lie, those who do not obey the rules, those who are rudeness and lay down on the job. One of the most crazy places I've ever been in traffic.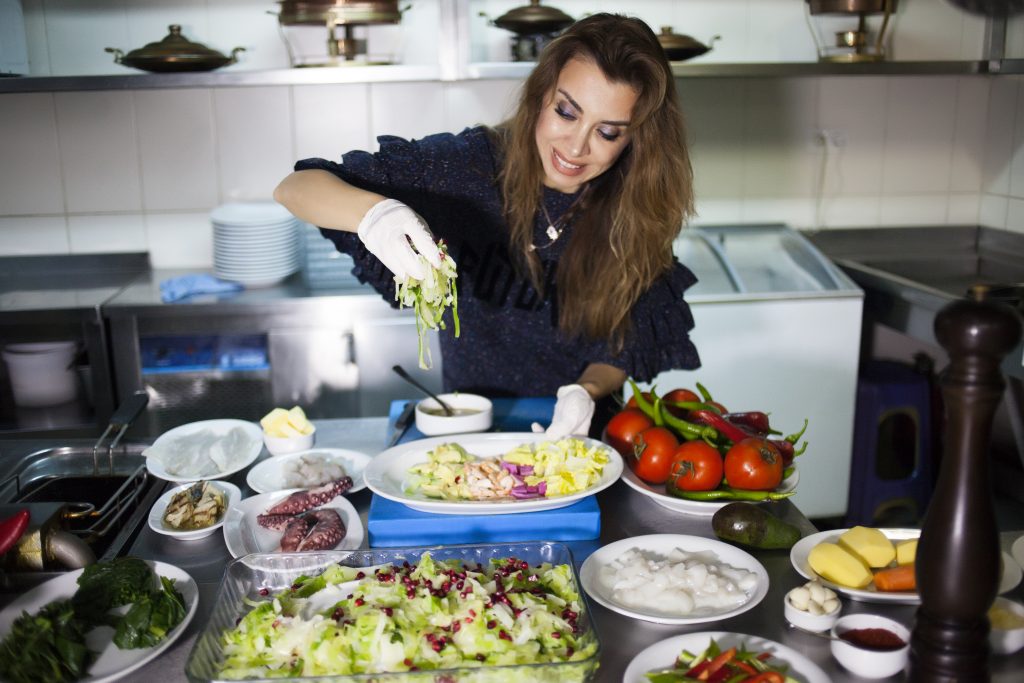 On what basis do you agree with the projects?
If the series, i am looking at screenplay and a role. I am looking at whether it is suitable for me, who manages it, who I am in front of, what channel it is. Sometimes they keep all of them and they do not keep ratings.
Do you have a distinction if it's a drama or a comedy?
I've done both during my career, I've been overcome both. I recently said that the next job on set would be drama. Because, this season, i am the part of the comedy of Istanbullu Gelin. I am very happy with this situation. The story is dramatic, it's great to know that people's faces are laughing in my scenes. But in the next project I will be playing on TV and i will be happy if there is a drama. Otherwise I play a stunning dramatic character in the theater.
I also want to talk about Istanbullu Gelin. You have a father who are 8 generations of Istanbul. Can we see the Istanbul in the eyes of one of the 8 generations of Istanbul?
I hate the traffic. Without traffic and crowds, it's one of the most beautiful cities in the world to live. I love my own city. I am proud of being from Istanbul, but I also want to run away. I always reside in the seaside of Istanbul. Ever since I left my family, my houses have always had a sea view. Just for a term everything go from bad to worse, I lived in a unlikable place for 1.5 years. I like the Bosphorus, Nisantası very much. I also like the mobility of this city. I enjoy going to the café, the small boutique wherever I go. I like to holiday like the local people in the cities I go to in Europe, not like tourists. I like the places where people live without distorting the place where they live, shattering and breaking down. I am after good food because I love to eat. This city is a large city with a fan to do it.
So we are all of Istanbul, but we can count backwards to 2-3 generations. For the first time, I meet with 8 generations of people from Istanbul.
This is a family tree of my father.
Where do your generation stand, dos it end up Palace?
Palace. I do not go around like that; a lot of people are going to the Palace. 8 generations of being from Istanbul means to reach to the palace somehow.
Could you talk a little bit about playes you played?
I play in two stage this year. One is Craft Theater, "Yen" is another Shakespeare's "A Midsummer Night's Dream" with Arda Aydın production. The yen is going to house full on the second season. We just started A Midsummer Night's Dream, it is going very well. Both liked, thank goodness. But audiences should always be supportive of theater because there is no point in performing without the audience. I am surprised this year as an Afife jury because I have to watch the plays but I can not find tickets in the theaters myself. I want audiences not to spare the applause's.
If we're in the kitchen, let's talk about the food. I know that your are interested in kitchen. You are sharing lots of cooking in social media …
Like so much. My mother was a working mother. My father did not work for a long term. At the age of 17, I started cooking meals with recipes. Then, when I thought that my mother was a good cook, I actually saw it was very average because I started to follow all the foreign chefs carrying the recipes at international levels, and my palate was very developed. When I go to Europe I am after where I am, what I have to eat. I do this also in Istanbul. If I'm not good at what I'm eating, I'm getting very sick. I have a lot of pressure on my son. I have an interesting son. We were at dinner last night. There were things he wanted on the menu. Without even eating a spoon, he said what we will eat tomorrow evening. I said, my son, you have not eaten yet. He is obsessed with eating like me. I have an assistant with a handy taste, but not as much as I do. Sometimes I cook 3-4 pots of meal before going out in the morning. For next day meal. I'm a vegetable. I do not know how to cook meat. My life goes through vegetables and grains. I'm trying to get the best of the vegetable, the fruit. I shop at the farms, do not get much from the market. I also make milk and milk products like cheese, kefir, yogurt at home. I can talk for hours about food. I love to eat and to cook and share my knowledge on this subject.