Born and raised in a special geography, reflecting the playgrounds of his childhood to his works, an interview with Ahmet Güneştekin, one of the prominent names of art, that we talk about both the artist's identity and his inner world will inspire you.
2019 has been a busy year for you, how are your days going on?
This year has started quite intensely and will continue at this pace according to the exhibition calendar. My days are spent thinking, designing and applying. In January, I opened personal exhibitions in Madrid and Berlin. As of September, my new exhibitions start. Galerie Michael Schultz will exhibit my works in Vienna Contemporary, Marlborough Contemporary Art Gallery, Istanbul. On October 1, in the personal exhibition of Heydar Aliyev Center in Baku. Make your personal exhibition at the Pilevneli Gallery Mecidiyeköy on November 8th. After an exhibition of Antrepo's confrontation with Murat Pilevneli in 2012, we meet again with a major exhibition project. With the installation Sergide Yoktunuz, works will be exhibited in different media where I am continuing.
You toured all of Turkey with Sun's footsteps documentary for years and have reached thousands of children. What are the interests of Ahmet Güneştekin other than his artistic identity?
I have a special relationship with children. It has always been easier for me to reach them than for other people. The idea of ​​painting with the children of different worlds on which I researched during the trips I organized for the documentary film on the Trail of the Sun was a spontaneous development. We sometimes painted in the shade of fairy chimneys, sometimes in a castle dating back centuries, and sometimes alongside an old forest or river. When I was painting I would say to them, "You are free, draw whatever you dream of, you can draw flying fish, running birds, pink seas, red suns, children.. The best thing about getting together with the children was that this relationship I had with the children was not one way, and every child I painted with changed me. The myths I learned during my research trips and every experience added to me by living, dynamics of my work and mythology became the source of all my work. However, again, these trips were trips for me where I discovered the connection of gastronomy with culture.
Can you tell us about your art journey? Could you tell us about your dreams when you opened your first atelier in Beyoğlu in 1997?
I grew up listening to extraordinary stories and tales in a special geography. It was a world in which the mythological connotations of light were absorbed, and the sun was a gravitational force in my childhood universe. I began to perceive the geometry of light through the direct relationship with the outside world. In my childhood workshop, one of the places of fantasy, I imagined that my origins were not only deep in the ground but beyond the light. In my workshop in Beyoğlu in 1997, I found a method of transforming my experiences into aesthetics in my research trips that I began to establish in my childhood and follow my passion for seeing unfamiliar lives. I was born into oral cultures and grew up with them. As I matured, my art journey transformed into these cultures and shaped my world of thought. With my memory work triggered by my direct relationship with the playgrounds of my childhood, I started to work on my first works, so my first major exhibition, Colors After Dark, consists of these traces from my childhood. I think that's where my story started.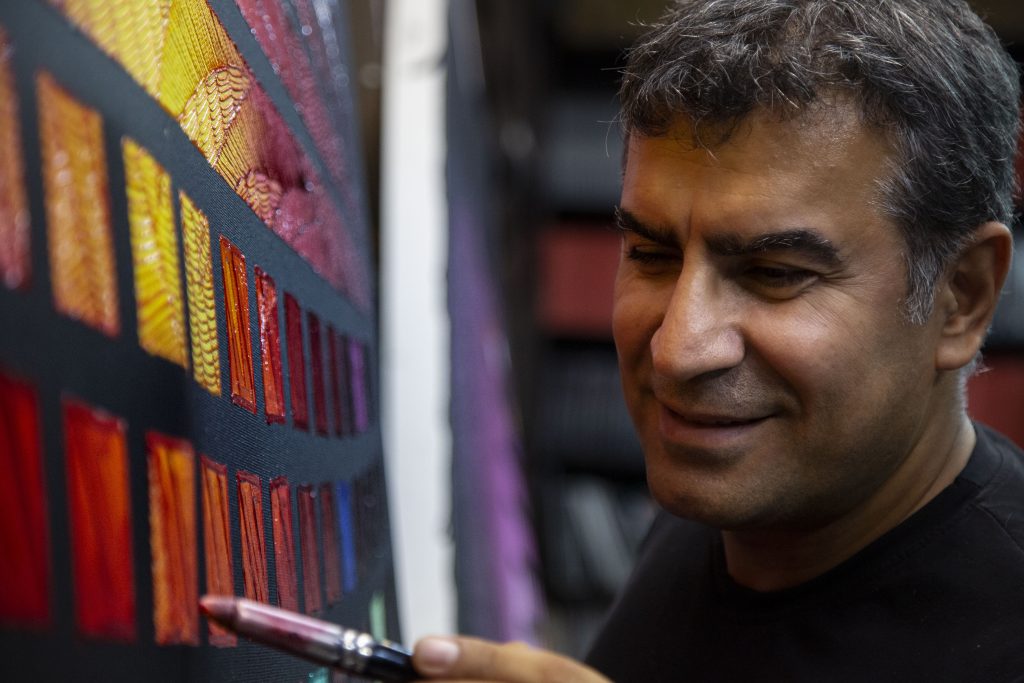 While producing abstract works, you also talk about the basic problems of life. What are you particularly affected by? How do you decide to make stories work?
Concentrating a gigantic imaginary universe on a limited surface. I think that's the driving force of my voice and my tongue. There is no perspective in my works, nor are they organized according to the rules of abstract painting. I can say that I received all my insights from the Ezidis, who had a belief based on oral tradition which included traces of the primitive thoughts of late antiquity in my childhood. The myths that I learned in my research trips and every element inherent to the nature of myths also affected the content of the methods I used. The whole event is essentially a game played between layers of memory and conscious intervention. Oral narratives are constantly changing and forming, and this state of being constantly causes new elements to be added and transformed into tradition. Such variability and creativity inevitably necessitate the content of oral narratives to be open to intervention. I started to use hybrid methods in my works by following this way of thinking. Therefore, you can read my works through myths, spherical geometric forms, a theory of light and construction layers. It is a language I have developed through the sounds and myths that have settled in my memory. The most distinctive feature is my technique of regulating color selection and distribution. Thanks to this technique, I can dimension the works and the paint accumulates on the borders in every intervention and brings out the effect of light.
What is the work that you are most impressed with, the most special to you?
I think that the geography where I was born is more suitable and convenient for many studies about the past. Because it has a recent past that we hide and cover, a history that we avoid looking at, and if we look back as if history would blame us. However, this is of no use to anyone, we are all in a present that records the past we have built over and over again. The confrontation is the reconstruction of this past that we avoid looking at. You hadn't worked recently, it has emerged as a work in which I show a recent past that has not experienced the destruction and confrontation that has settled in the memory of the geography where I live. It is also a work that reminds us of the necessity of memory in the construction of the present and shows my vision of life with transparency.
The past may not be mentioned, but the past can only be destroyed to a certain extent and form, unless the objects of memory are completely destroyed. The most important reason for approaching the past through individual narratives is the possibility of capturing a perception of the past beyond the imposition of power. You didn't have a backdrop to this opportunity. Maybe there are traces of countless civilizations in that history, countless generations have passed there. You can see those experiences under the rubble with such a tragedy that there is a teapot, maybe a wheelchair in the rubble, when you see a lot of things in the ruins, how much human life becomes worthless, you don't think of its existence among those ruins. So, if you bury all this life under the rubble, you say to the people who lived there, you didn't exist.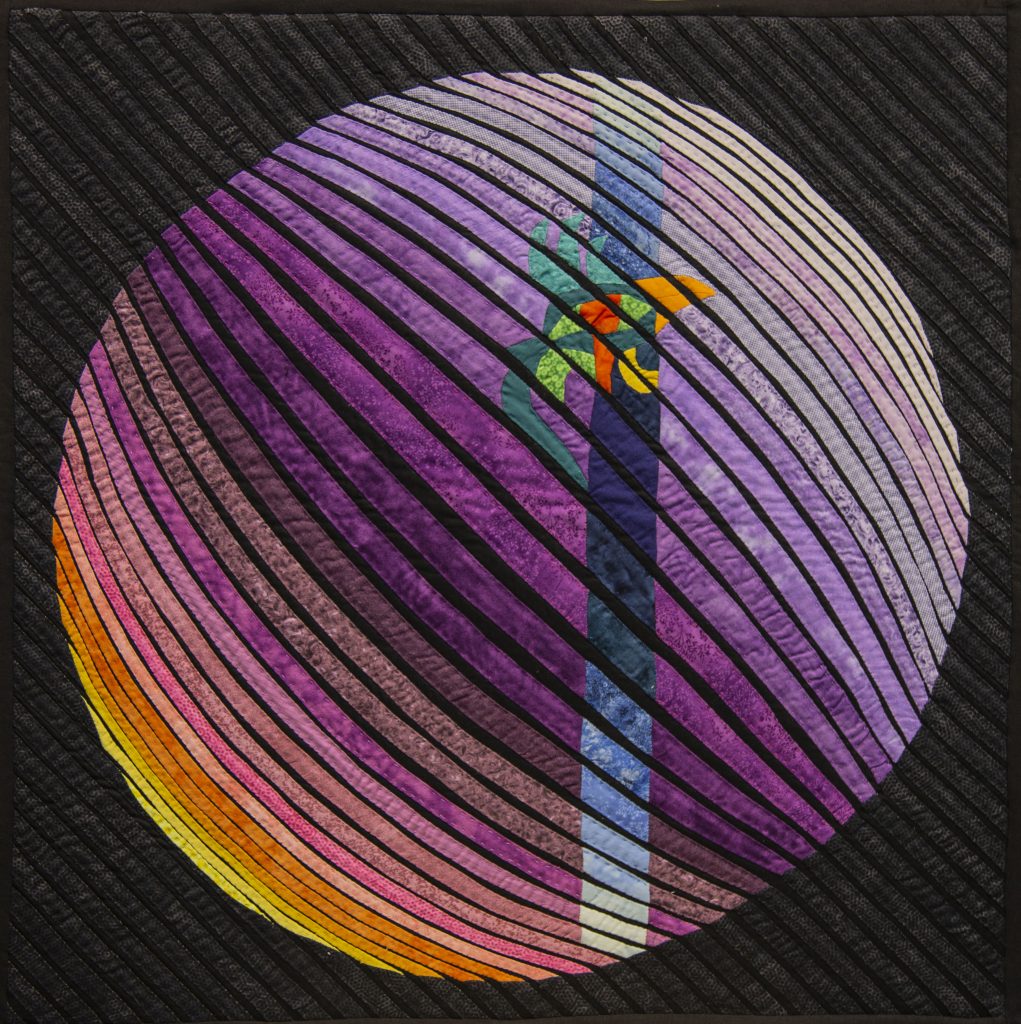 Who are your favorite local and foreign artists?
Among the artists I like are Kazimir Malevich, Jackson Pollock, Wassily Kandinsky, Piet Mondrian, Mark Rothko and Gerhard Richter.
The world famous Marlborough Gallery, as the first Turkish artist, your exhibition projects abroad and you tell us about the reactions of the art lovers out there?
The Memory Acceleration, which I exhibited simultaneously with the 55th edition of the Venice Biennial, was an important threshold in my personal history as an exhibition that explored the search for a contemporary language in the works I have produced. A quest to find the language of diversity in the cultural memory of Mesopotamia and Anatolia. For me, the modernization of mythology has turned the past into a way of reading and visualizing. After the exhibition, I started to work with Marlborough Gallery. Afterwards, my works in New York City, Venice, Berlin, Miami, Hong Kong, Istanbul, Barcelona, ​​Amsterdam, Madrid, Budapest, Den Bosch, Athens, Dresden, Frankfurt and Geneva, which are considered as symbolic centers of the art world, have been established in galleries, art museums and contemporary art. exhibitions. For the last ten years I have collaborated with numerous international galleries and museums, including Marlborough Gallery and Galerie Michael Schultz; I participate in art fairs which are widely recognized by the global art world and represent the contemporary and contemporary art. Art writers and art historians wrote about my works with my work becoming more visible in these cities with a more fluent language and positive outlook, whose rhythm and sense of time were more favorable to art production and the organization of curated exhibitions. These articles were quite inspiring. The interest of art audiences and collectors was also very high.
Finally, your exhibition Myths Universe was opened in Vienna. Could you tell us about your works and exhibitions?
Myths Universe consists of works that I have constructed as a memory space, the storytelling of the usage of the fabric and the connection with the myths, and the work of different media that emit a sense of eternity with intertwined geometric fictions. It is an exhibition where myths and works that work as memory space are arranged one after the other. At the center of the exhibition, you didn't have to work, and in the installation you see that the world of colors you know is abandoned and the ruins of a civilization turn into a bleak gray. It reminds people of forced displacement, but they do not appear in the work. A single object reminds us of lived lives. The installation reflects a deep philosophical questioning rather than a striking description of horror. With this in mind, we can talk about a tension between the traces of this installation in the exhibition space and the color topography of the works surrounding it. The multicolored and layered form of expression is added to the aesthetic approach by supporting this tension which we want to create.
The exhibition opened at Bank Austria Kunstforum with the support of DAAX Corporation also includes works from the Kostantiniyye Series and the Women's Stories Series, which I have been working on for a while. The museum is the exhibition partner of leading art institutions including the Royal Academy of London, the Stedelijk Museum and the Guggenheim Museum. It is one of the internationally recognized and accepted art museums in Austria. It plays a decisive role in the formation of new trends in contemporary art and hosts international exhibitions. Since its formation, Schiele has exhibited works by artists such as Kokoschka, Turner, Van Gogh, Cézanne, Picasso, Miró, Malevich, Schwitters, Kandinsky, Lempicka, Chagall and Lichtenstein.
Could you tell us about the activities you are planning for the coming period?
According to the calendar of the 2020 exhibition, in April I will exhibit at the Zurab Tsereteli Museum of Modern Art in Tbilisi, followed by the Moscow Museum of Modern Art and personal exhibitions.
If you had to imagine Istanbul with a mythological character, which would it be?
I am an artist who lives and produces in Istanbul. This city is one of the world's most popular cultural curiosities, not only because it provides a very rich show of contemporary art events, but also because it has accumulated over two thousand years of cultural memory in its urban heritage. Behind the visual manifestation of Istanbul is the hybrid identity that has always been admired. Identities are preserved here and the pluralistic structure of society is always seen as a cultural fact. The reason for this is that every different culture has become a place where they want to insist, claim their own place and time, speak their own language and play their own music. Colors and sounds are one thousand, they do not insist on itself, they are not destroyed. This is how Istanbul I know. I would choose the Phoenix Phoenix, which is Istanbul. I think this multicultural and colorful morphology of Istanbul has been reflected in this character.
What advice do you have for young people who want to go your way?
I am trying to produce original and independent works that are not afraid to experiment differently and therefore do not need to fulfill the demands of usefulness. What we call creative potential lies in the free variations of colors, forms, objects and creative techniques, whatever tools they use. I recommend young people to find their own voices and make them heard. I know it's not easy. But we have to fight our intellectual limits.
Could you tell us about Ahmet Güneştekin's İstanbul? What are your favorite venues?
I love Beyoğlu. There you can feel the texture, color and sound of different cultures. The Old Beyoğlu I mentioned, of course. Beyoğlu, lost in front of my eyes, alienated, which I saw in my early youth. I love Kariye Museum and its surroundings, Historical Peninsula, Hagia Sophia and Bosphorus.
How are things with nightlife? Places you prefer for fun?
I don't prefer music venues. There are places where I spend more time with my loved ones and friends: Sunset, Seraf, representative of Anatolian food culture, Angel Blue, Baltalimanı Angel, Adana province border and Develi are among these places.