This month, we present you a designer who has Turkish DNA but from a different continent. She didn't study fashion design but her stylish mom enlighted her way. She learned most of the things about fashion from her mom and made her childhood dreams real. Being a model gave her great chances like working together with the greatest designers like Valentino, Fendi and many more at their fashion shows. Fashion magazines present her as the woman who designs Ferrari's of bikinis. If you're ready; let's meet Melissa Odabash.
What was your training process as a designer? Who did you learn from the most?
I suppose in a way I'm self-taught as I never really studied to be a designer. It's just always been something I loved as a kid and thankfully I have a very stylish mother who taught me everything I needed to know about fashion. I also learnt a lot when I was modelling; I was constantly traveling and doing lots of runway shows for all the top designers from Valentino to Fendi – that was a great learning lesson on cuts and fabrics.
What is your favourite part about being a fashion designer?
Knowing that I help women to feel confident when they are in their swimwear and at their most vulnerable is really rewarding. I also feel so privileged to be able to travel around the world and see women on the beach and out shopping wearing my designs, I know how hard it is to find the perfect fitting swimwear and to see other women wearing pieces from my collection is such a compliment.
How do you describe style? What makes someone or something stylish according to you? Can you give us any tips?
I think anyone can have style, as it's such a personal thing. You don't need to spend a lot of money – it's all about how you carry yourself, a women who exudes confidence can carry anything she wears well. I believe it's about setting your own trends not following them.
Where do get your inspiration from?
Traveling is definitely at the centre of where a lot of my inspiration stems from. I love vintage shopping and make sure to go to markets wherever I am, I always end up dragging whoever I'm away with to visit local artisans and markets. Interiors are another obsession of mine, I'm drawn to any style of rose gold or bronze vintage furniture and when it comes to swimwear inspiration old James Bond movies are always my go-to, women were so much more sophisticated back then.
What is your favourite fragrance?
I'd have to say Chanel Cristalle, it's my signature scent which I've worn every day since I was a teenager.
What does a good life mean to you?
To me a good life is a life is a life free of worry. I'd have to emphasise that family and loved ones being in good health is by far the most important thing, because without that, you don't have much at all.
There are plenty of good words said about your brand. How do you see your brand inside the industry?
I've always been very careful to never take anything for granted. I appreciate every single compliment I receive on my designs, every feature in a magazine editorial and every Instagram comment, it helps my confidence and motivates me to keep going. Knowing I'm still relevant and creating products that my customers love is really important. I'm very down to earth type of person and just love being able to help women look great and make heads turn – I hope I'll still be lucky enough to be designing in my 80s – it's my passion.
 Who carries your designs best according to you?
Without a doubt Elle Macpherson; when it comes to bikinis she has always been my favourite because she eludes health. She's curvy, but also very sporty and athletic and most of all she cares about looking after her body on the outside and inside. No one can argue with the fact that she still looks absolutely amazing at 50 and that's definitely down to her healthy lifestyle, she also knows how to keep things simple and classic when it comes to style and is my perfect muse.
What's your favourite piece for this season? Why?
When I'm away on holiday I love to do water sports and outdoor activities, so I would say at the moment I love all of the pieces from my Sports Luxe collection equally – there's no way I could choose! For anything active like paddle boarding or wind-surfing I love the practicality of the Honalua and the Zuma, but then again I'm also very lucky that I can change my bikini 20 times a day, so really I'm a bit spoilt for choice.
Are there any pieces that you avoid wearing?
I am very thin and haven't been blessed with fabulous curves like some lucky ladies, which does mean some styles off limits for me. The Paris and Brussels styles in my collection are designed for women with the hourglass shape and unfortunately I have a more sporty body, so they just don't look right on and are definitely something I would avoid personally.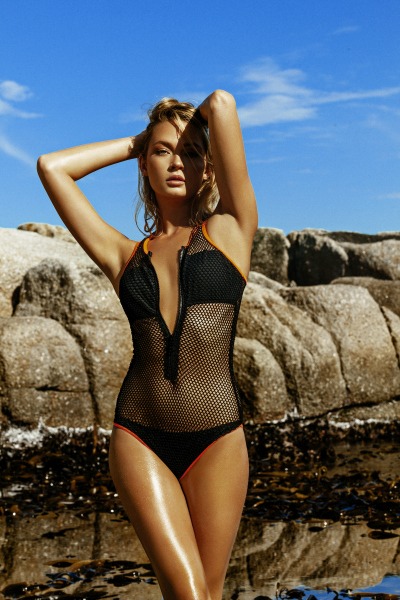 What's your plans for future?
I have so many new things in the pipeline it's hard to keep up! We are launching into sunglasses and other accessories, last year's collection featured my debut beach bag line and this was such a success I've built on it further for SS16. I also hope to be doing men's line soon along with my collaborations with other designers.
What are your travel clothes? What are the three most important things that you put in your travel bag?
I always travel in jeans, a t-shirt, warm sweater and a blazer as well as a scarf as planes are always freezing and remembering to pack a bikini in my hand luggage is definitely my favourite travel tip. Having that in my hand luggage just in case means that if my flight gets delayed or my bags don't arrive that I can still sit by the pool, top up my tan and make the most of the rays. The three most important things that always make sure I  travel with are Dr.Rita Rakus Sun Block – so that my skin can be protected from the moment I step off the plane, Georgia Louise Rose Water Tonic and Lip Balm – to help keep my skin hydrated after a long flight and my Elle Cowboy Hat to help hide any bad hair days and keep my hair safe from the sun.
Which destinations do you choose to refresh?
I love Florida because I have a house there and it's where I can completely switch off from work and my hectic London life. I don't know a lot of people out there, so it's nice to get a bit of a break from socialising and focus on just working out, shopping and having family time. I feel very at ease there and can totally recharge, plus if I do get a little bored I can always just hop in the car and drive to Miami to party for a few nights haha! When it comes to a physical and mental refresh my go-to destination would be the spa at Aman Zoe in Greece, it's perfect for a long weekend of spa treatments.
How about foods and drinks? Which restaurant do you go regularly around the globe? Is there a favourite cuisine, chef and drink for you?
I'm a member of Soho House which works perfectly as I am often travelling to Istanbul, Miami, New York and LA and the hotel restaurants always have so many mouth-watering food options. When in London I'll often be found at Cecconi's – I love Italian and the food there is always great. I don't really drink much, but a classic sea breeze is good!
What do you think about İstanbul? How does İstanbul seem to you among other destinations like London, New York and Hong Kong?
I love Istanbul, it's become one of the coolest cities in the world and my origins are Turkish – so I definitely feel at home when I visit the city. I love the people, the markets are incredible and the views from restaurants on the water which over-look the Bosphorus are breath-taking. Most of all I love Turkish baths and scrubs and am obsessed with the range of beauty treatments. It's also great that Istanbul is becoming known for its must see art shows – I guess it's fair to say it's on the up and a hot spot to visit.