After her graduation from Marmara University's Faculity of Fine Arts Textile and Fashion Design School, Burçe Bekrek attended Image Consultancy classes at Italy Instituto Maragoni and after that she had the opportunities to work at the projects of the brands like D&G and Dsquared2 in Italy. In 2006, she came back to Turkey and in 2010 she started her own brand as a designer and commercial stylist. She won the  Most Promising Fashion Designer Award from Fashion TV Turkey in 2008. This month, Burçe Bekrek is our city&design guest. We talked about her succesful journey and passion for fashion.
What lit up your passion about fashion? Can you tell us about the first sources that fostered you about style?
I might say it was an impulsive passion that grew up with me. I was declaring what am I going to be verbally since I was 6 years old. My whole life was built on that desire. Schools that I chose, classes that I attended in abroad were investements to this profession. My relationship with arts started with classical bale as I alway tell. That passion took me when I was five. In short time I understood that my passion for bale was about stage and costume designes. The things that impressed me when I was a child; constructions of bale costumes and the things that we wore during the classes. I started making my own bale costumes in elementary school. In that time I started to dig into fashion history books and drawing.
What changed for you after you started your own brand and distributing your designs? How did that freedom reverberate to your cuts?
I created my own woman. She has a story, a life style, an attitude and needs. And my wish was making the women who came up showroom to meet her experience something. I designed her whole world carefully so after  the first collection the essance of brand fit very well. And it never changed in other collections. Every season I moved on with stability. Now when I look back that ten collections, I see different phases of that same woman but I feel her attitude has never changed. When I making my first collection, the most important thing I thought about was a signature for the brand. The things that make people recognize Burçe Bekrek brand like signature strip details, absence of rounded cuts, cornered and sharp cuts, perfect workmanship, multifunctional logic were the points that I feared and made me think like "Would these take my freedom away?" That didn't happen. I design with the philosopy "Micro is the macro" from the start. We decided to be a brand that offers choices like plain but multifunctional for daily needs. That was a test for me about releasing myself in minimal silhouettes.
How is your style? Are there any pieces that you avoid to wear or not give up?
I have a plain style. I never wear printed pieces, don't like polyester. I spend most of my day in the studio so I prefer simple and comfortable clothes. I mean pieces that change my look with a switch from sneakers to high heels when I go to a event at the evening from try ons in showroom. I've never followed dresscodes in my life. I have no rules. I love combining exaggerated things with ordinary pieces. I use decolattes on back (in the brand's pieces to J) I'm obsessed about clothes. I have obsessions like 12 different colors of same silk blouse, 5 pieces of same pants. I engage the patterns that I like. For travels, I always make smart choices for valises. With multipurpose designs,  valises become more compact.
When you look at the past, which era excits you?
20's.
Let's talk about what inspires you? Which masters who you worked with or followed inspired you most?
Luca Bacelli. He was my legendary master teacher, made me who I am and he is the most important person that I've ever met. And for last, Lee Lapthorne from CFE during the Istanbul Fashion Incube education and with his support to delevoping of my brand, Serdar Senemoğlu. These three great guys enlighted me about my vision of design, perception of style and branding.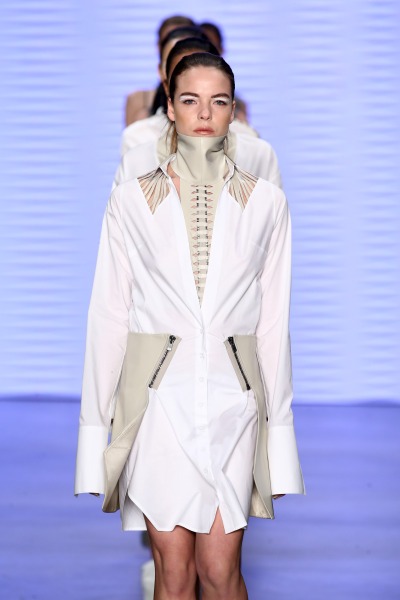 The cuts that effect you, details that you like or the things that inspires you… How much they take place in a new project of yours?
Architecture touches me. A lot of interior designer say my brand has architectural lines when they take a look at the patterns and details. I thing the interior designer that I took lessons from to prepare Fine Arts, Tamer Pehlivan had contirbuted that way. In my collections, cuts and strictures, there are always signs of this field.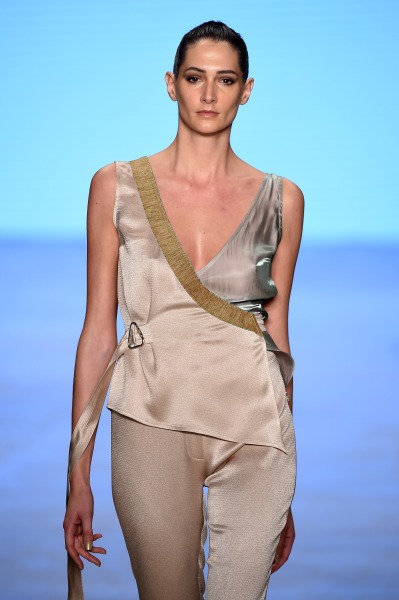 So what's in Burçe Bekrek's life except fashion? Which activities do you enjoy most or from which sources do you feed yourself apart from fashion?
I have so little free time. Even if I have so, I try to live the moments that I have. Exhibitions that I'd like to catch, books, illustration as a hoby, models and my new excitement, riding motorcycle through many places waiting to be discovered in the world.
After you started your own brand, you get extra responsibilities as a brand owner besides being a designer. What's the most important thing that you learned with that experience? Is there a balance between those two?
Real hard times came in 5th year for me. Thinking about what to do next to hold the line but not go round circles… It's a young brand to know if I succeed. That's a thing that I can look back and understand a couple years later. About extra responsibilities; there is Zümrüt Bekrek, management partner of the brand. I design and produce buy her brain runs the financial part. That lowers my responsibilities and prevents me from drying up. So, I'm very lucky.
 How does fashion designers from İstanbul or fashion in Turkey look globally?
I think, things are going great for last couple years. There are many young Turkish brands that started to sell worldwide. We presence more in international fairs and showrooms. Every day, new designers stand up and some of theme are unique, some of them are not. But the ones who keep up and grow bigger every season are the ones who has an essance as a brand, uniqueness not elaborate on something to surprise every season, the ones who have their own characters. Today in Europe and America, many Turkish designers' products are on markets. And Turkish women used to go abroad to shopping but today, they buy Turkish designers' products to wear their travels abroad.