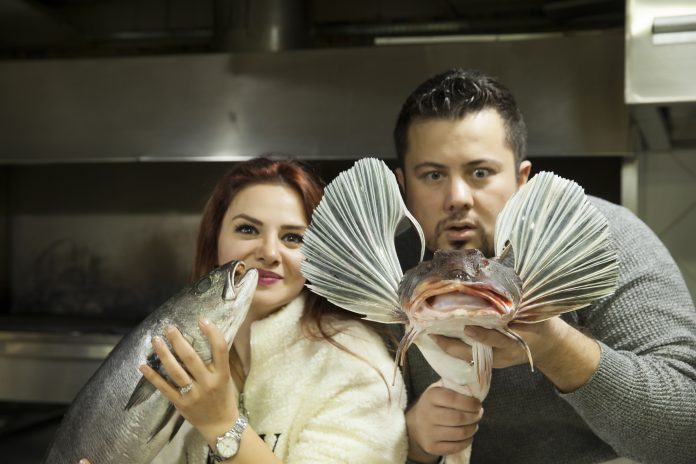 Instagram Is Just Like A Virtual Home For Us. No One Actually Cares To Reflect His/Her Real Life
Get used to, stop questioningand come to terms with it. We had some adaptation challenges; however, the new generation celebrities are setting the trends, affecting our way of living and bringing together millions of people through their stories, photos and videos. Contrary to those celebrities who try to keep their private lives off reach of the public, they prefer to lead a transparent life as much as possible. Yeah, I'm talking about social media phenomenal personalities. One of them is the couple of Şahangiller. We created with our guests a program in which wedanced the halay and sung songs rather than entering the kitchen and cooking meals. Thank God, we were welcomed at Misina Balık which serves unquestionably delicious meals, so we didn't need to cook meals by ourselves. You can find many details about being a phenomenal personality and exciting lives of Şahangiller in our interview. Enjoy reading!
Could you talk about yourselves? Who are you and how did you decide to marry?
G: I was born in 1986 in Istanbul. I graduated fromthe Ankara University. I am a graduate of the Department of Home Economics, but I am not working on the field of my university education. I am in the advertising industry with my wife. We're shooting videos on social media. I went to Ankara, met my future husband and just got married with him.
E: I met with Gönül at the university. I am from Ankara and I studied at the Ankara University. I studied Agricultural Machinery Engineering at the Faculty of Agriculture.Our departments were on the same campus.We saw each other and fell in love. I had a crush on her. I was born in 1986. I completed all my education life in Ankara. After marrying Gönül, I came to Istanbul to work as a mechanical engineer. When our online activities started to outweigh my professional life as a mechanical engineer, I quit engineering in 2013.
How was your transition to social media? You created content and did people start to explore and watch you?
E: It started 9 or 10 years ago. I first started engineering as a factory manager in a factory in Ankara. But I was just using computer from morning till evening. I had the authority to sign on behalf of the company. But that wasn't the kind of job I had dreamed about. I was on Twitter all day out of boredom and I posted what came to my mind. I was posting entertaining things. As a matter of fact, my friends have always found me funny.Then, there were at most 50 phenomenal personalities. The money I earned online was additional income for me. When the additional income started to outweigh my salary, I quit engineering and founded an agency. For 5 and half years, we have been professionally managing our own business as well asundertaking the managerial procedures of different phenomenal personalities.
G: I was writing horoscope reviews in a humorous manner. I had 150 thousand followers on Twitter. Then, we started to post videos on Vine.
E: Vine is a 6-second application of Twitter. Actually, we were lucky. Everyone had to start from scratch but we already had many followers on Twitter. As soon as we started to post videos on Vine, our Twitter followers started to follow us on Vine. When we started to earn money on Vine, I then began to work on Instagram and YouTube.
Why do you prefer to be called"Şahangiller"?
G: People in Anatolia like to call people with their surnames, you know.
Emrah, you had a role in a cinema film, didn't you?
E: Yes, I did. But we want to shoot our own film.
I think you're having a lot of fun while shooting….
E: Yes, we are having a lot of fun. Sometimes, we laugh for hours. Our followers have fun just like us. We don't post videos just for being watched.
G:We know that if we don't find a video funny, neither will our followers. We don't post videos that we don't think are funny.
Gönül, you are from Trabzon and Emrah, you are from Ankara. I guess, your families are conservatives. How did they think about your being a phenomenal personality online?
E: They reacted to my online activities. They argued I had a good job as an engineer and I wasn't supposed to do such absurd things. They initially thought what we were doing was just absurd. Then, they saw us earning money and people showed us a great interest and when people wanted to take our photos when we were outside with a family member, they thought what we were doing was not so absurd. My family supported me but Gönül's family reacted to her. People began to back us up in what we are doing when they understood that we were making a good deal of money and rising to prominence. This way, we had a chance to distinguish between those who genuinely supported us and those who didn't.
G: There is a generation gap. They are far from social media. It is quite understandable they don't make out anything. My family is a conservative one. There were moments when I thought if that would be Ok if we quit what we were doing until people around us began to better understand what we were doing.
Social media celebrities are usually subjected to online insults. Why do people insult someone they don't know? On the top of that, you post funny videos.
E: People don't come to terms with realities. The reality is that many people don't earn the amount of money we earn through just a video we post. People don't like this fact. They complain that we earn so much money thanks to them. But I create content and make you laugh for free. Companies pay us for our effort. People don't understand this bare truth. They argue that if they don't watch our videos, we won't be able to make money. But if we don't shoot any videos, they won't find anything to watch. Especially, when we post videos or photos containing ads, we are subjected to much more insults.
G: We have 5 or 6 years of experience in this job. People can't understand this. They behave as though we have come out of nowhere. We have blocked those posting bad comments. Now, we havecivilized followers.
How much time do you spend on your smart phones?
E: We spend a lot of time because this is a Middle Eastern country and the agenda is changing very quickly. We have to share our videos with the right timing.
You have a child. Does he know that you are a phenomenal personality?
G: Yes, he does, I guess. He joins us in shooting videos. He wants to play in our videos. He is so positive and likes laughing so much.
E: A few days ago, we shot a video. He organized the choreography. In the video, I was supposed to pretend to be sleeping and dad's socks stink. He didn't like the shooting of the video and we had to repeat that scene 20 times. He is just 3 years old.
Do the online phenomenal personalities make a lot of money?
G: It depends. Those who do their jobs well earn well.
E: We have been professionally active in this job for the last 4 or 5 years. We don't have our own house. Yes, we have a good life.Phenomenal personalities don't live a virtual life. One and half years ago, when our country was hit by a wave of terrorist incidents, we could not get any ads. We couldn't even post a normal video. After such videos come bad comments. They complain that while people are in mourning, we cannot make light of life.When extraordinary events in Turkey occurred in Turkey, we had to sell Gönül's jewelry and Efe's gold.I had to sell thatjewelry. We need to earn enough to buy them again. We can't deny the fact that we are leading a good life. Of course, there are some phenomenal personalities who earn as much as celebrities. But, they can be counted on the fingers of one hand.
I am of the idea that people who rise to fame on social media will inevitably lose their grace and so, there will be more suicides.
E: Yes, that's true. A few days ago, a phenomenal friend hanged himself as he thought he was not as popular as he was in the past.
G: Social media is now more popular than the television. Many young people want to be a phenomenal personality and make a lot of money. You can't do such things by buying followers and likes. They need to produce content.
What would you do if they didn't follow you one day? Have you got plan B?
G:We would do our own professions. Social media is not the only way of life for us.
E: Social media may not live forever. If social media sites were shut, we would continue to do our own jobs and make money. For example, Cüneyt Arkın is a medical doctor but he chose acting. There are phenomenal personalities who are not even graduates of high schools but earn 1 million Turkish Liras. But, this is not a good example. Everybody must have a job in which they are competent to earn enough money to leada decent life.
I can't understand why so many people follow phenomenal personalities. Even Cem Yılmaz hasn't so many followers.
E: A couple of days ago, a boy sent me text message and said: "If you don't respond to my text message, I will commit suicide." I normally don't answer people's messages no matter what they write. If I respond to someone, I feel compelled to answer all other messages. God forbid, I got concerned about this boy. I called him and asked why I matter so much to him. Hesaid:"Youare older than me and whatever celebrities like Tarkan and Cem Yılmaz mean to me, youmean to me. Just as they were unreachableto you, you are now unreachable to us. I am so happy to talk to you. I will tell all my friends about this"
Are you always online?
E: We are just on social media when we wish to post something. We like to share something people like to watch.
G: Instagram is just like a virtual home for us. No one actually cares to reflect his/her real life.
You always smile. I wonder whether you ever argue.
G: We never argue. After Efe sleeps, we sip our tea and think about content while the television is on. Because creating content is hard. We read comments after sharing our videos. We don't find enough time to have a chat due to the social media. We don't have time to argue.
You said you have a management company and you want to make our own film. You probably just don't want to limit yourselves to the social media. What are your plans?
G: We certainly can't see what awaits us in the future. We want to open a business when we make enough savings. We dream of having a business rather than have a film.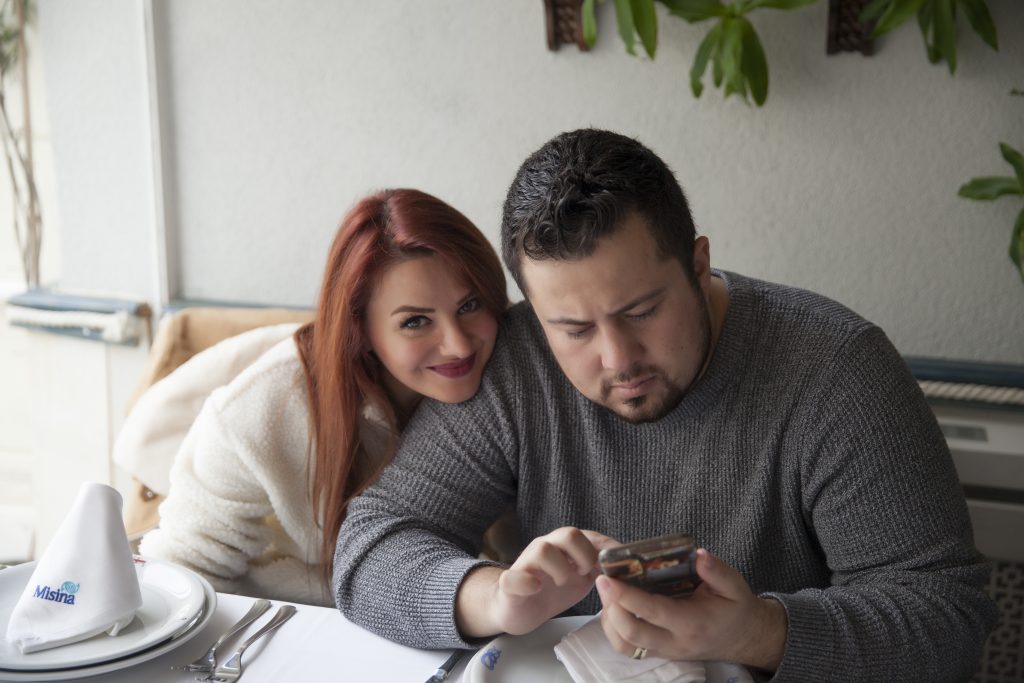 Are you good at cooking?
G: I cook. Actually, Emrah can cook but he is reluctant to cook.
E: Gönül is excellent at cooking. She serves meals in an ambience of a visual feast.You can't take your eyes off the elegance of her way of serving meals.
What does İstanbul mean for you?
G: Istanbul means a lot for me. I was born and grew up in İstanbul. My family is from Trabzon but they have been living in this city for 35 years. I am from Trabzon and I am proud of this. I studied at the Ankara University. But I can't leave İstanbul and live in another city.
E: We can't manage in another city in Turkey or abroad. When we go somewhere and stay a bit longer than planned, we just can't wait to return to İstanbul. Istanbul is an utterly different place.