We met Bahadır Tatlıöz at Kalamış ByEsat Balık. As is known, the celebrities "cook themselves and serve themselves" at the "Celebrities at Kitchen". First, we cooked our meals in the kitchen and enjoyed them.
We had a long chat while eating. You can find out below a part of the journey of Bahadır Tatlıöz who has risen to fame in a short period of time thanks to popular songs though he has long been in the music industry…
I know you started music at a very young age. How can a person decide at that age to have a career with music?
I think that is decided by the nature. Just as we don't have the chance to choose our own parents,influences of your parents and genetic transition are all shaped by the nature. My story is, kind of, the same. I was born to a musician family. Music is in my genes. My dad discovered my talent when I was at the age of 4-5. My family sent me to the conservatory at the age of 6.I went to the primary school and the conservatory simultaneously. At the age of 13, I got a full-time admission to the Istanbul University's State Conservatory. I started to accompany the popular artists as a pianist at the age of 14 – 15. I worked with İskender Doğan.At the age of 15, I composed my first music and lyrics and made arrangement and gave a song named "Feryadım Göklere" (Cry to the Heavens) to Emre Matraş who was one of the most popular names of the time. I suppose I am the youngest arranger and composer who officially gave his songs to the music market.
How many instruments can you play?
I can play bass guitar and drums but my basic instrument is piano. I taught music for a long time at schools. I also worked as an orchestra conductor. As a pianist, I had the honor of playing with the best musicians in the world. The most enjoyable thing for me is that my arrangements are being played.
How did you start popular music?
I was undertaking social responsibility projects and I still have such projects now. I address human losses incurred at wars and I shot a music video called "War and Sadness" which denounces wars.With that project, I got an award from an academy in Germany but Icouldn't afford to travel to get my awarddue to the financial difficulties.That day, I understood it was necessary to earn money and decided to start to work on popular music. I spent so many years of my life as an idealistic musician. I edited the folk songs in jazz format and released an album and worked with very valuable musicians. We went to concerts both at home and abroad. I played the piano on stage and sang songs. I was very idealistic and I still have ideals.Now, I try to demonstrate my idealist personality in pop music. Yes, I am now composing pop songs but I don't imitate anythingin pop music, nor do I imitate others' videos. I am not despising anybody. I have respect for anybody engaged in the music industry but I have certain principles.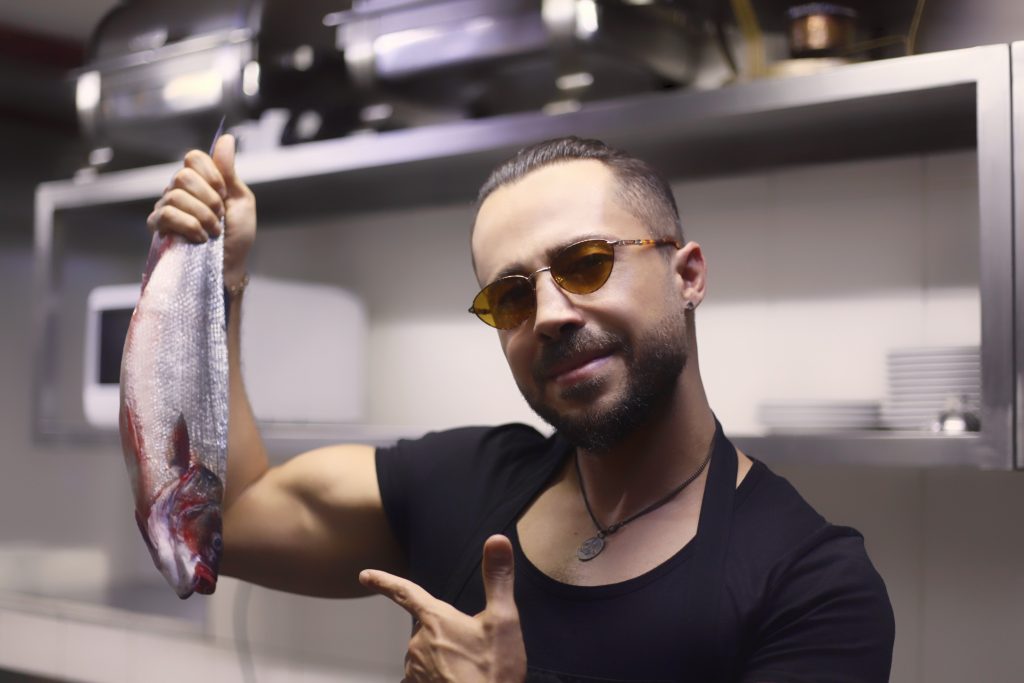 Where do you teach?
I last taught at Galatasaray ITM. It is essentially an audio engineering school but a modern harmony department has opened recently. I worked there as a teacher for 2 years. Apart from that, I have always given private lessons.
Do you think art should have a social concern?Or is the art something one does only for himself or herself? In other words, do you aim at going beyond the limits or wining people's appreciation?
Music is kind of a language, actually a strong language. You can relay strong messages to people. You can give good or bad messages depending on your will. I try to make use of the music language to contribute to the social issues or to the art. I suggest people view my music videos like "War and Sadness", "Forgotten Children" and "Common Sense". When people view these videos, they will get a better understanding of my conception of art. I am good at music. I received music education. I am part of this society and I have to set a good example with each and every attitude. I can't do anything farcical to earn money and become a very popular star.
Did you question your way of living when you couldn't afford to go to receive your award?
Yes, I did. The reason why I couldn't go there to receive my award was because of the financial matters. Actually, I could have gone there but I could earn the money required for such a trip in a 2-day performance for a popular artist. If I hadn't worked, I would not be able to earn that money and afford to pay my rent and I would have been evicted from the house. That's why, I couldn't go to Germany. This created a serious disappointment and depression.I said to myself: "What kind of a life is this? There are other kinds of music, too. Why spiritualize the music so much? The life is going on and I sometimes have great sufferings". Then, I started to work on pop music. I still attach importance to my principles and manners. For example, I used sign language in the video of the song called "Fire" and a sign language translator is always on stage with me at every concert.
Does the translator translate your songs in a rhythmic manner while you sing?
Of course, my sign language translator Şevval is so full of life and energetic. You can watch her videos on Instagram. I have a mission. The life must have a meaning. An artist cannot lead a life without doing something meaningful.
What if you couldn't compose a hit song after transition to the popular music?
I always have a plan B. I am not someone who can succumb to defeats.Nobody can prevent your success if you have real talents and you can sing well with good will and you have something to give in the name of the art and if you are self-confident.
You were at the backstage as a musician for a long time. Now, you are on the stage as a soloist. Has it been difficult?
I haven't had any difficulty on the stage but I had some difficulties in terms of the established norms and attitudes. Playing piano and leading an undisturbed life on the stage has turned out to be so different for me from being on the stage and addressing audience directly.
Do you remember the first moment when you were on the stage as a soloist?
Of course, I remember. I took the stage in a concert venue in İstanbul. At first, I felt so comfortable but when I looked at the cameras, I became nervous and just didn't know what to do on the stage. But, I quickly adapted to the ambience.
Do the songs on your albums belong to you?
Yes, they do. Their lyrics, music, arrangement and videos belong to me.
You have sung a duet song with Güliz Ayla
TRT and the Ministry of Culture are sending me and dear Güliz Ayla to ABU Music Festival to be held on October 2ndin Turkmenistan to represent our country. At this festival, songs and singers don't compete. This festival is just for friendship and solidarity among countries. This is why I accepted the invitation. As a matter of fact, I find music contests odd. Music cannot be the subject of a contest. Playing well or singing well is just a matter of time. It varies according to one's mood.
Do you have any plans in your music career in the near future?
Yes, I do. I covered a song of a very distinguished musician. I have never covered a song before.
Is there anyone you'd like to listen to your songs after you compose them?
I'd like my family members to listen to them. I have very valuable musicians in whose ideas I trust. I'd like them to listen to them, too. They put forward their own ideas but they must make me believe in that idea.
Can you tolerate criticism?
Absolutely! But I can't stand the rudeness.
You were born and raised in İstanbul. What does İstanbul mean for you?
Istanbul is just like a dream city. It is a dreamland. Excluding the unplanned constructions, when you start to watch İstanbulaloft an air vehicle, you will see a fairytale. My only regret is that we don't know and appreciate the value of this city. A terrible chaos, hustle and bustle, distressed people and lack of respect and tolerance… Sometimes, I go to Ortaköy. While people have an amazing view across the Bosphorus, they can't keep their eyes off their mobile phones. We are so disconnected from the real life. We need a complete rehabilitation.
Unfortunately, nobody is aware of what's going on around them due to the widespread use of social media.
Yes, we are detached from the real life. We are living in a virtual world. While people have an amazing view across the Bosphorus and there is a magnificent sea before you and a perfect breeze and there is the Bosphorus Bridge on the one side and Maiden's Tower on the other side, people are delved into their social accounts. Can you believe that?
You are absolutely right. I think there will be suicides due to the use of social media in the near future. People match their love with the number of followers and likes. It is a serious addiction and disease.
There are people who have psychological distress when they do not receive the number of likes they wish.
Is there anything we don't know about you?
I don't share my personal belongings with anyone. This has nothing to do with being selfish or stingy. I don't give anybody my belongings, but I go and buy the same belonging and give it to anybody who wants it. For example, my brother Hakan wanted to ride my bike one day but I didn't give it to him. We went and bought the same kind of bike and I gave it as a present to my brother.
How many sisters and brothers have you got?
We are five siblings in the family: 2 sisters and 3 brothers. My junior brother Emre has a mental condition similar to autism but he is so cute and kind hearted. As a matter of fact, Emre is the reason why I attach so much importance to social responsibility projects and feel such emotions more deeply in my heart.
Have you thought about living anywhere else outside of Istanbul?
Yes, I have. I don't like luxury life. Many well-off people like to live in Etiler or Nişantaşı but I prefer to live in Galata. I can feel history, tourism and spirit in Galata. The streets are narrow just like those in Italy. I like Galata. As the apartment where I live is old, there is no lift in the apartment and it is against the rules to have an air conditioner but I like the spirit of Galata.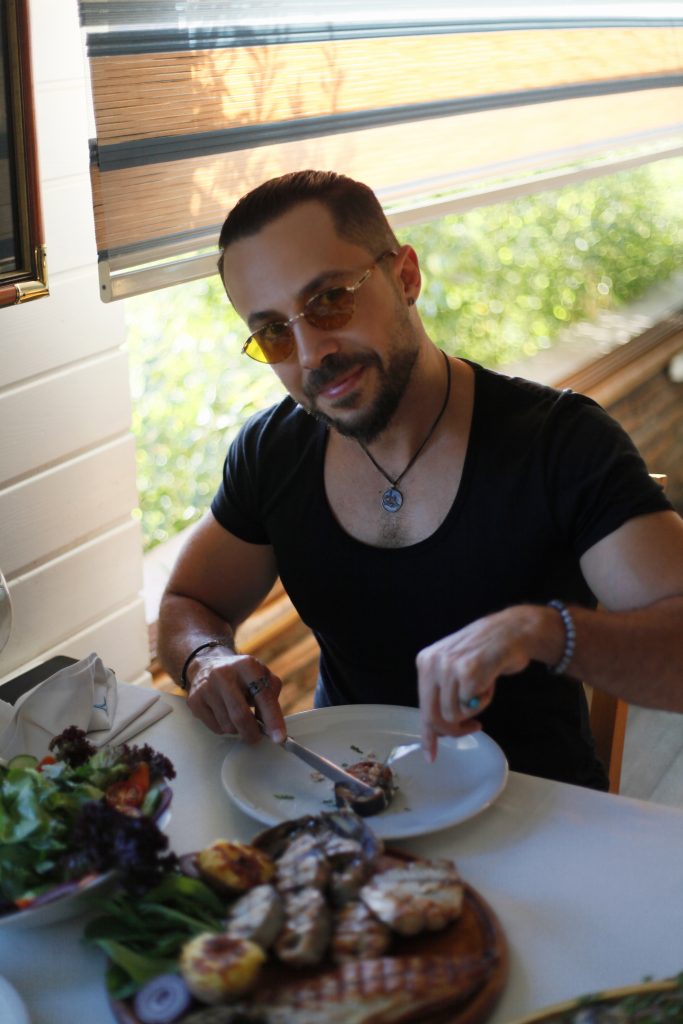 Are you good at cooking? Do you cook?
Yes, I am good at cooking. I don't have a vast repertoire, but I cook some meals well.
Do you cook at home?
Yes, I do. We rarely eat out. Do I cook a lot at home? No, not at all. But, if I feel like cooking something, I can cook well. I can cook pilaff, spicy Turkish omelet and fish well.
What is your favorite food?
Meatball. I am crazy about it. My favorite desserts are Güllaç and Kazandibi.