Our guest in Celebrities at Kitchen this month was a new name in popular music, Fulin. We have talked about many things, including how she left the career of chemistry and decided to continue with music, how love affects her life, about her family life and her skills as a housewife. Her colorful personality was reflected in our filming. It was so effective, and the pictures were at the tabloid press before our pages. Please do not be surprised if you have seen her picture while giving the fish kiss of life at tabloids before our pages. Tabloid press loves Fulin, and Fulin loves them…
Is your name a stage name? What does it mean?
Everyone keeps asking my name since my childhood. No, it is not my stage name, it is my real name. I take out my identity and show it to those who do not believe. It means interior beauty, large white bright light. It is also the name of a flower. It is also the name of a Chinese emperor.
As you said China, where are you from?
I am from Adana. My father is from Adana, and my mother is immigrant from Thessalonica.
How is your family structure?
My father is a professor at the Faculty of Medicine. My mother is a teacher. They live in Adana. I also have a brother. He is an Industrial Engineer. I have a very authoritarian family. They never wanted me to make music.
You are a chemist in fact.
Yes, I have graduated from Ankara University, Faculty of Sciences, Department of Chemistry. I have worked as a chemist for almost one year. I always had a love for music. I had to come to Istanbul. I struggled for a long time. My father did not send me to Maltepe University, Faculty of Medicine, in order to prevent me coming to Istanbul. I have used my chemistry career as an excuse to come to Istanbul. I have worked at a medication company. I was very unhappy. I have told my father that I was very unhappy and I wanted to something creative. I have been playing guitar, keyboard since my childhood and also composing music. Music is my life! And my father told me to attend at fashion school in order to reflect my creativity! I have been enrolled at Istanbul Fashion Academy for 2 years. I have graduated and received my diploma. I never quit something I have started.
How old are you?
I am 30, but I feel 24. There is really an age you feel at.
Let us talk about music… How could you let the music in your life inspite of your family?
I believe in energy. I have attended tothe launching of HandeYener's album. I have met a very skillful arranger there. By then, EmrahKaraduman was not very famous. Then we had a coffee, we have started to talk and as he started to get to know me, he asked me why I was not involved in music. I had feelings, I have written those feelings and sent to him and he composed. I was in Adana when he sent me the song he composed. I let my father listen to it. He actually liked it. Then I have worked very hard to convince my father, but I did. My arranger friend told me that there is a monetary burden in order to do this. My father withdrew credit from the bank for my album. My first song was "İçinden Oku" song, of which the arrangement was made by EmrahKaraduman. Then I have started to work with DMC company. Mr. Samsun told me that I should always listen to him. I said OK. When I had a contract with DMC, I was very happy.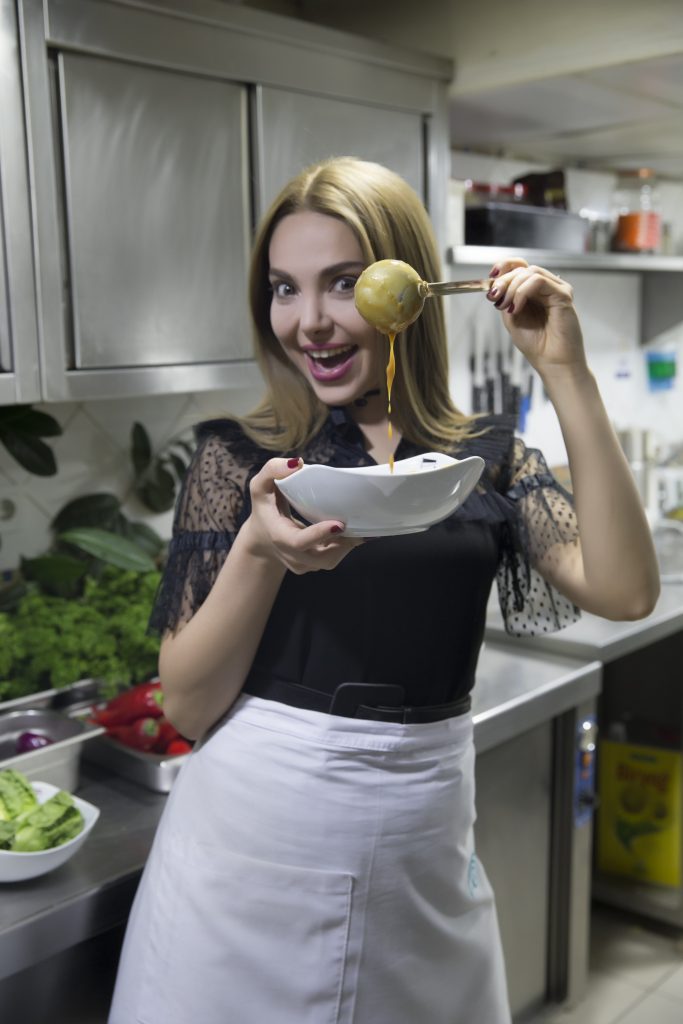 Then we have seen you in tabloid news. What did your authoritarian family think about this?
My mother is more despotic in our home. I am not after fame, I justwant to compose. Some tabloid events developed without my intention. My father was angry. When he saw me crying at tabloid news or morning news, he called me and told me "I wish you did not do this. This is not you". My feeling was: "I want to make music, but I cannot achieve it."
Do you get easily carried away?
I did in the past. Now, not that much.
Who will be your competitor?
No one, I do not want to compete with anyone.
What is your aim in a musical sense?
I want to make music with electronic background. This is a new concept in Turkey. I think there is a gap in music market in terms of electro-pop. I do not want to do something about the popular culture, but I have to address the market. Otherwise, I will not be able to get known.
How are the reactions to your new single?
It was just as I expected. Its words and music belong to me. I did what I felt. Words were what I felt. I have written the words just in a couple of minutes. Maybe I cannot do the same now. My next song will be a little different. It will be more European.
Do you still listen what Mr. Samsun says?
Sometimes I did not. My first work with DMC was a song named "KeyfiHalik". To be honest, I have started my music career in 2014 very suddenly. I have worked with quality names in my first song. In my first year, I have started to work with DMC. I heard that I will work with people such as Samsun Demir, AlperNarman, Onur Özdemir, Murat Küçük, OzanÇolakoğlu, Özgür Aras. I was very excited. I did not know what to do and acted very aggressive. There were some points I did not act professionally. Mr. Samsun told me: "If you are going to do this, you have to get along well with everyone, this is a long path and you need to be patient". I did not listen to him. I acted as if he did not tell me those. Now I understand. It is a great chance for me to be in DMC.
Some people tell that you look like Angelina Jolie. How did this happen?
UmutKuzey told this when I started in the sector. He told me that I looked like her. But I said that I did not want to put this on agenda, I do not want to look like anyone. I have lightened my hair color and gained some weight just to not look like her. Then the social media celebrity HalilSöyletmez offered me to make an Angelina Jolie joke. We did it and so it became an issue.
I heard that you are planning to start your career as an actress.
I have received training is Akademi 35.5 I worked with VahideGördüm. She usually does not appreciate people. Most of the actors and actresses in TV series today are trained at Akademi 35.5 She always wants people to get better, so she does not appreciate. There are 2 TV series on our agenda now. We have made a contract for a cinema movie. The filming will be done in April or May. It will be on the screen in September. But, even if I progress in acting, I will never quit singing.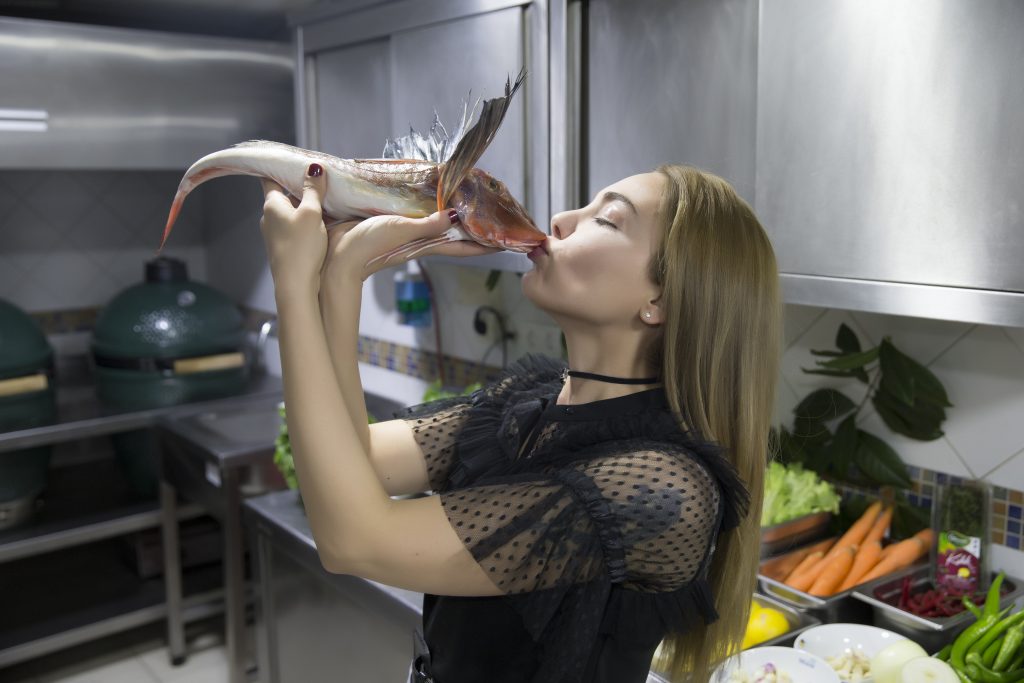 Do you ever think that you misrepresent yourself?
Yes, many times. I never watch what ı said in my interviews. I am 50 % myself, but 50 % someone else. I see this and therefore I do not watch. I do not understand, I am not me at those moments. As I think different, when they start recording me, I can turn into a weird character. I give answers I should not say.
How can I get you angry?
If you treat me unjustly.
We are in the kitchen, how is your cooking? You look like a pretty girl. It looks like you do not know anything about cooking or cleaning.
I am not like that. I live alone and I cook and clean. I am a very good house girl; I do my laundry, ironing. I have to overcome that image. This is the part I do not like about myself. I reflect this on my relationships.
Sorry, I cannot imagine you holding a dust cloth in your hand…
Once you get to know me, you can understand my real identity. But I need to express myself to other persons when I first meet them. This is something I have to work on. I do not understand why people perceive me as a different person.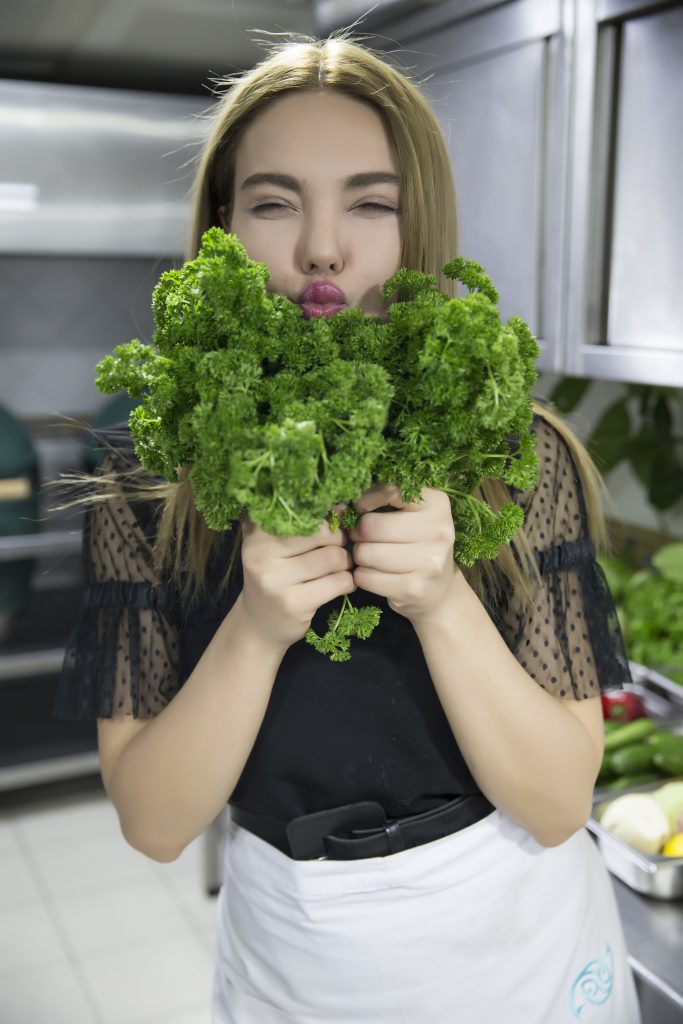 What is the meal you cook best?
Chicken saute with mushrooms. I cook it good.
What would you like to say as final words?
A new song is on its way. I have composed a new music and words. I will receive help from professionals. Until now, none of my songs were played during summer, this one will be. I have participated in a contest at Kazakhstan and represented Turkey. We have made a duet with a Kazakh star there. We may publish that song digitally. There are some movie projects. If they happen, I will be very busy then.