We heard the name of Umut Mirza as he gets awards from one of the most prestigious competitions of the world. He made Turkish women and Turkish men proud as he is chosen as "Best Physique" and "Best Masculen". He has taken our attention at once. As you know, we like to take pride in as a nation. Especially, if it is about beauty and handsomeness, we cheer up a lot.
Umut Mirza is interested in almost all types of sports that you can imagine. He pays attention to his diet, sleep, exercise at maximum level. He is a modest, sympathetic person that works for himself. I think that he can act in a TV series soon. We thought that we could spend an enjoyable time in the kitchen by interviewing about his success without being so cool by joining in the new generation very popular handsome guys' community. Then, this one is for you ladies…
Could you tell me something about yourself?
I was born in 1989 in Istanbul. I have two sisters. I am interested in the sport for 10 years. I am interested in all types of sports including, indoor, outdoor and extreme sports. I am interested in gyms for seven and eight years.
As I have observed, once a person focuses on something a lot, he leaves behind the other things in his life. In short, it is hard to keep all things together. For example, you show more attention to the body, what about your intellectual side?
Usually it is, you're right. I was not a lazy student but did not show an outstanding performance. I have graduated from Marmara University, Department of Business Administration. My perception is clear, I think, I am quick on the uptake.
How does a person decide that he is handsome and takes part in the competition? How did you discover yourself, how did you go this way? Did you look in the mirror and said: "I'm a handsome man, then I should join in the competition?"
No. J I was a model in Italy, Dubai, Spain with international connections. I have some friends in Spain. I was in contact with them and I was doing modeling. I was working with foreign companies. Modeling was a hobby and a work to earn money and see new places. I like learning about different cultures. They opened an application for the competition. My friend told me to join. I was confident in myself, and I joined. This competition is not only for measuring physique. There are other important factors such as your social status and knowing a foreign language.
It is a prestigious competition…
Of course, it is the most prestigious competition of the world.
We did not know this competition before you. For how many years is this competition organized?
This competition has been organized for around 10 years. However, Turkey was invited for the first time. As if Turkey did not open up to such competitions. Just like there are no other competitions than Best Model. This competition has been broadcasted in 40 countries around the world. Asia and Europe are very interested in this kind of competition. There are around 20 juries from  Miss Universe, Miss World, and Mister International. There were around 10,000 spectators. I did not expect that this organization is so big. I am very happy to receive two awards on behalf of my country.
Have you received the most prestigious awards?
Yes. Best Physique and Best Masculen male award. We had the most prestigious awards. I am very proud of that.
Was there another prize?
There were awards such as Best Friend and Best Costume.
You say that you have been together with people from 40 nations. According to you, which country or race is suitable for your concept of beauty?
Spain and Puerto Rico.
Which country was the runner-up?
Spain was the runner-up and Thailand got the third place. There were considerably good ones but as I have said earlier, they do not only measure the face. They pay attention to integrity and total energy.
How did you prepare for the competition? It is a difficult thing to keep the body at a fixed point.
I have not eaten sugar for a year. I consume carbohydrate at a minimum level. Sometimes, you become so dumb. When they ask you something, you answer it so late. In this regard, I have some troublesome processes. I was making a getaway for once a week or 10 days. You have to surprise your body from time to time. In bodybuilding, the diet, exercise, and rest are so important. Your lifestyle has to be completely different.
How handsome are you?
Everybody is handsome to some extent for themselves. I am not saying that I am an ugly man but I am not perfect, either. It is the whole of beauty, energy, look, smile and speaking. Let's look at Hollywood, most of them are not perfect, but they are charismatic and everybody adores them.
Do you have someone in your life?
No. No, really.
Why are you alone?
I completely focused on my work. I do not feel ready to be in a relationship myself. What happens in the future is unknown, anything can happen. As I said, I'm working hard. I have a shot in Bali soon. I'm taking acting classes.
What type of girls do you like?
She must be original. If she is beautiful with a basic t-shirt and a boyfriend jean, then she is beautiful. I do not like flamboyant women, I find natural girls attractive.
What are the odds for such a person as you that gives importance to physique and proven handsomeness to be with a chubby girl?
I don't prefer. More precisely, a person with my opposite characteristics does not interest me. She may not do sports but has to respect my life standards. We should not talk large, it is the heart issue, it is not certain. It may be a problem for me later…
Is there any girl that you could not have though you like her? That makes you suffer from pangs of love? For example; is there any woman that can show off like "I made life very miserable for this guy, now he is selected as the Best Physique in the world?"
No. I did not have too many relationships anyway. However, there is nobody to sigh for me.
You're a clean-cut guy…
Everyone says it. Beyazıt Öztürk also said the same. In general terms, I am very calm.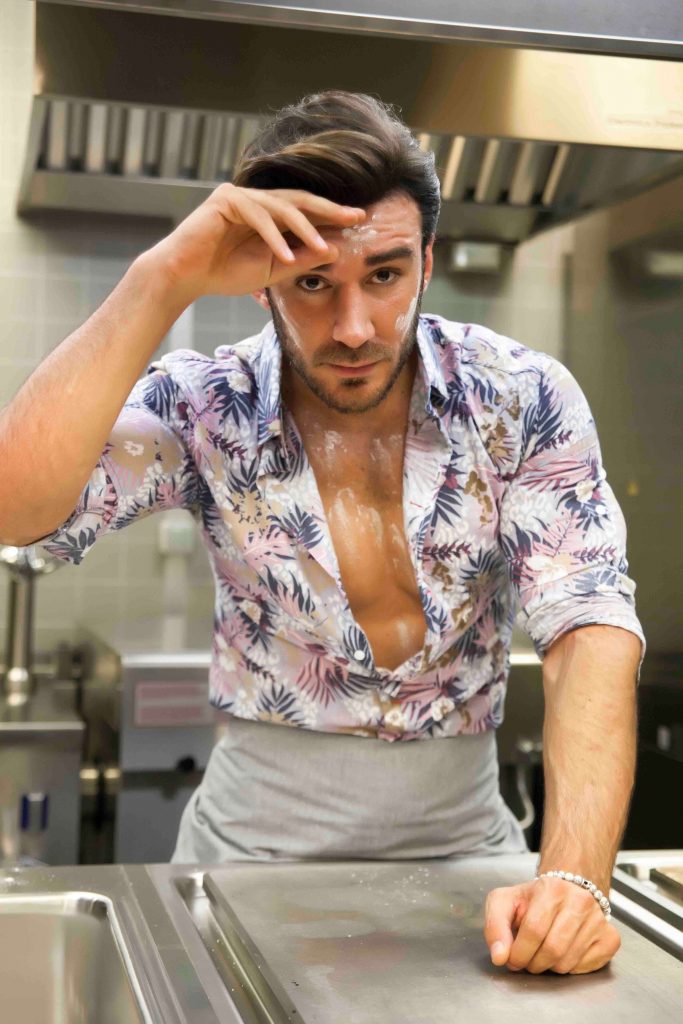 Even if an ugly guy disgraces himself by acting weird, nothing happens but when a handsome guy does it, it stands out like a sore thumb. Maybe, you do not want to take a risk to lose the street credit.
I have to act more responsibility after receiving awards in the competition.
Is there something that you'll never do it?
For example, I never pose nude.
Modeling in Turkey is so restricted. In general terms, the people, who won beauty contests, want to be an actor. Do you aim to be an actor?
I have been thinking to be an actor for a long time. I've always wondered what's going on behind the camera. I have participated in the competition to move faster to be an actor. They have not addressed me by my first name in that competition. They called me Mr. Turkey. I have successfully represented my country. I took pride in it. I hope that I would be successful in acting. I take acting courses and work with an actor couch. I took courses from Ayla Algan. Ayla Hoca always said that talent is 10 percent and exercising is 90 percent for this job. I hope that I have a chance to show myself in an appropriate project.
Do people know you on the street?
Yes, sometimes they do. I feel happy.
When it comes to being masculen, masculen means manly. Do you have a manly attitude toward the woman as "stay behind"? What does it mean to be masculen?
Turkish men are masculen at heart. I have received this award on behalf of Turkish men. I don't act like that. For me, respect is above all of the things. Of course, it does not mean to be a macho. If I want to say something, I can tell it with my expressions, no extra thing is required.
Do you like Istanbul?
İstanbul is beautiful but crowded. It has a more population than many countries. Traffic is somewhat overwhelming. I live in Ataköy. It's a bit far from the chaos of the city, in a green location. Those living in İstanbul look unhappy.  I realized that people are happy in Thailand when I go there for a contest. They are far behind in technological terms but relatively ahead for socializing. In Thailand, people believe that the poor will be rich and the rich will be poor in one day. Therefore, there is no class distinction, they live equally and incredibly happy.
Today you will make us a chocolate cake. How do you feel about the kitchen? Which foods do you like the most?
I prepare my own meals because I have to eat by setting the diet in a good way. My favorite meal is ravioli, but I cannot eat it. I love the brownie, as well. I am going to do it today, let's see if you like it?